Countertops are prepared in such a way by keeping the durability factor in mind, however, even the most stranded countertops experience issues from time to time. For getting the most out of your countertop these must be appropriately installed and maintained regularly – even then, many issues might arise.
Let's take a brief look at some of the common countertop issues and how you can tackle with them:
1. Cracked Countertop Surface
A cracked countertop appears to be bad; however, it affects only a little part of your countertop. A large number of people fear that there is a need to replace the whole counter for fixing the damage, but in many situations the isolated damage can be separately fixed from the whole slab.
The countertops get cracked for various reasons:
Imperfectly shaped joints
Counters installed over the uneven surface
Countertops carrying excessive weight on a specific area
For smaller cracks, manufacturer advice epoxy resin for repair damage. For the deeper cracks or damage caused due to excessive weight, the damaged portion must be replaced by making use of a drill before applying special filler. It is essential to discover a filler material that flawlessly gets mixed with your countertops. This is a tricky task and only a professional can help you out.
2. Crack on the Edge of Appliance or Furniture Supported by Countertop
For appliances that depend on the countertops for holding them need some additional support with an objective to balance everything. In the event, your countertops are not installed with adequate reinforcements, heavy weight appliances can lead to subsequent breakdown of the materials.
Adequate support is mandatory for the countertops that are estimated to support appliances or any kind of weight. You require place vents for appliances that exert heat in order to prevent the shelf from cracking because of heat damage.
3. Dull Granite Countertops and Chemical Stains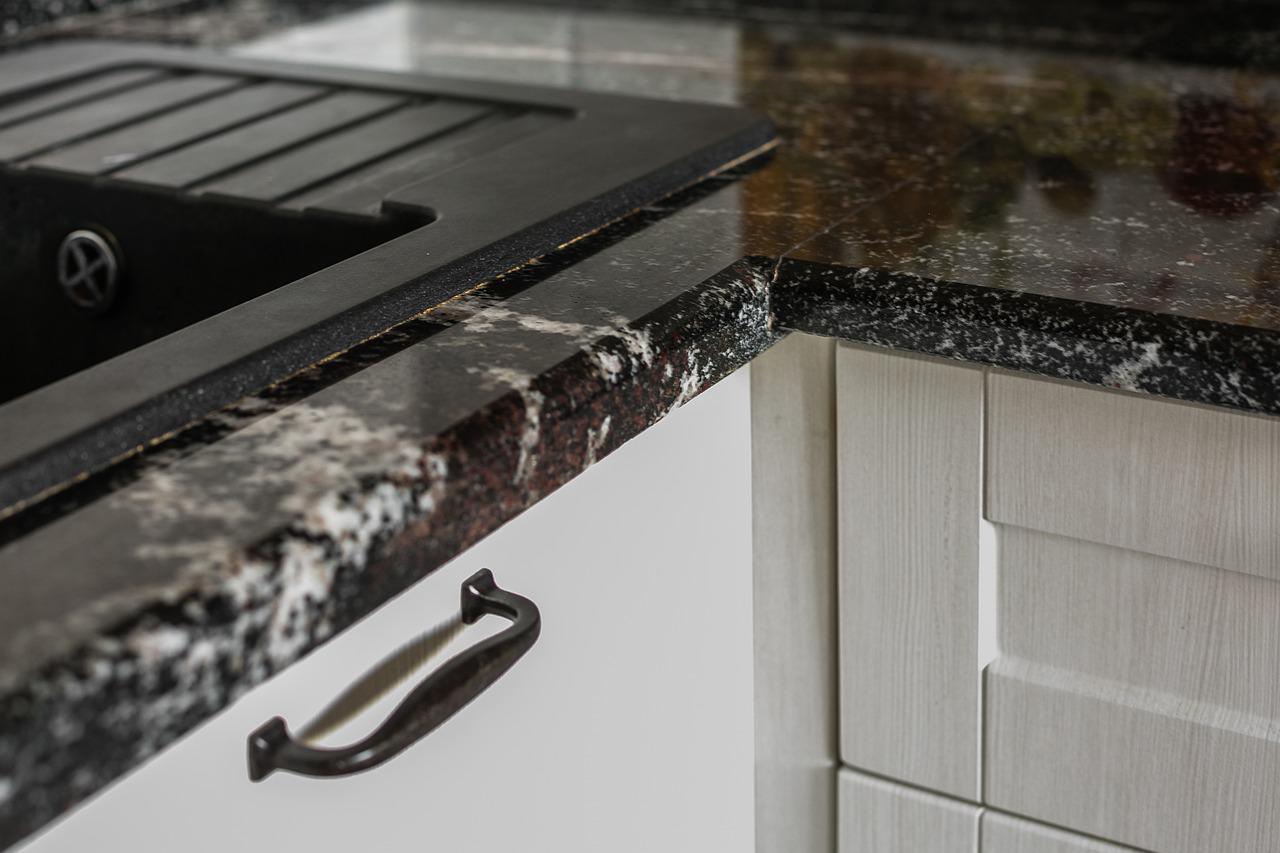 The surface of your countertop decides the kind of cleaner that you must use. In case you make use of brutal cleaners on the marble shelf, they will rapidly result into devastating effects. On the other hand, granite has a tendency to appear fine at first and later on its quality get reduced because of chronic exposure to brutal cleaning products.
Many of the cleaners are granite and marble surfaces are too harsh. For regular cleaning, you can select a soap and warm water. Must read out the ingredients and then look for the cleaners keeping the surface in your mind. While purchasing marble or granite cleaners may cost you more, but they are worth it as they help in preserving the shine and life of your countertops.
Read more: Butcher block vs granite countertops best choice
4. Stains on Countertop from Hot Dishes
The countertops in a kitchen are designed in such a way that they can tolerate a good deal of force and heat, however they can damage. At the time of cooking, there a wide range of hot things happening in your kitchen. At times, even an excessively hot container can end up with a visible base on your shelf. Sometimes, the damage is non-existent; however at other times, the hot container can leave behind a mark i.e. a blemish that always reminds you of your mistake.
Regardless of being solid as a stone, a wide range of stone countertops will get discolored or cracked under too high of heat. Making use of trivets, potholers and different barriers will help in the keeping the heat away from your shelf.
Contingent upon the material used on the shelf surface, the solution for removing the stain varies. For a wide range of countertops, the simple step is to carefully clean the surface so that no debris or dirt is left behind.
The covered countertops are the best material to experience surface burns. For removing the stains from the covered countertops:
Apply some lemon juice on the stain & leave it to dry for 5-10 Minutes.
Then apply a layer of toothpaste to the surface with a rubber spatula.
Use a soft-bristled brush or a toothbrush to scrub the stain.
When you see the stain has vanished, wipe surfaces and again clean it with a crisply wet towel
Read more: Best way to clean oven hood filters
5. Scratches and Chips on Countertop Surface
Since container, blades, and different utensils are routinely used on the countertops, there is a possibility of scratches and chips. Scratches are the common issues found on the countertops.
For covered surfaces you can make use of repair pen or paste for filling up the cuts or scratches. You need to fill exactly in the mark and avoid overfilling or underfilling because you cannot remove the filler dries later on.
Removing the chips or scratches from a granite countertop is a bit complicated. For filling the chipped or granite includes:
Apply concealing tape over the encompassing shelf space, so that the damaged area is left uncovered
Using an extremely sharp edge to rub off the excess filler for a smooth wrap up
Place a piece of clear tape over the recently filled chipped surface. This powers the gum further into the chip that it gives a more solid seal
Mix an epoxy pitch with the fitting shading colors so that it matches with your granite color precisely
Read more: DIY guide for painting kitchen countertops
Final Words
A cleaner kitchen is a sign of healthy living and countertops play a major role in it. Follow the above steps to correctly clean your kitchen countertop and make your cooking healthier.
Read more: How To Choose The Perfect Quartz Countertop For Your Kitchen?
5 Simple Hacks to Tackle Kitchen Countertop Issues
was last modified:
May 17th, 2022
by
Recommended