Home equity loans can be a tricky subject. They're often called second mortgages because you also secure them with your house. Just like your first mortgage. There are many different reasons why you would venture into the home equity loan world: primary big milestones in life that require funding. (Sending your kid off to college, for example.) That being said, when you start to research on your loan options, you will find different possibilities to consider. And picking the best one for you and your needs is a decision that must be well thought of.
There are two types of home equity loans: closed-end loans and lines of credit. Each one has its own set rules and serve different purposes.
1. The Loan:
A home equity loan provides you with a one-time chunk of money, which you will have to pay in a determined amount of time, with a fixed interest rate. Monthly payments will remain the same over your payback period. It is called a closed term loan because once you get the money, you can't borrow any more.
Ideal scenarios for this type of home equity loan is knowing exactly how much you need and when you need it. For example: if you're planning a bathroom renovation for $10,000 and your daughter's sweet sixteen gift is a car, say $5,000. You know you need $15,000 and you also know both payments are due in full next month. Since you have no major future expenses and you're not planning to borrow again, then this is definitely your best choice.
TIP: Take This Home Loans Quiz and Find Out in Minutes Which Home Remodel Loan Best Suits Your Needs.
2. The Line:
A home equity line of credit (HELOC) is a flexible type of loan. The lender will set an amount and during a determined period of time, you will be able to use the money. The difference is, that during that time, you can withdraw money as you need it. It's not just a lump sum. As you pay off your principal debt, your credit revolves and you can actually use it again. It's similar to a credit card. If your line of credit is  $10,000 you borrowed $8,000 but you paid off $4,000. You now have $6,000 available to borrow again. These types of loans don't have fixed interest rates and they may vary throughout the life of the loan. These types of loans are best used when you need the money over different time spans. Like paying for your kid's semester or a home renovation project that will last two years. This is the type of loan you will need. It's more flexible and you can use the money when you need it.
There are many uses for home equity loans, and they're probably your lowest interest rate. Be sure to speak to a loan officer and be specific about your needs so you pick the right choice for you.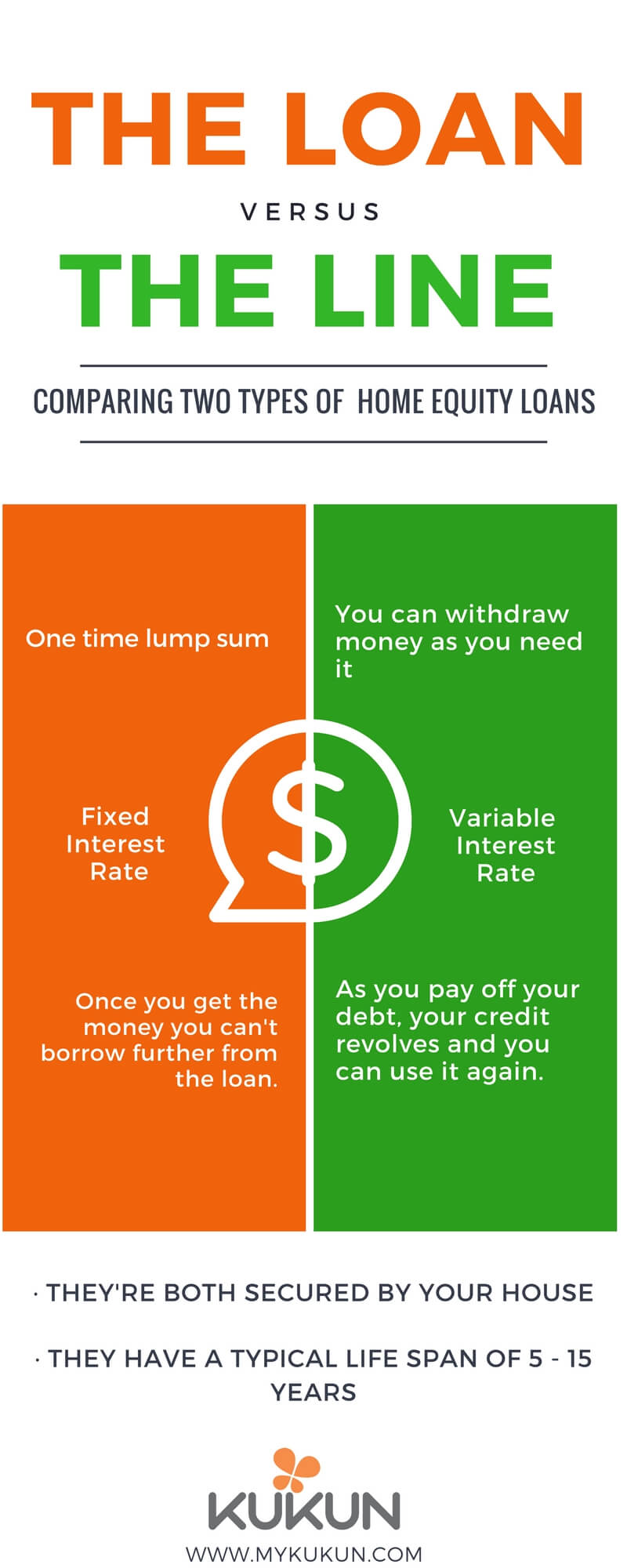 The Loan vs The Line: Home Equity Loans (Infographic)
was last modified:
June 12th, 2019
by