The Ultimate Guide to Home Theater Design
The lights dim and the smell of popcorn fills the theatre as the massive screen flickers to life. You settle back in your plush, reclining chair as the Dolby surround sound kicks in. Suddenly your phone rings.
But that's okay. You press pause and take the call: because you're at home and this is your theater.
As digital and internet technology begins to offer true cinematic experiences, home theater systems are becoming more accessible and (almost) necessary. These are the areas you should concentrate on when you design your 'Ultimate Home Theater'.
Seats Please!
The layout of your home cinema depends on various factors. The most obvious of these is the available space. Whether you're designating an existing room in your house for movie magic, adding on, or building a new house, ask yourself an important question. How many people can, or should, my theater accommodate?
Remember that everything from screen size to acoustics will be affected by the size of the room. Do you really need a 20-seater miniplex if you're going to mostly watch Monday night football with six of your buddies? We all know how sad a nearly-empty movie theater looks, so save the expenses for the good stuff.
Once you've decided on how many seats you'll need, draw up a rough plan with the seating arrangement. Here you need to think about:
The aisle – make it easy to get in and out of the cinema.
Distance from the screen. Too close and you're straining your neck and eyes, too far and you lose the cinema feel.
The rows – straight or curved? Three, four, five? Connected rows or divided by your aisle?
Leg space. It's very important to leave enough room between rows to allow a comfortable stretch.
Once you have a rough plan, you can look at the seats themselves. The options are many but things to think about include:
One or two-seater units? Or both?
Movie-house style or comfortable home furniture?
Reclining capabilities (just remember you don't really want to sleep through every movie).
Choice of material such as leather or fabric. Leather may be more durable and easy to clean, while fabrics are often warmer and quieter.
Read more: How to choose the right furniture for your home
Screen Time
While the range of available screens is almost limitless, your main considerations are size, aspect and picture quality.
Although Samsung has produced a 170 inch modular screen, most of the largest screens for home use are around 85 to 100 inches. These sizes may be perfect for a smallish entertainment area but for larger theatres, it may be worth looking at projection systems.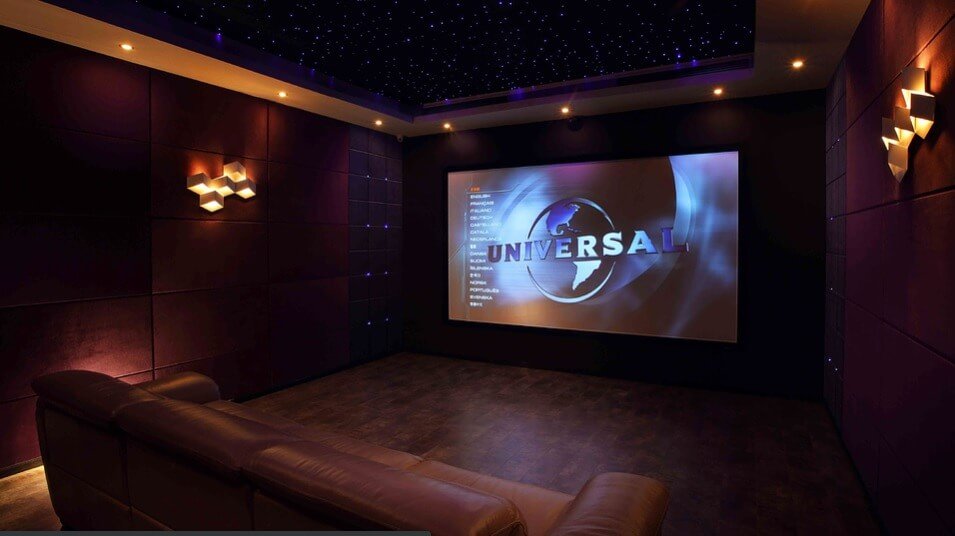 The advantage of a projector system is that you can minimize the effects of variable aspect ratios. Without being too technical, the aspect is a relationship between the width and height of the picture. Today, two main aspect ratios are used for filming – 21:9 for movies and 16:9 for television programs.
So, if you have a TV that is 21:9 (21 units wide and 9 units high) it will show movies perfectly, but television shows will have black bars on the sides of the screen.
Likewise, a television formatted in a 16:9 ratio will be great for TV programs but will necessitate black bars on the top and bottom of the screen when showing cinematic movies in the correct ratio.
Therefore, if you plan to watch a lot of both movies and television shows in your theatre, go for a projector system with a decent screen on a black background. That way you can happily change the aspect on the projector settings and not be annoyed by the visible bars on a TV screen.
Will you lose on picture quality? Perhaps a little, but the best 4K and 1080p projectors deliver excellent detail in images with good contrast (black levels). Plus, they'll give you more of a movie theater experience.
However, if you have around $ 600k lying around, you may want to just pick up the 19-foot wide C Seed 262 television with ten integrated speakers for 9.1 surround-sound.
Read more: Tv placement in living rooms
A Matter of Sound
Speaking of speakers, sound is the final important consideration in your theater design. Surround sound comes in 5.1 or 7.1 (but see the C Seed above).
For most home theaters, 5.1 should be enough, with a sub-woofer and five speakers: left, right and center in the front, along with two rear speakers. If you want to upgrade to 7.1 in a large space, you can add two on the sides. A decent receiver brings audio-visual signals from your satellite decoder or blu-ray player and sends them to the speakers and display.
How much you're willing to spend will usually dictate the quality of sound you're going to get. Bear in mind that there are some excellent, well-priced components, so shop around and consider buying them separately. This way you can afford quality without forcing your friends to buy tickets to Saturday movie night.
It may also be worth having a sound professional install the speaker system to ensure the best acoustics and avoid issues such as noise cancellation.
Read more: Amplifier for home theater system
The Final Scenes
For the special touches, don't forget lighting and climate control. Subtle floor and wall lighting works well, especially with remote-controlled dimming.
Keeping the room cool and well-ventilated will keep viewers from nodding off in the comfort of your cinema experience. And, importantly, ensure your theater is adequately soundproofed. It's not really fair to tease your neighbors with the soundtracks of movies they're invited to. Combine the aesthetic with the practical when you do this. As can be seen in picture above, Wanda Michelle Interiors used this approach in their Mount Street project. Plush, carpeted walls and floors dampen the sound while providing the elegance and spirit of old movie-houses. Levelled ceilings help break up sound waves too, and offer spaces for concealed lighting and air-conditioning. This is the balance you should aim for in your own design.
Finally, sit back again, grab a handful of that popcorn and press play as you immerse yourself in your 'Ultimate Home Theater'.
Read more: Man cave ideas
The Ultimate Guide to Home Theater Design
was last modified:
September 28th, 2022
by
Recommended