Are you a homeowner who just loves the concept of outdoor living while enjoying the comforts of home? A three season room will be the perfect home addition for you. This type of structure easily creates an outdoor living space, while protecting you from pesky bugs and the elements of nature.
What's more, such a type of sunroom provides you with a cozy spot for entertaining and relaxing. And, it definitely adds value to your property.
What exactly is a three-season room?
A three season room is a type of room that features floor-to-ceiling glass windows and doors. Basically, the structure is enclosed with glass so as to let in maximum natural light.
Such a room can be generally enjoyed most months of the year, of course depending on your area and the local weather.
However, keep in mind that three season rooms, unlike four season rooms, are not engineered for heating or cooling.
What is the difference between a three season and four season room?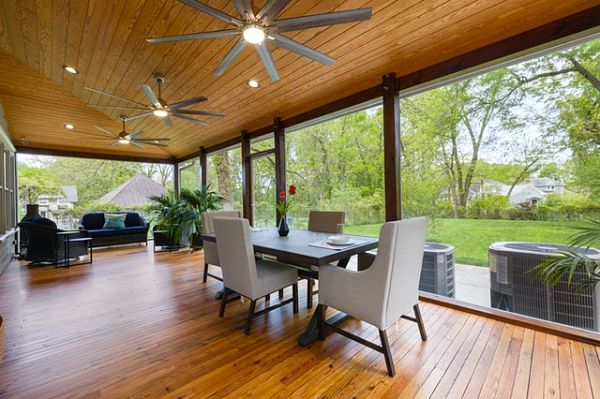 While both types of sunrooms may seem similar at first glance, they're quite different. The most important difference is that a four season room can be heated and cooled all year round while a three season room cannot be.
The reason is that a four season room requires additional engineering and insulated glass for temperature control. Its frame (usually aluminum or vinyl frames) and glass are thermally engineered to allow cost-effective heating and cooling, regardless of the weather.
A three season room, on the other hand, is suitable only for a region that witnesses a climate that's neither too warm nor too cold. Its aluminum frame and single pane glass are not designed to prevent heat loss.
This is also the primary reason why a four season room is generally more expensive.
Read more: All you need to know about turning a deck into a sunroom
Can a three season room be built on a deck?
The best part about installing a three season room is that you don't need to excavate a foundation. Moreover, you do not require heating, insulation, or plumbing system. So basically, the structure is built just like a deck — but with roofing, windows, and screening. Of course, your existing deck may need some structural work before adding a sunroom.
If you're building one on a deck or your front porch, keep the lack of insulation in mind. The door from the sunroom to your home will require some insulation to prevent the cold from seeping indoors in winters.
Read more: Can leave patio furniture outside winter
How much does a three season sunroom cost?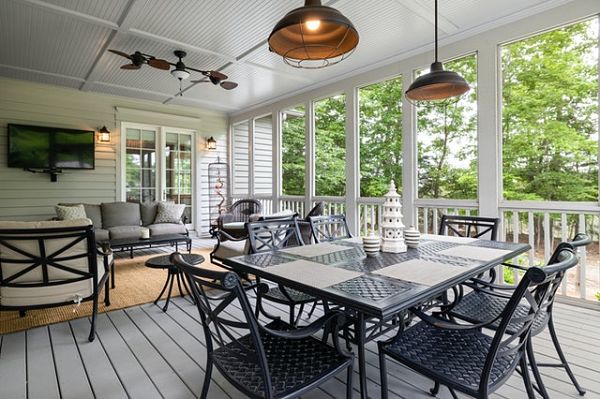 An average size sunroom costs $100 to $350 per square foot. A 3 season room costs about $8,000 to $50,000 to build while a 4 season room costs $20,000 to $80,000 due to the higher quality construction materials used, including dual-pane glass, insulation, and structural engineering. If you're confused between the two, it's best to get a sunroom estimate before deciding on the kind you want for your home.
Read more: Sunroom financing: Patio enclosures financing & loan options
Does a 3 season room add value to your home?
Monetarily speaking, a well-installed sunroom can help recoup about half its construction cost in the return on investment. However, that's not the only thing to consider when installing a sunroom. This home upgrade can vastly improve the quality of your life.
Here are some benefits of a three season room:
The versatile sunroom addition expands your outdoor living space and can be the perfect spot for your family gatherings and friendly lunches. It can be turned into a family room, a second living room, a home gym, or a game room.
The room gets plenty of natural light and hence improves your health as well as mood.
It provides a safe space for young children, with no chance of dust or pollen allergies.
It helps you get an outdoor living experience in your enclosed space without worrying about pests, insects, rain, or wind.
A three season room, unlike a patio enclosure or a screen room that uses a mesh screen, gives you clear outside views. It uses clear or tinted panels that block out UV light or air particles.
It protects your outdoor furniture too from excessive rusting, fading, or breaking.
It's a cost-effective addition that does not require a plumbing or heating system.
Read more: Multifunctional spaces guide
Last thoughts
A great three season room can easily become the most well-liked room in your house all year long. You and your family members can enjoy both a beautiful view of the outdoors and the comforts of your home. We hope this blog inspires you to create the most perfect multifunctional indoor-outdoor living space.
Read more: Sunroom flooring ideas.
Does a three season room add value to your home?
was last modified:
January 31st, 2023
by
Recommended