Everything You Need to Know About Timber Frame Homes
The use of wood as a building medium brings to mind images of log cabins, cozy lakeside homes, and large, majestic mansions in quaint mountain top estates. Timber frame homes do share quite a few design elements with log homes, but also have some distinct characteristics that make them unique, especially in the way they're built. You'll find everything you need to know about timber homes in the short read below.
Frame construction and structure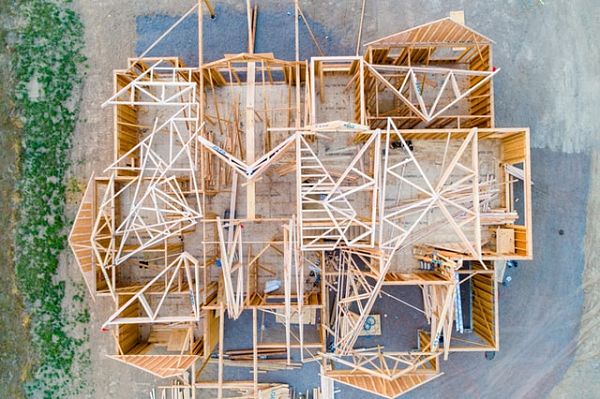 The first difference between a timber frame home and regular log home is the way the frame is constructed. Unlike mainstream construction, where the elements are simply nailed together to hold everything in place, the primary beams in timber frame homes are painstakingly built using the age-old mortise and tenon technique. Secondary beams are then notched, drilled, and fixed in place using wooden pegs.
Almost like putting together a giant puzzle, every building element in a timber frame home is dependent on another for support and structural integrity.
In log home construction, walls are usually laid one course on top of the other. However, timber frame homes use individual timbers to build the skeleton of the home. The size of these timber beams can vary depending on the size of the structure, and their texture can range from smooth, milled timbers to more rough and rustic textures, depending on what the homeowner chooses.
The walls in timber frame homes can incorporate a wide variety of insulation values. The construction style itself offers homeowners a wide range of design and aesthetic options, ranging from barn homes to mansions.
Interior and exterior appearance
Again, a timber frame home offers homeowners a plethora of options when it comes to interior and exterior wall appearances.
Exterior walls can sport log siding, bricks, natural stone, vinyl, cedar shake, and more in terms of finish.
Similarly, popular choices for interior walls include drywall, natural stone, and tongue-and-groove wood.
This means if you're considering building a timber frame home, you will have no shortage of options when it comes to the look of your new home.
Popular timber frame home styles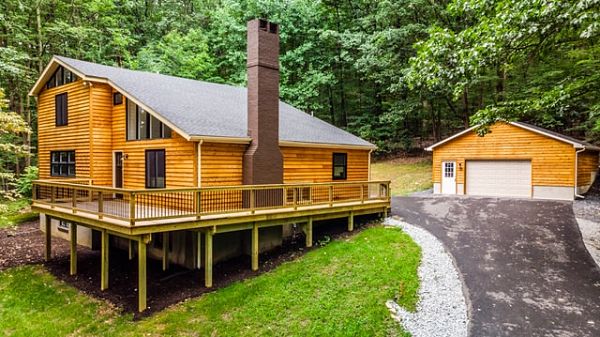 Now that you know a little about how timber frame homes are built, let's give you an insight into popular styles to help you choose what style works best for you.
1. Farmhouses
Timber frame farmhouses feature open interiors, a simple but elegant floor plan that utilizes small spaces intelligently, leaving a minimal footprint.
Natural timber framings are an integral part of the construction. Other characteristics of timber frame farmhouses include dark-colored banded windows, vertical sidings across multiple levels and minimal roof lines.
2. Barn homes
Barn style homes are widely popular because they evoke the emotions associated with rustic and healthy living. Drawing inspiration from farmhouses, bank barns, stables, and more, timber frame barns are the perfect choice for those looking at the old school timber framing and craftsmanship along with modern-day creature comforts.
Key features of barn home plans include large and open interiors framed in choice timber, gambrel roofs, vertical board and batten sidings, clerestory windows, cupolas, and large porches.
3. Mountain homes
Mountain homes are built to complement the natural beauty of their surroundings. While the exteriors may look rugged, comfort and energy efficiency are key features of timber-framed mountain homes. While the construction style by itself allows for you to mirror the raw natural beauty of your surroundings, a lot of timber frame builders incorporate materials like structural integrated panels and insulated concrete forms to make your home more energy-efficient.
Mountain homes feature outdoor living areas like screened porches, stone fireplaces, stone exterior accents to match the surroundings, rustic exterior claddings, large windows, and rustic timber trusses and rafters.
4. European styled homes
A throwback to the colonial influences on the architecture and design elements that are a part of our heritage, European-styled homes could range from a Tuscan villa, a chalet to an English cottage.
Paying homage to those influences and to the wood framers of yore, modern European styled wood-framed homes feature ornate timber framing, great rooms, steep roofs, metal accents, and shutters.
Dormer windows, stone accents, narrow roof overhangs, and arched windows are some other distinct features.
5. Craftsman homes
Take timber frame home living to the next level with craftsman style homes. The craftsman style was born as an opposition to the mass production and standardization of everything during the Industrial revolution.
These custom homes are all about attention to detail and craftsmanship. Post and beams accents on porches, custom wood framing with arches and angles as well as decorative frames are some common choices that homeowners make.
Craftsman homes often feature lower pitched roofs with exposed rafters and claddings that are a mix of natural tones and splashes of color.
Stairways and porches also often feature banded windows.
Pro tips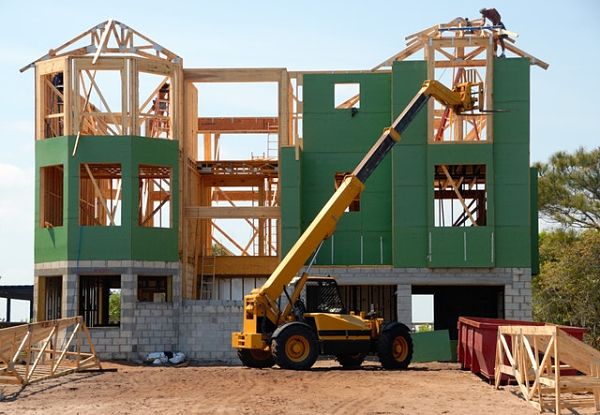 These are just some of the popular styles associated with timber-framed homes. A lot of companies offer design services as well as home packages built on templates. Needless to say, custom-designed timber-framed homes will cost you more than template built.
Custom timber frame homes will offer you a lot more freedom in terms of design elements.
A softwood framed home could last anywhere between 10 to 40 years without major repairs. Popular wood choices include red oak, white oak, Douglas fir, cypress, cedar, and white pine.
While timber may be less expensive than steel, on-site woodwork and labor costs may mean that the overall construction cost may not really be much lower than conventional home construction costs. The final turnkey cost may be as much as $200 to $250 per square foot.
Mortgages on timber frame homes are difficult to get since some lenders consider them non-standard. However, with the right kind of expert advice, it isn't impossible to get a mortgage on your new timber frame home.
Looking to hire professional contractors to help you build your new home? Click here to hire the best.
Read more: Building a steel frame house
Everything You Need to Know About Timber Frame Homes
was last modified:
May 15th, 2022
by
Recommended