How an architect utilizes tiny house floor plans to the max
With the rising real estate prices, most people who dream of owning a home have realized that settling in a tiny home is just as satisfying. They're making this lifestyle choice happily. Are you too looking for great tiny house floor plans that make the most of living space? We have our in-house architect showing you how it's done.
Tiny homes generally range from 100 square feet to 540 square feet. Creating the most perfect design is a challenge as you want to maximize space utilization as well as functionality — without compromising on the comforts of modern living.
Interestingly, the tiny home movement spread throughout the world in the late nineties. Many experienced architects have since then talked about the advantages of residing in tiny houses. In fact, Japan is the perfect example of how most homeowners have cultivated the idea of ​small houses or "micro houses" (Kyosho Jutaku).
This housing trend is specially designed for first-time homeowners, young couples without children, and singles. The design helps them seek a simple lifestyle and yet stay connected with their environment and ​​community.
Here are some of the best tiny house plans for you. They're so practical that you'll find it hard to believe that these designs utilize such less square footage.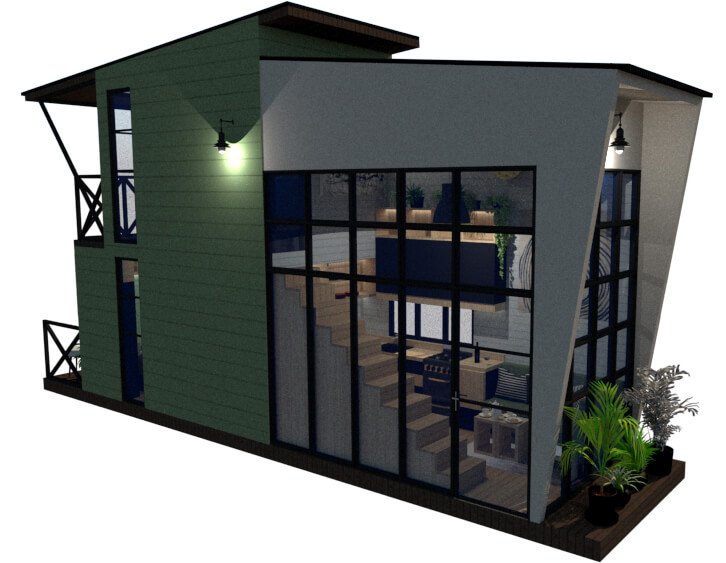 The best part is, this tiny house design will suit all your requirements — whether you're building your first home, a vacation home, or a guest house. The small house plan is easier to maintain, affordable, and offers you a more sustainable lifestyle by reducing your carbon footprint.
With our expert's home design, you'll be able to enjoy quality over quantity despite the minimal space. Let's see how this tiny home plan, along with some outdoor living space, makes a house feel larger than it actually is.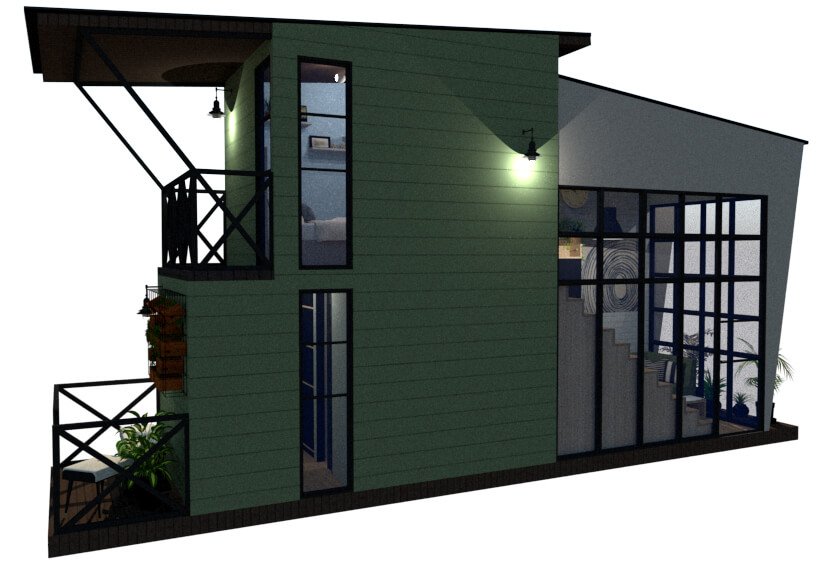 The space
This design works for an intermediate-size house — a space that's between a typical mini-home which occupies the width of parking space for a car (8.20ft) and one that occupies the length of two parking spaces (32.81ft).
The inclusions in this tiny home, with an open floor plan, are two bedrooms, a laundry room, good storage, a balcony, and a terrace. The best thing is that you can place the house on a trailer platform, or stilts, or as a mobile home that you can take wherever you want to live and establish your home.
Read more: Manufactured home financing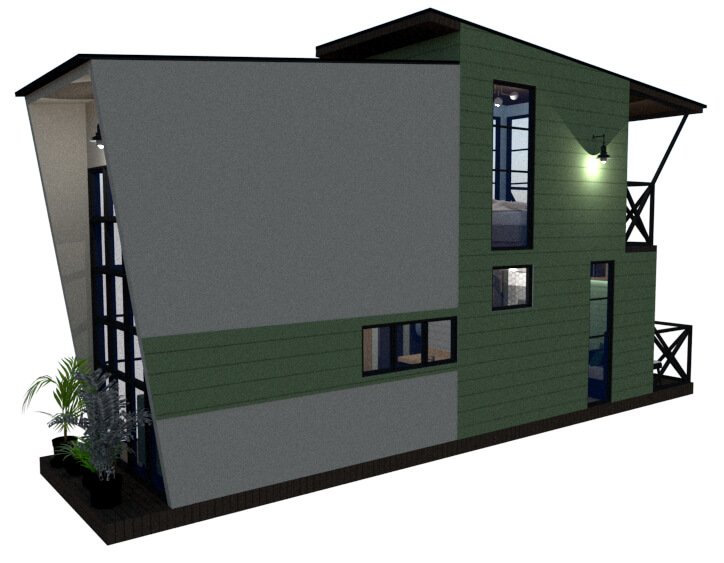 Architecture and exterior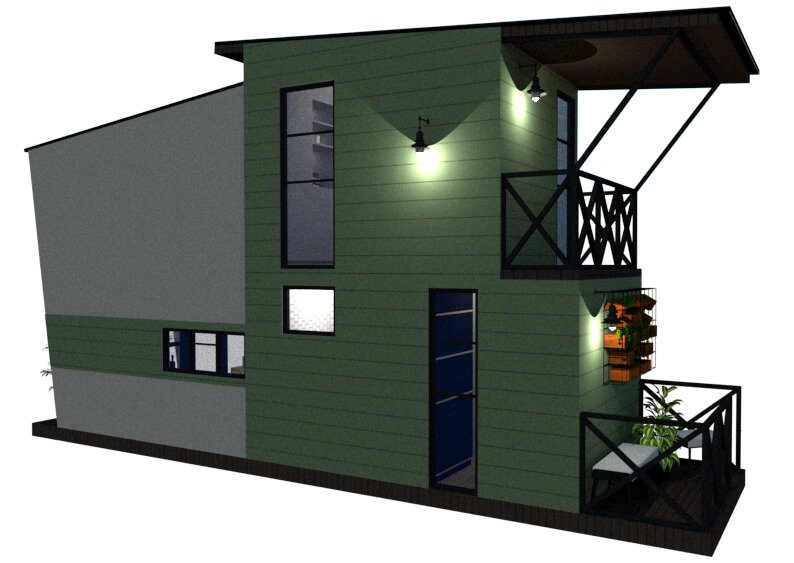 The tiny house has two distinct exterior parts — the green wall that covers the bedrooms, the toilet, and storage. This living area has more height (17.91ft) since it has two floors. The other wall is gray and connects the kitchen, the living room, and the dining room in an open floor concept. The house layout has been purposely kept fluid so that the homeowner doesn't feel claustrophobic due to the limited square footage. The exterior height of the structure is 16.24ft.
This cabin-style house has an "industrial loft" feel and uses building materials such as wood and light steel predominantly. There's a black ribbed roof to complete the look.
Distribution and interior design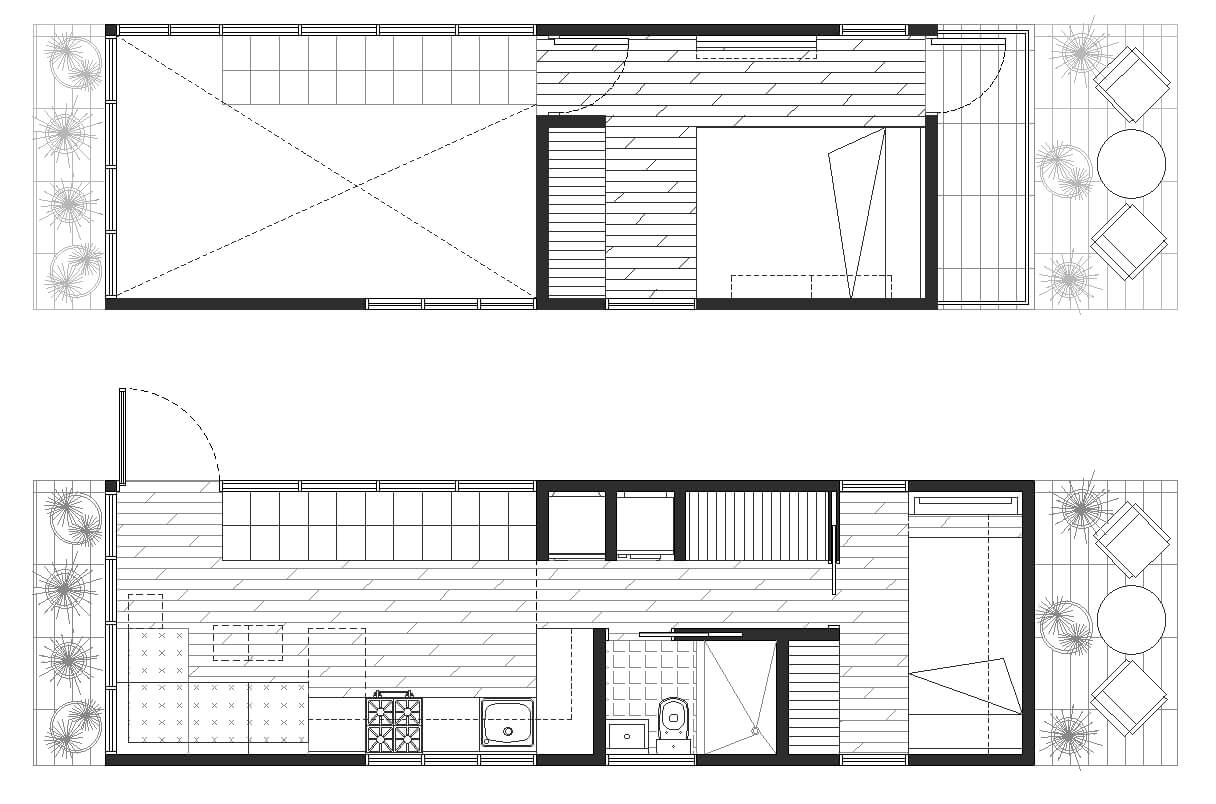 As you enter the house, the front door opens to the living room. Immediately next to it, there's a kitchen in front of a staircase. And then, there's a corridor that connects a storage space, laundry area, pantry, and refrigerator.
Right after the kitchen, there's a ¾ bathroom and a room that can be used as a guest room or a home office. The stairs lead to the second floor with the larger of the rooms — probably your master bedroom — and a balcony. The architect recommends installing black cabinets that contrast with the light-colored wood panels of the walls throughout the house. The floor too is in a light tone.
Dimensions and areas
Internal area: 312.83 square feet
External areas: 73.33 square feet
Total area: 386.10 square feet
First floor: 32.81ft x 8.20ft with exterior, 26.66ft x 8.20ft (just interior), total internal area: 218.64 square feet
Second floor: 14.27ft x 8.20ft with exterior, 11.48ft x 8.20ft (just interior), total interior area: 81.70 square feet, outdoor area: 22.87 square feet
Open concept (living room, kitchen, and staircase): 96.34 square feet
Laundry, hallway, and storage: 34.23 square feet
¾ bathroom: 16.15 square feet
Guest room on the first floor: 44.45 square feet
Outdoor terrace: 33.62 square feet
Platform for planters: 16.82 square feet
Master bedroom: 81.70 square feet
Balcony: 22.87 square feet
Minimum circulations: 1.97ft (front) and 1.48ft (side)
Do note that despite the minimum measurements, the space feels and looks comfortable as well as proportionate.
The views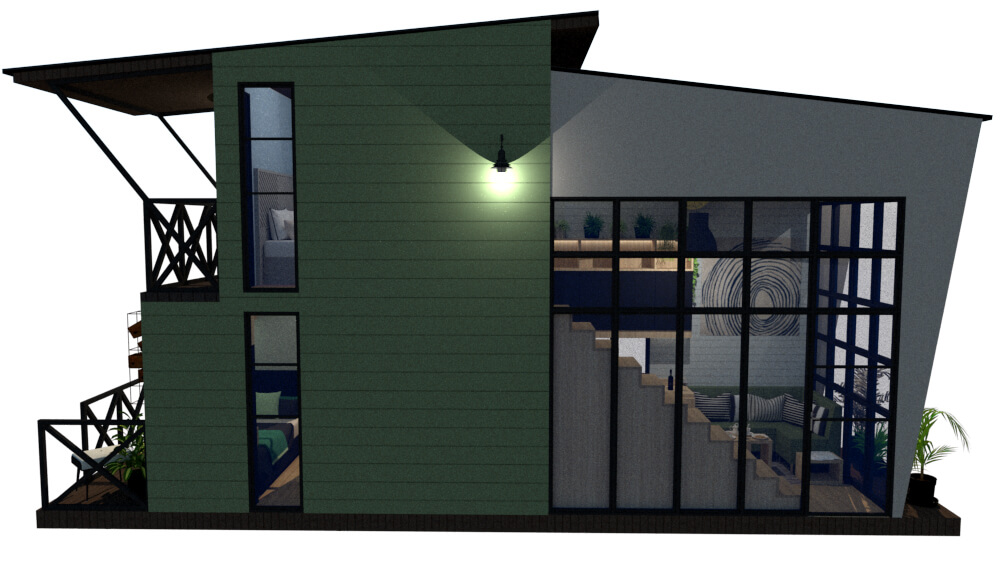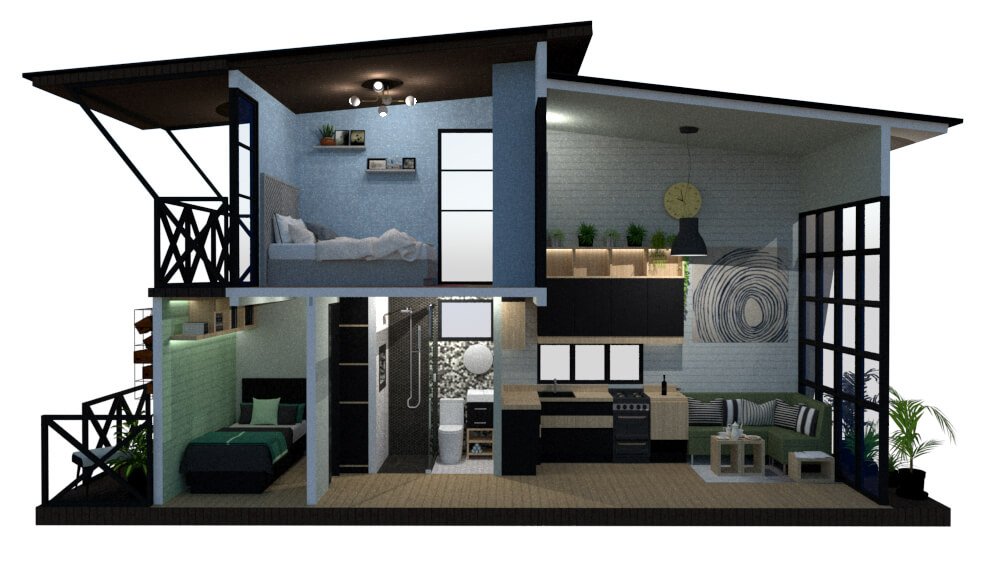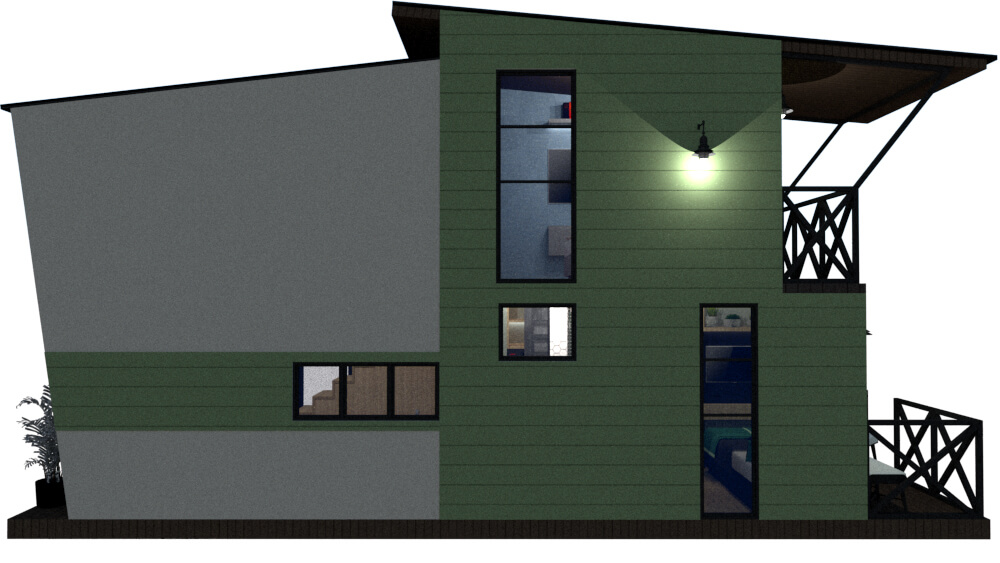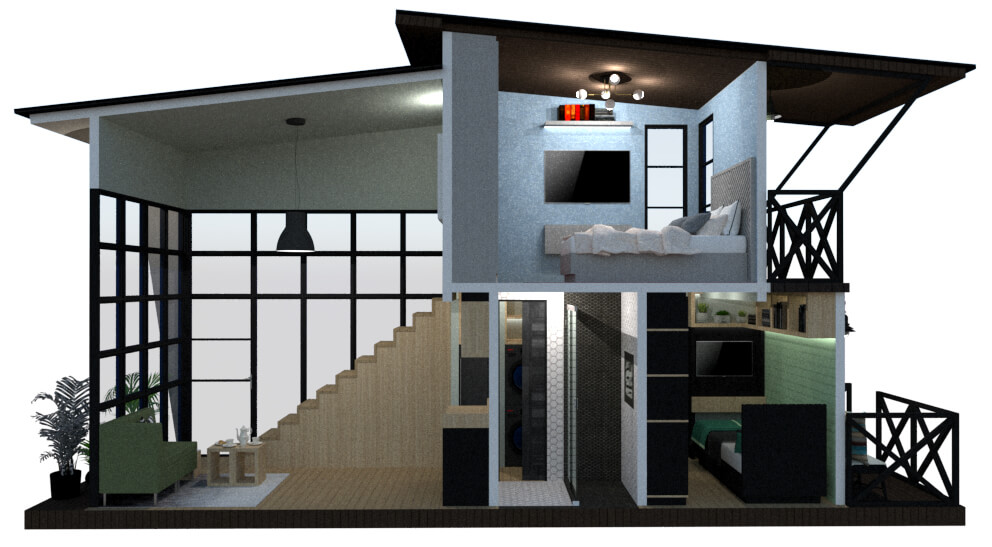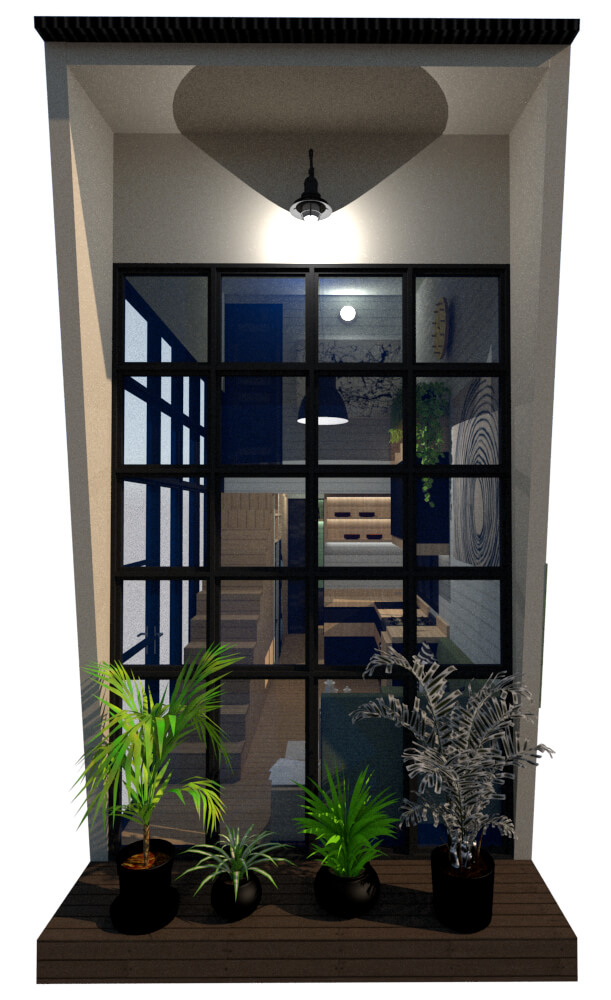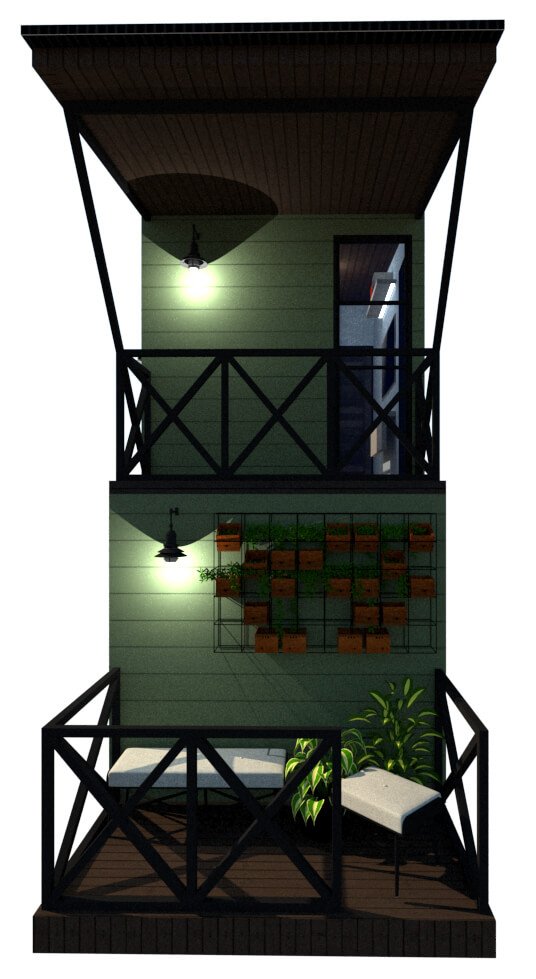 Kitchen area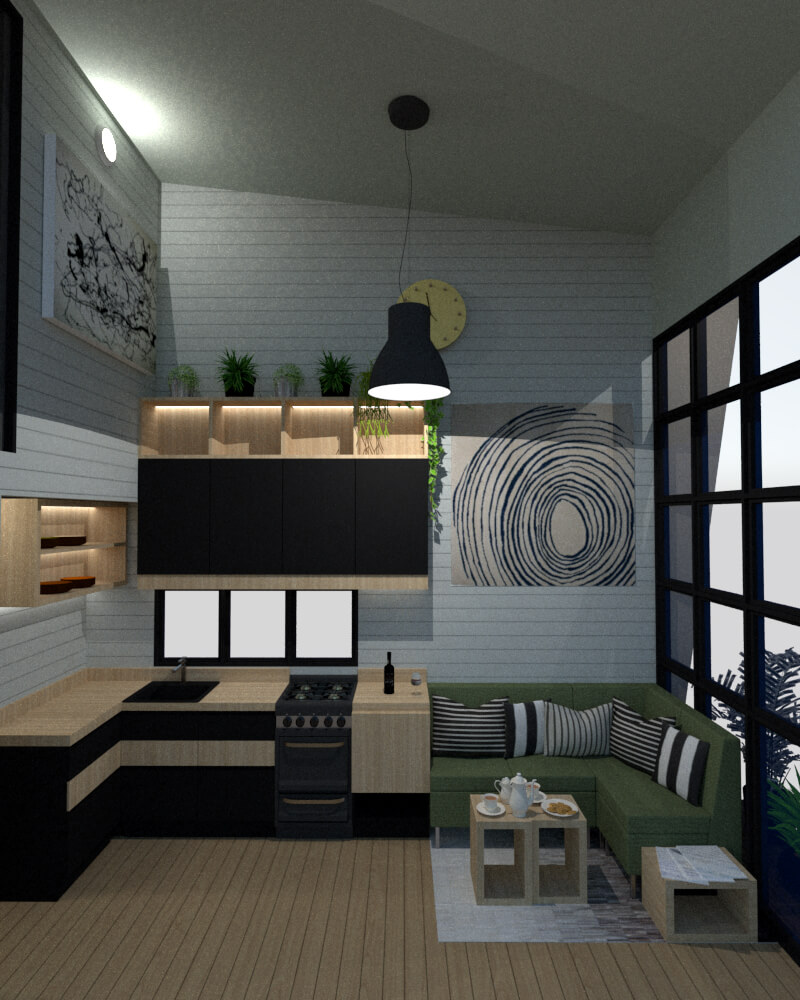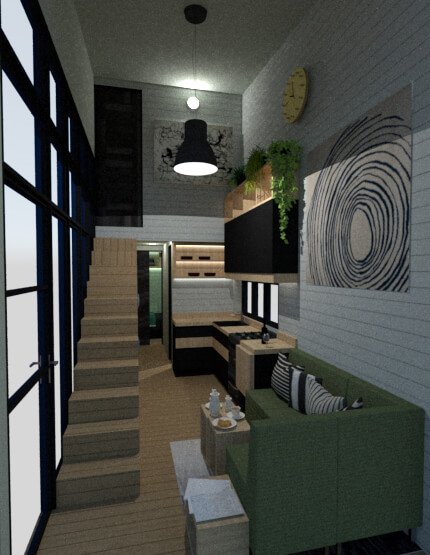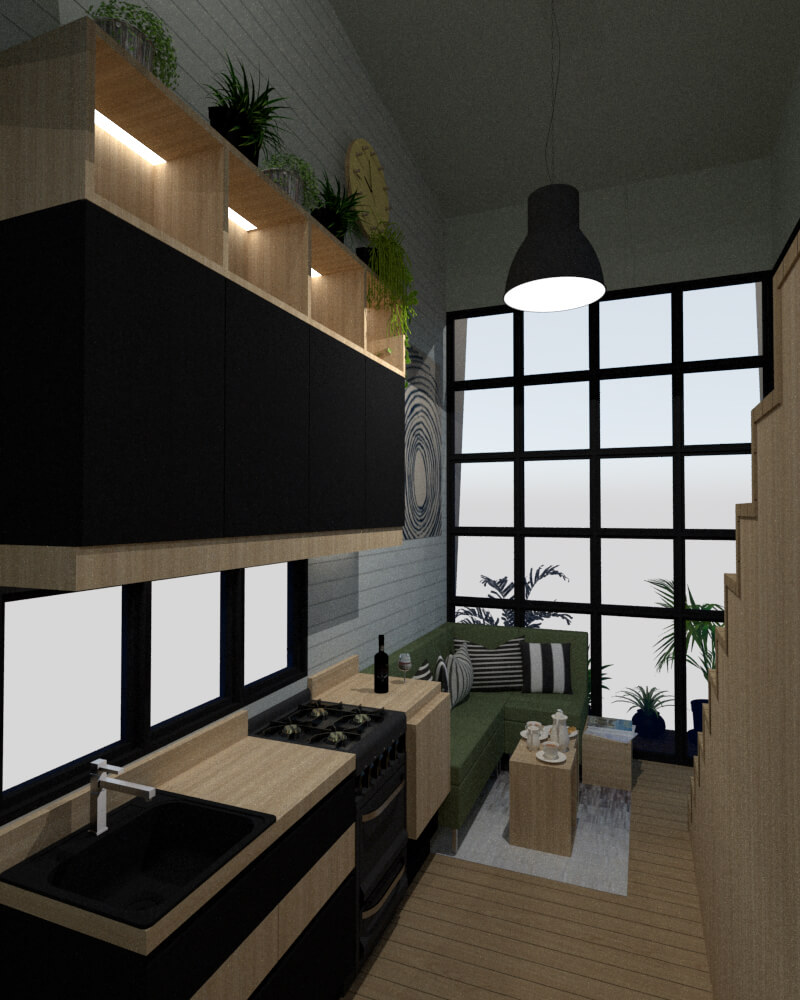 The kitchen is arranged in an "L" shape and is 1.64ft at the front and 1.97ft on the side. It features a sink, an oven, and some multi-purpose furniture such as a sofa, a foldable table that becomes a dining table, and side tables that double as shelves or dining stools.
The wooden cabinets allow good storage. And, the LED lights beautifully illuminate the kitchen countertops. Notice how the flooring material has been kept the same even on the steps to maintain continuity.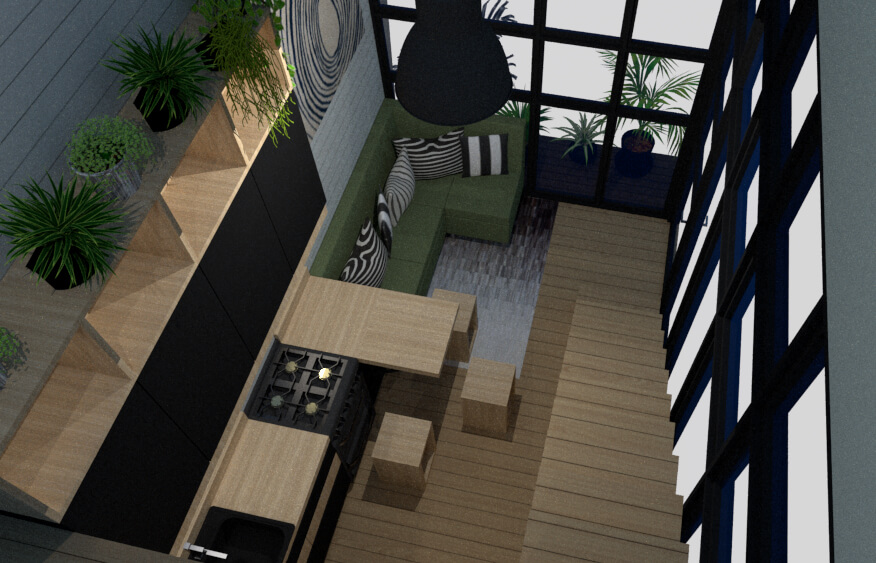 There's ample natural lighting in the cooking area. Plus, a window is placed between the countertop and the upper cabinets to provide a good view of the outside while preparing food or washing dishes. Ambient lights and a suspended pendant lamp provide the required illumination.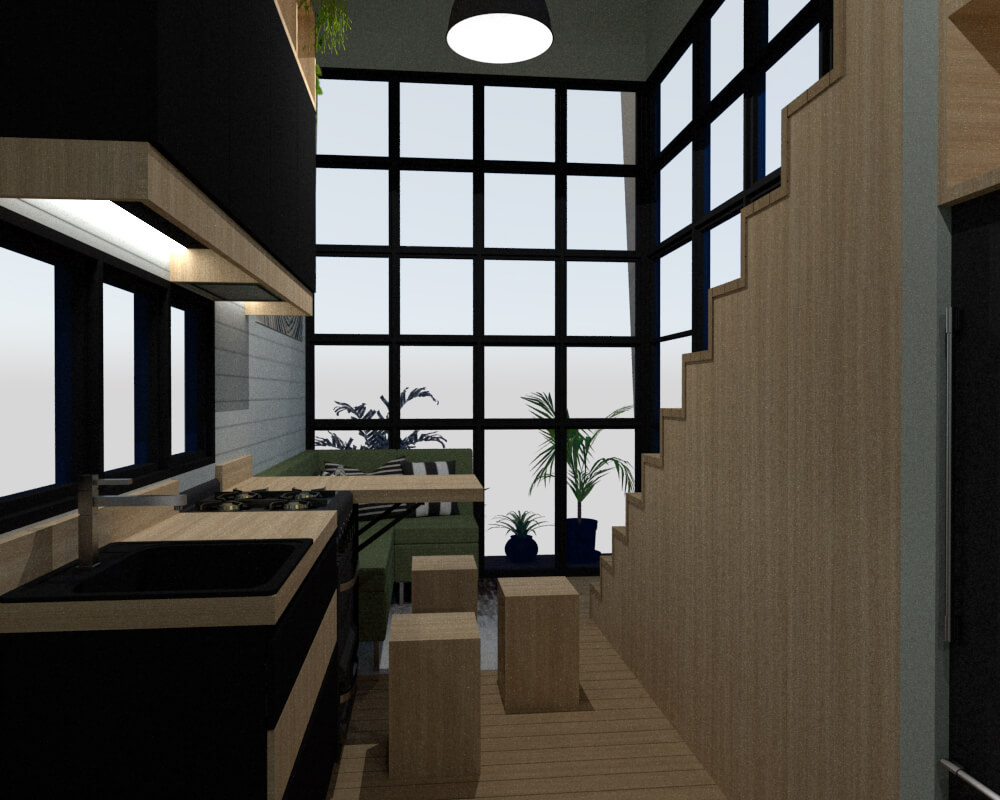 Home decor
The architect recommends accentuating the contrasts, and adding a modern character, with abstract paintings, a green sofa, and black and white cushions as well as carpet. You can place indoor plants to create a pleasant space.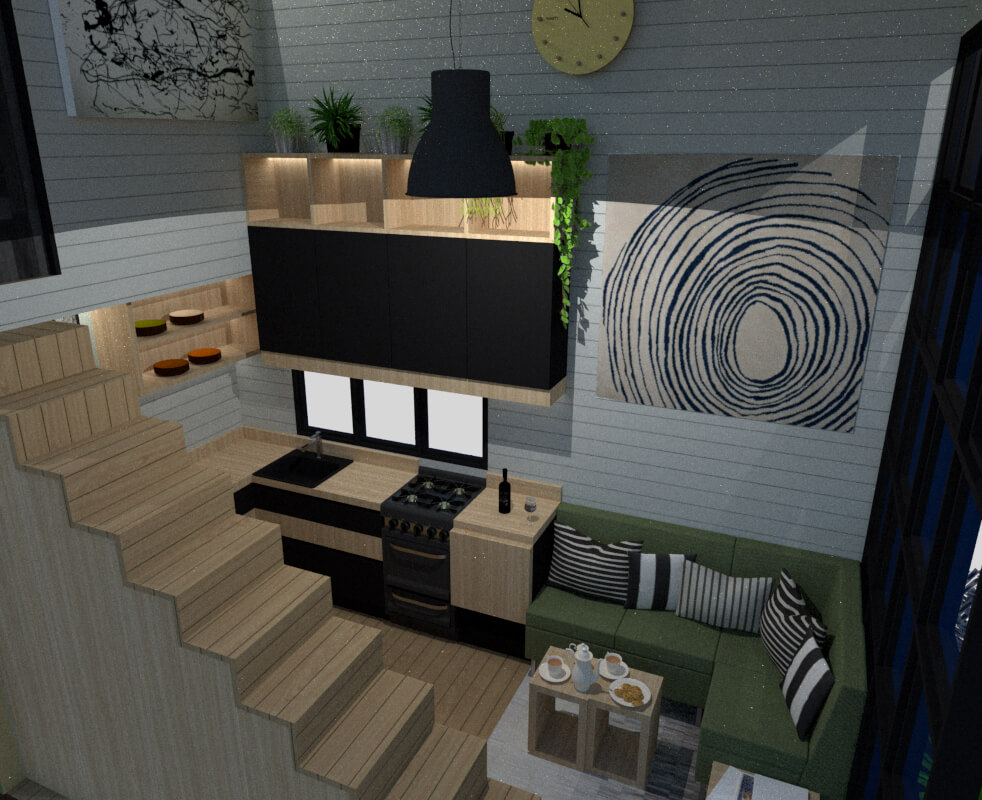 Bathroom
This floor design is a perfect example of how even a compact and small bathroom can be stylish as well as comfortable. This one measures 4.92ft x 3.28ft. The shower area measures 2.30ft x 3.28ft. It has a niche in the sidewall that serves to store your hygiene products.
The width of the bathroom sink is 0.98ft and the toilet is 1.64ft. The hexagonal wall tiles, in three different tones of white, gray, and black, provide a beautiful focal point. Our architect recommends silver faucets and shower door frames.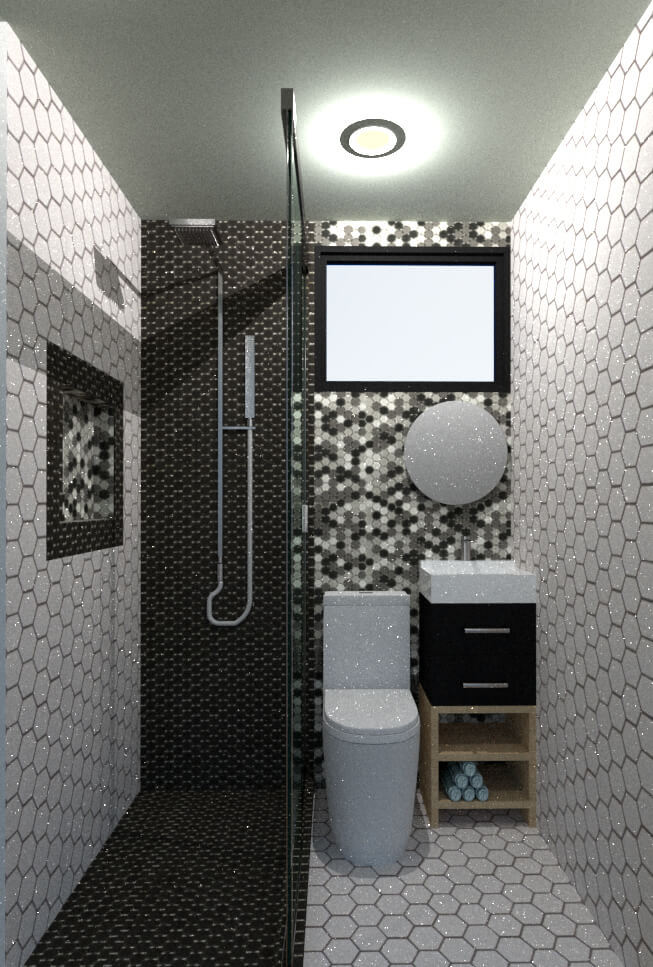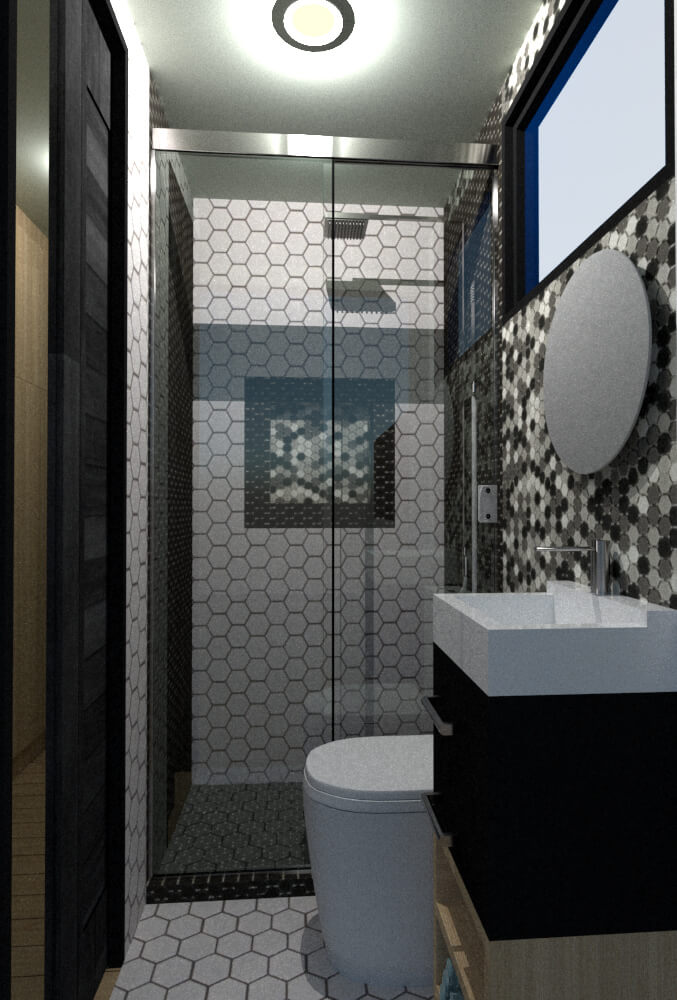 A wooden sliding door makes use of the small space efficiently.
Guest room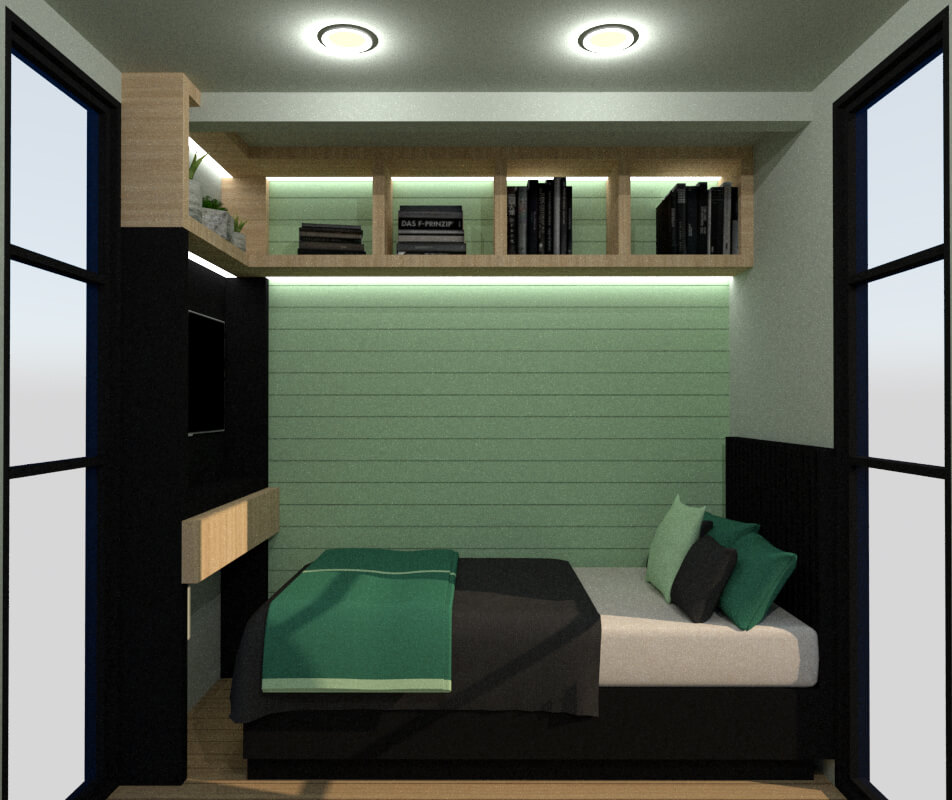 The small room at the back of the first floor comes with storage shelves and a closet.
Our architect uses various shades of green to enliven the space. The room features a 6.23ft x 3.28ft black wooden bed, a floor-to-ceiling closet, and a television.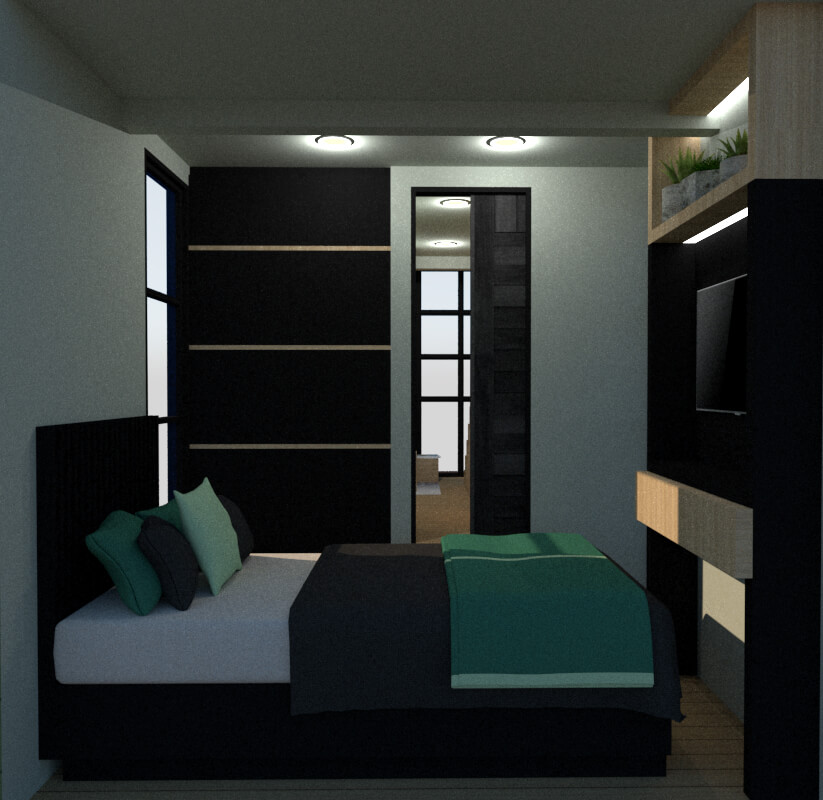 The bedroom has a sliding door, made of gray wood. The walls and ceiling are light gray too. If you remove the bed, the space can be easily utilized as a home office.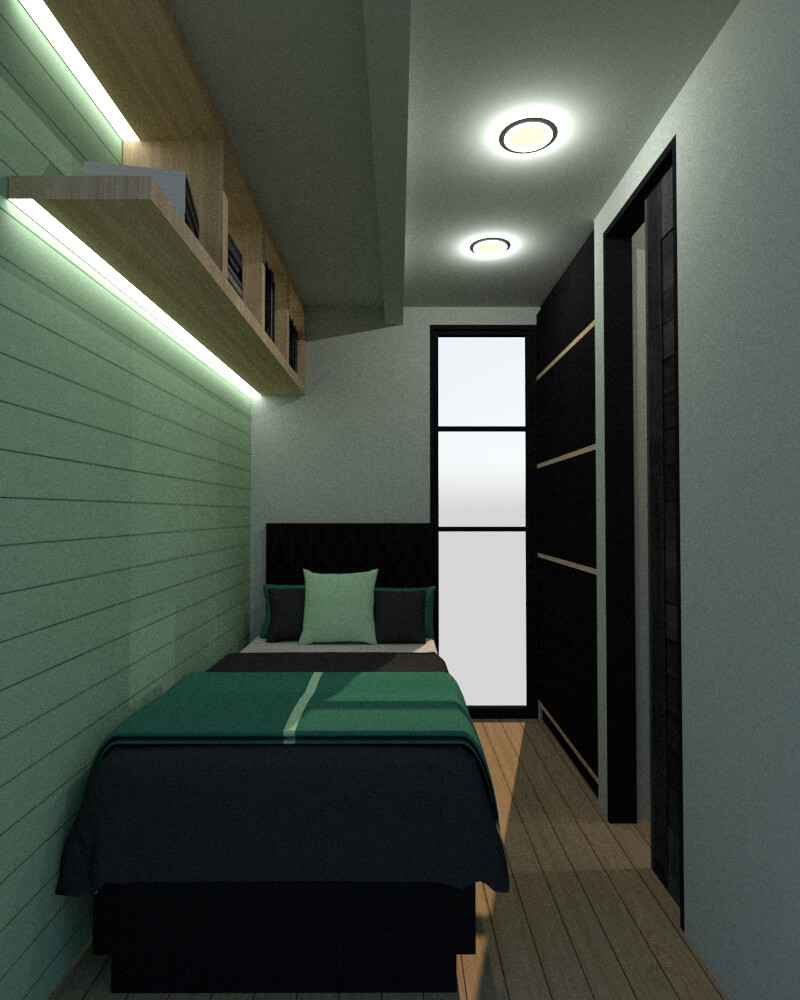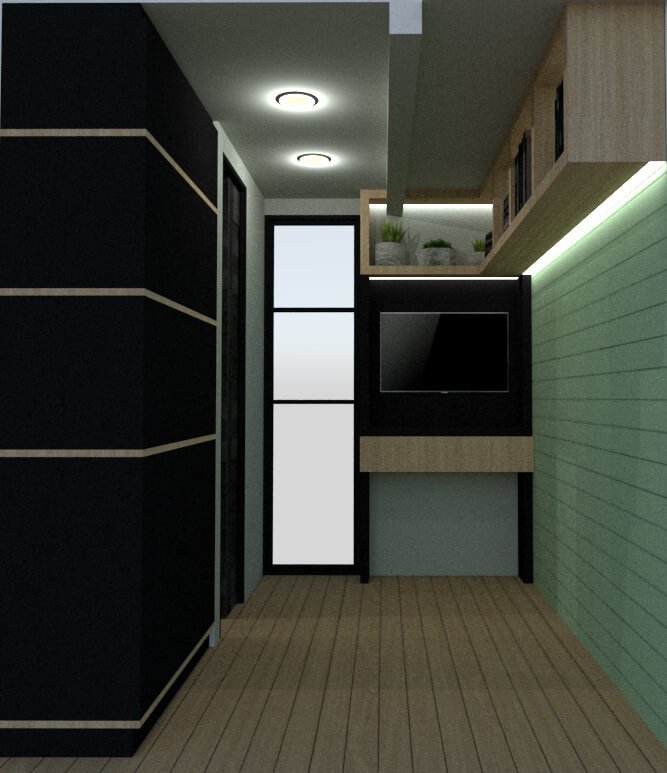 Master bedroom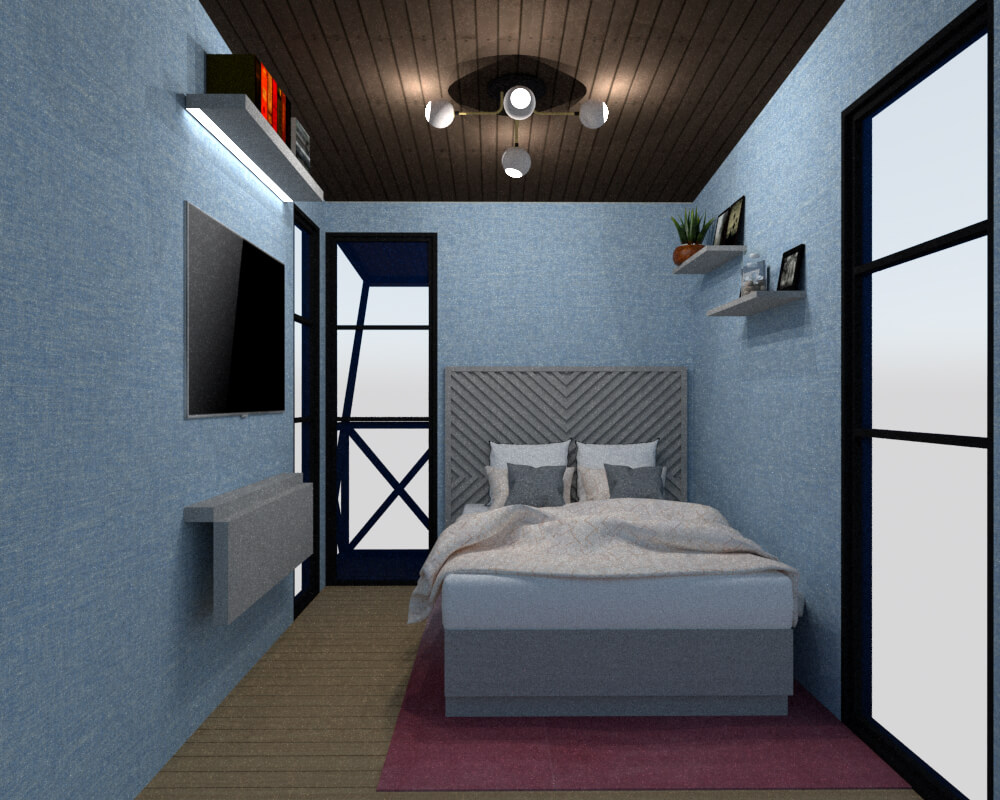 The room on the second floor is the main bedroom due to its bigger size and access to the balcony. The bed is similar to the one in the first-floor room but has a higher headboard of 4.43ft.
The textures and fabrics in this room are more subtle in white, gray, and cream. A pink carpet offers good contrast with the blue wallpapers.
The floor-to-ceiling closet measures 4.92ft x 1.64ft and is illuminated with LED lights. The room features a 2.30ft x 0.66ft shelf to store books, photos, plants, or other decorative items.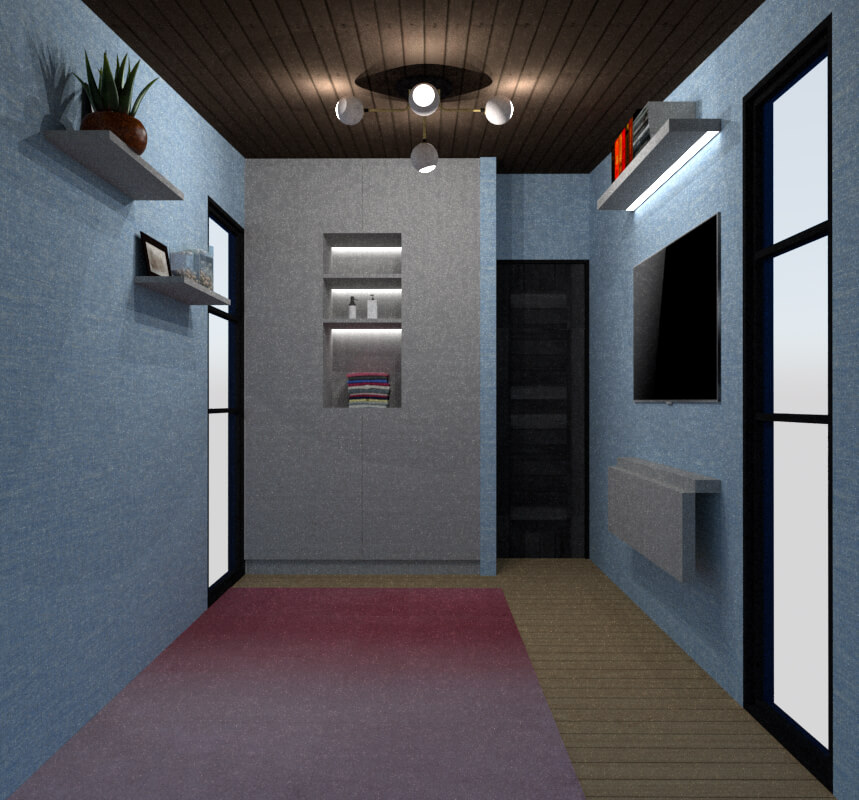 The room can easily accommodate a 40-inch flat-screen television. And, also a 0.45m x 1.05m foldable table that can be used as a work table in case you work from home.
There's sufficient natural light coming in through two windows and a door, and good artificial lighting by means of an interesting ceiling lamp and tube lights.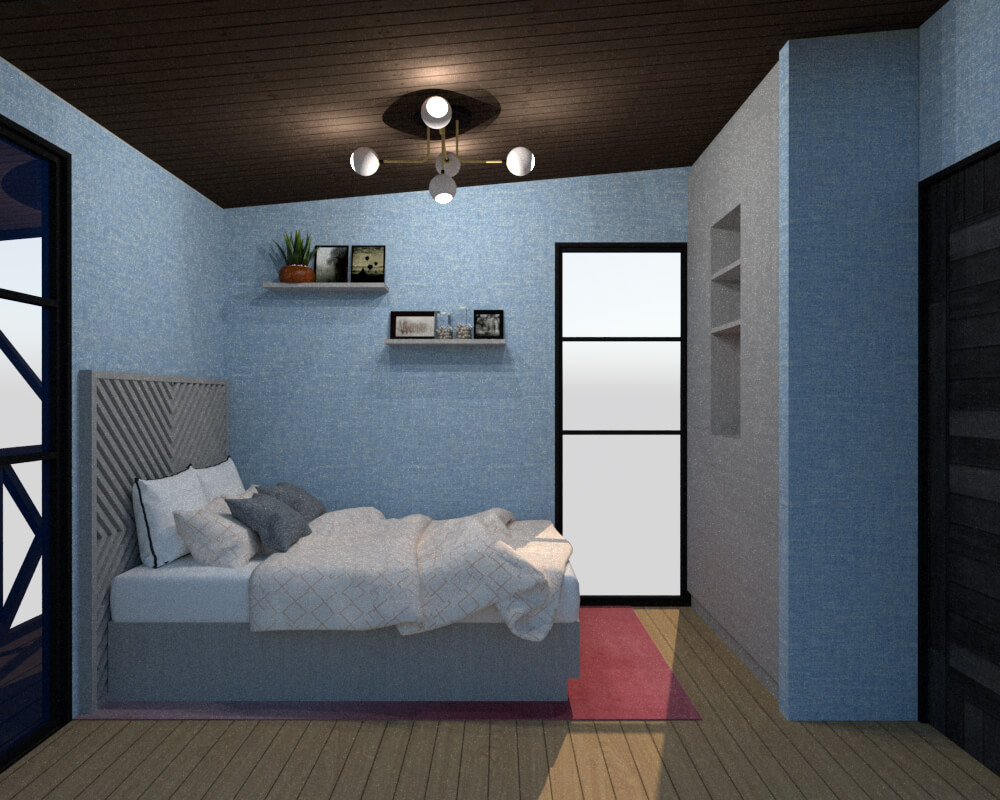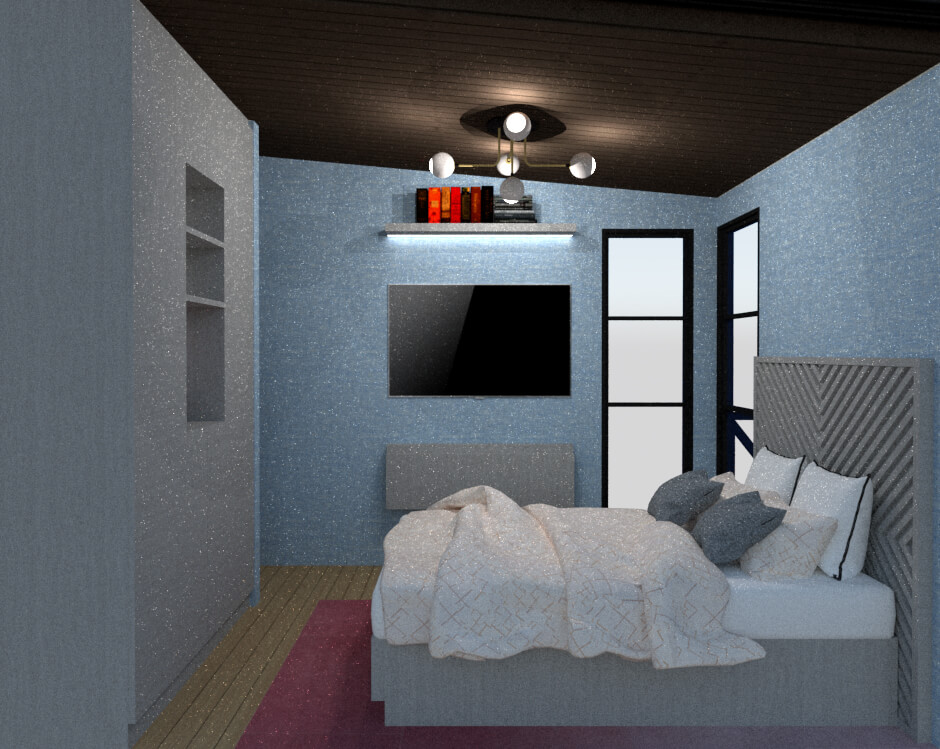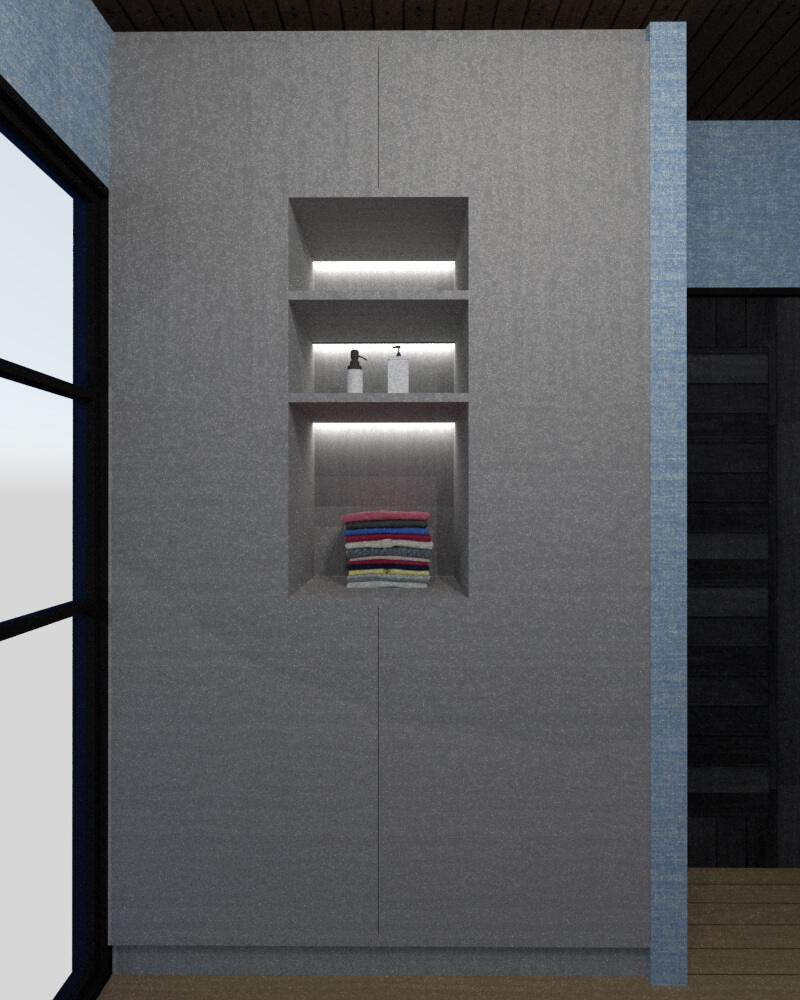 Storage area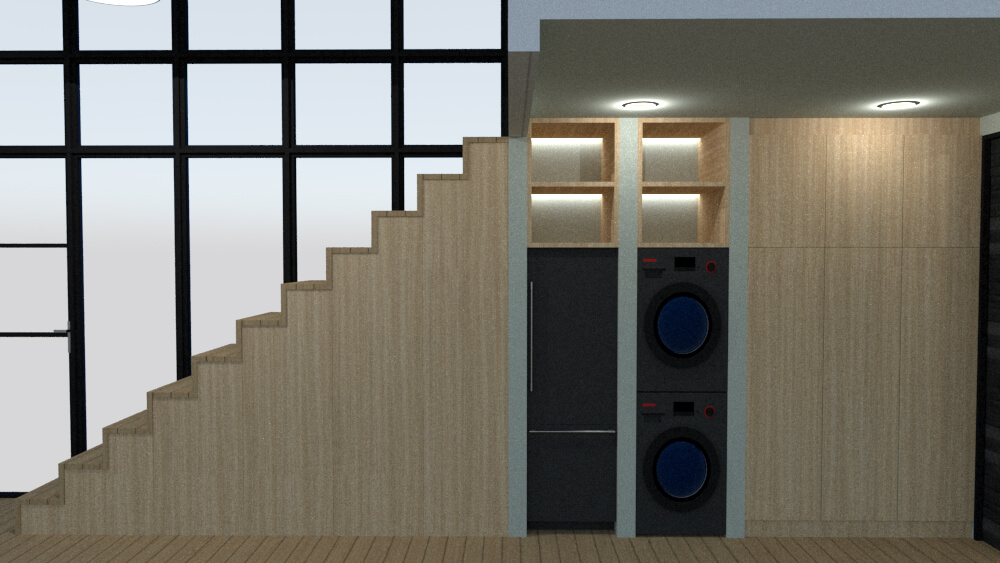 The hallway area on the first level, next to the staircase, is the utility and storage area. It has floor-to-ceiling cupboards and a small pantry area above the refrigerator. The refrigerator is 5.25ft high and 1.64ft wide. Next to it, there's a built-in space to stack a washer and dryer set. The open shelves above the fridge and laundry are 1.02ft each.
The terrace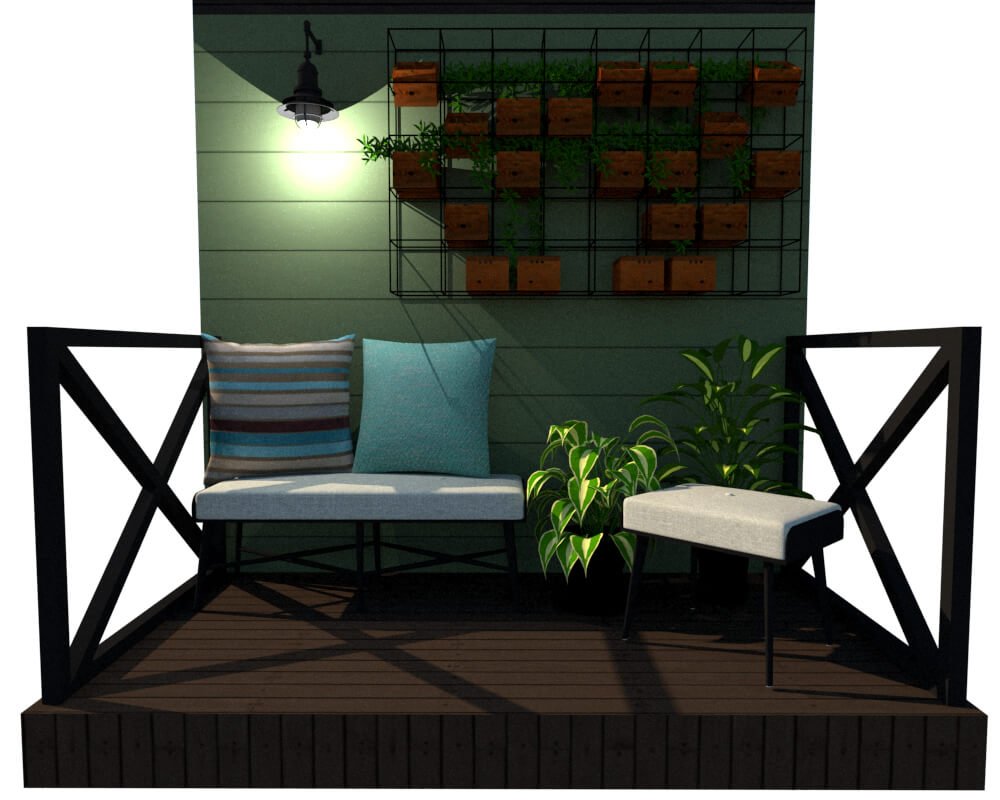 Though the terrace is a small one, it's beautiful as well as functional. It features a metal railing protection, which can be removed if the need arises. The architect recommends making use of cozy armchairs and cushions to add to the comfort level. You can use the space to place some potted plants and create a lovely vertical garden.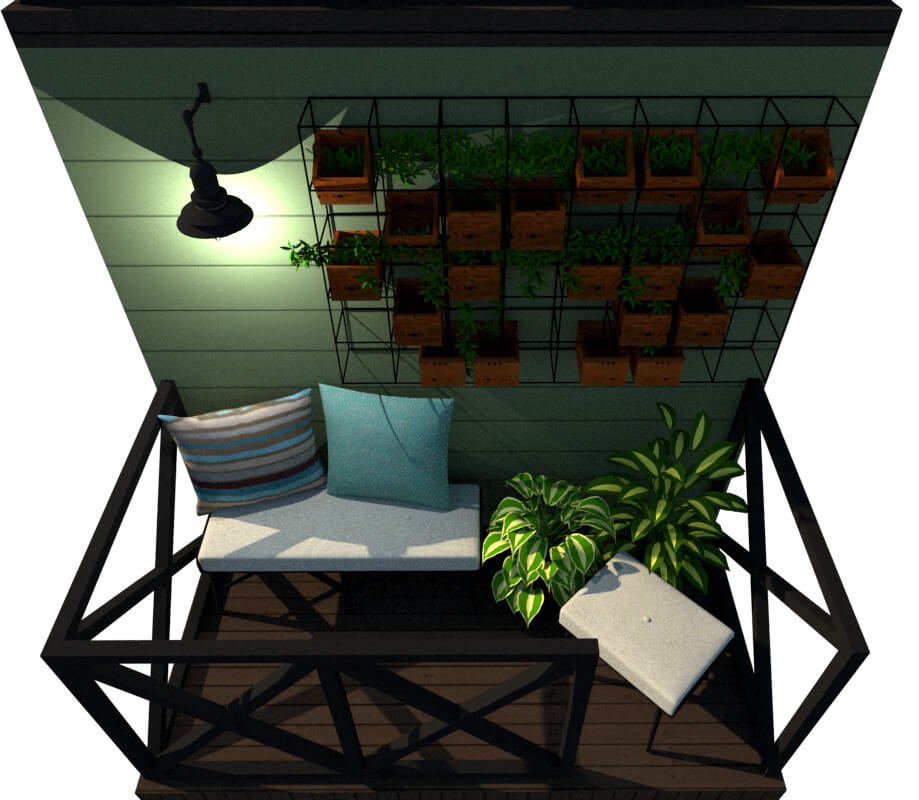 Last thoughts
Although such tiny house floor plans are small in size, they are attractive and carefully designed to maximize the use of any space. A good layout, no matter what the size, can add to your functionality, comfort, and easy movement. Especially if it incorporates a bit of outdoor living space which offers a sense of spaciousness.
In today's world, small homes are becoming increasingly popular as they are more affordable to build and less expensive to maintain than larger homes.

Read more: Manufactured home maintenance and repair
How an architect utilizes tiny house floor plans to the max
was last modified:
December 6th, 2021
by
Recommended