Do you ever want to tear down the walls of your pint-sized bathroom? A tiny powder room is ok, a small guest bathroom can be quite functional, but a cramped master bath is neither functional nor convenient. Bathroom renovations can cost a fortune, and it doesn't matter how much you spend, compromises are always made depending on the size of this room. So, what can you do? Depending on how much you are willing to spend and how much work you're willing to do, it is quite possible to make your small bathroom look bigger or at least make it look like it is.
Create Continuity
If you want your small bathroom layout to appear bigger, you should create a natural uninterrupted flow between the floor and the walls. You will do that by choosing the same tile design and color. Ensure that the same flooring runs into the shower, and match the grout too, to avoid creating a surprising contrast.
TIP:  Estimate your bathroom renovation cost with Kukun's free estimator tool
Choose Pale Paint Colors
Dark colors can chop the space visually and make it look more confined. That's why it is recommended to paint the bathroom walls white or with some other light neutral shade. Also, try to use same or similar tones for the walls and the furniture. If you really want to add a pop of color use one small object in the space (e.g. a light fixture, low cabinet).
A Clear Glass Shower Door
You might be tempted to add an opaque door to your shower to keep a certain sense of privacy, but doing so chops the space in half, without giving you any real privacy (you can still see the main bathroom door). Instead, install glass shower door that will instantly open up the space and make it appear larger.
A Pedestal Basin instead of a Vanity
The actual size and functionality of a bathroom reflect in its floor space. Vanities that go from the floor up, are stealing away that precious floor space and make the room tinier than it is. A pedestal basin is a neat alternative that leaves the floor clean, but it does make you compromise on storage capacity, which you will have to compensate for elsewhere.
Introduce a Free-Standing Tub
We know what you're thinking – wouldn't a freestanding tub just take up more space than the built-in alternative? Well, maybe a couple of inches, maybe not. If you choose the right model (e.g. sculptural or square shape) the unconventional design of a chic free standing bath can add aesthetic value to any bathroom, minimizing the need for further accessorizing, thereby making your small bathroom look bigger.
Go Big and Strategic on Mirrors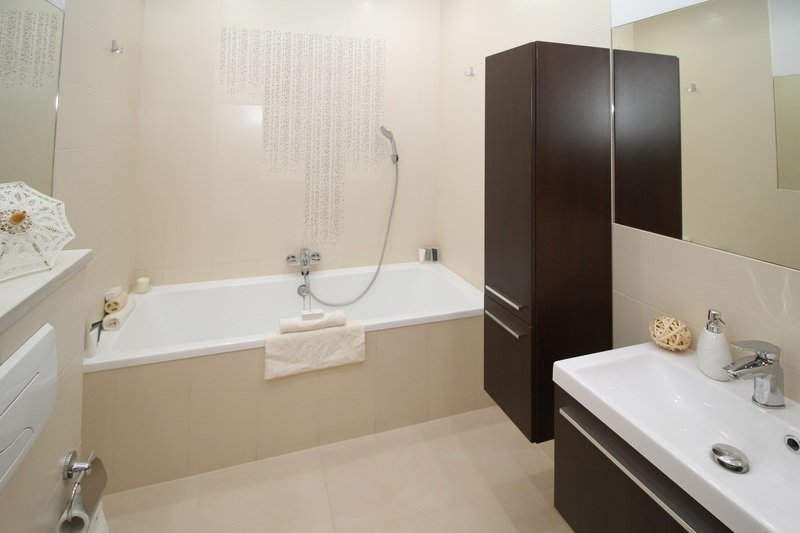 A tall expansive mirror that goes all the way up to the ceiling will make the room feel much more spacious, especially if there is lighting installed on top of it or a pendant light in front of it. A mirror will reflect the light and double its amount, which will make the space grow. If your bathroom has a window, you should place one mirror across the room from it to double the amount of natural light it's receiving.
Store in the Wall
Bathroom… 98.9% near done by Juhan Sonin [CC BY 2.0]
Since you've lost a lot of storage space by giving up vanity, you should find alternative solutions for storing bathroom supplies. That can always be in-built wall shelves in the very shower or anywhere in the bathroom walls. Another idea for compensating the lost storing capacity is to install floating shelves.
Downsize the Furniture
Think about it: do you really need that big space-invading tub or a major vanity? They will only make you trip, fall and feel claustrophobic in your own bathroom, so it is better to replace them with smaller alternatives. A simple clean-lined tub that can fit one average-height person can look just as elegant as a large one, especially because it fits well with the proportions of the room.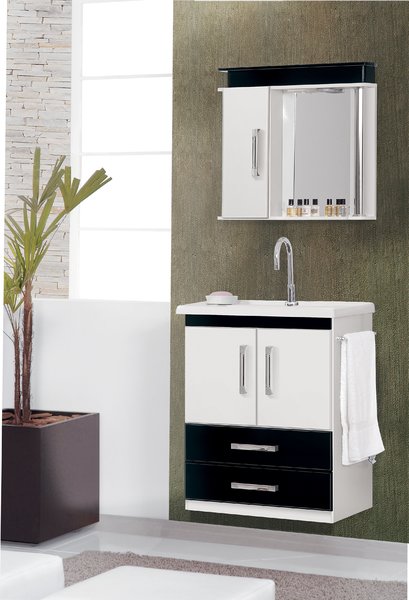 Your bathroom may be small, but it hides some large potential behind the floor-covering vanity and unfortunate choice of color palette. Just follow these tips and you'll turn it into a true oasis without even swinging the sledgehammer.
Experts Tips to Make Your Small Bathroom Look Bigger
was last modified:
May 22nd, 2019
by