If you have a small space to live in, it is necessary to take advantage of all the possible spaces, including bathrooms. One of the most important rooms should be made up of custom-made pieces, including the toilet. That's why we bring you this guide to finding the perfect toilet for a small bathroom. 
Considerations before buying a toilet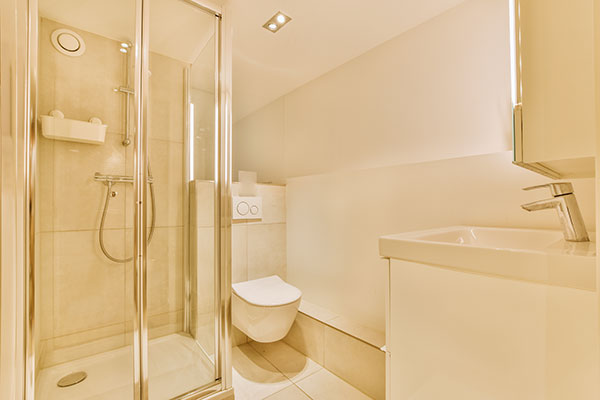 There are 6 considerations before you buy a toilet.
Dimension. Measure at least twice and confirm if a third measurement is necessary. It is essential to have the measurements and to know that there is going to be a free space. Remember that we are talking about small bathrooms. Include the shape of the bowl so that it can fit comfortably in the room.
Water efficiency. Choose a toilet that is efficient. It won't be cheap to buy but your water bill will thank you. Traditional models use up to four times as much water to flush as a new one. There are eco-friendly models, where no water is wasted or recycled.
Flushing Mechanisms. This indicates the amount of water required for the toilet to flush the bowl after use. Federal law requires that EPA criteria be met in this regard. 
Choose toilets with siphons, which prevent odors and the return of solid waste, or toilets with valves, which use compressed air for an efficient flushing system. The latter is more expensive but effective.
Easy to clean. Check that the bowl is ceramic and coated to ensure that it is shiny and easy to clean. try to keep the toilet clean, maybe not every day but don't let it get full of scale or grease. Elongated bowls are easier to clean than
Height. Important because if it is recessed in the wall or floor, heights change. it must be comfortable for an adult to sit and stand without discomfort. choose one that meets ADA standards.
Style. Remember not to clash with the style of your bathroom. There are traditional, contemporary, artistic, etc. models.
Best toilet for small bathroom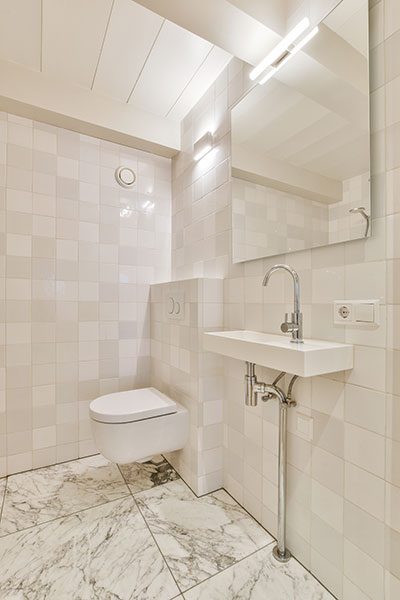 According to Gerald Carpenter, the third generation of plumbers, and some reviews on amazon. He has 5 favorite pieces:
Galba Dual Flush Space-Saving Toilet
This is by far the smallest toilet you can find to fit in a small bathroom. It is about 4 inches shorter than most compact toilets. Despite its small size, the model looks stylish and offers a fair amount of comfort in terms of height and seat shape.
The toilet bowl has a unique shape, along with a water line that ensures each flush leaves the bowl clean. Skid marks are a less common occurrence, thanks to this bowl`s shape. It is possible to keep it clean for a long time by flushing alone.
The flushing power is adequate, despite the toilet's small p-trap. This item allows you to save on water. However, I highly recommend using the full flush often to avoid clogs due to the small p-trap.
The Galba toilet's winning quality is its glazed exterior. The shiny surface is not only safe for cleaning but also resistant to scratching, rust, and discoloration caused by age and fading. It is easy to clean by wiping it down with water. This quality makes it a great dual flush toilet to have in a busy home as it reduces the burden of cleaning.
Kohler 3810-0 Compact Toilet
The Kohler Santa Rosa is one of the best toilets for a small bathroom due to its outstanding features.
The tank and bowl are attached together in a single piece. This frees up a lot of room that a traditional toilet seat would have taken up. Its elongated bowl, which is small enough to conserve a significant amount of room, complements the compact design. The toilet seat is nevertheless fairly cozy despite the narrow bowl.
Gravity is used in the flush design, which lowers the quantity of water consumed and the frequency of blocked toilets that require a plunger to clear. With the tank and trapway designed to create a powerful siphon and facilitate flushing, this technology assures that everything flows down the drain in a single flush. Every time you use the restroom, our technology ensures that you consume less water.
Last, but not least the quality of this toilet is its installation. Other compact toilets that take hours to set up, forcing you to call the plumber and get it over with, the Kohler 3810-0 can be assembled and set up in 2 hours.
Horow HWMT-8733 Dual Flush
Horow HWMT-8733 toilet is an easy-to-fix toilet that comes with simple DIY instructions. the second solution for a toilet for a small bathroom. It has a rough-in length of fewer than 26 inches to fit in the most cramped spaces. The model also has a sleek appearance and is quite comfortable, with several features that make it a must-have.
A complete cleaning is guaranteed with a fully glazed bowl, and the siphon flushing system improves water efficiency. This toilet flushes effectively and completely in one motion. In order to prevent banging, the seat closes softly. Another excellent feature for your tranquil state of mind is the quiet flush.
TOTO MS853113#01 Toilet
If you are looking to add a ½ bath to any area of your house that has no preexisting plumbing, highly recommend the Saniflo 023 Sanicompact. This space saver toilet will be an inexpensive addition that takes up very little space due to its compact, tankless design.
The Saniflo lacks a conventional tank. It appears considerably smaller than traditional toilets because of this feature. Because the pump and grinder are hidden under the toilet's base, the hood's capacity to fit in a tiny, closet-like space is increased. The flushing device has a decisive flushing action that sounds like a sump pump. Another benefit is that it has an up-flush design that can pump up to 9 feet vertically.
American Standard 2403.128.020 One-Piece
This shop sells everything you might possibly need for a bathroom overhaul, including faucets, bidets, bathtubs, showerheads, and toilets. Compact and effective, the 2403.128.020 toilet model is more reasonably priced than the majority.
Compared to a spherical seat, this toilet's elongated seat is smaller. The little water tank, which has a capacity of just 1.28 gallons, is excellent for lowering water usage. As an EPA-certified company, American Standard places a high priority on minimizing water use in order to protect the environment. The small tank capacity also quickly fills up following a flush.
The toilet bowl features an EverClean surface to prevent molding and accumulation of bacteria. It helps everything go down smoothly by the first flush. This is also easy to clean.
Swiss Madison 1T112 Modern
Swiss Madison 1T112 has a streamlined and condensed appearance. Because of its comfort height, which is a winning attribute, people with back and knee difficulties can use the toilet with ease. Despite any physical limitations, using this toilet and rising up from it is simple. The bowl is extended, which promotes comfort while also making the item more compact.
Additionally, it complies with EPA water efficiency standards and will undoubtedly save your water expenses significantly. This is true even if the dual flush system easily leads to water waste because it runs continually. However, the toilet flushes effectively, and the first time you flush, the bowl is clean. It saves time because you won't need to clean it as frequently as you would if it couldn't do this function adequately.
Where to put a toilet paper holder in a small bathroom?
Surely if you have a small bathroom, you try to find a place for everything the room needs. Once you have your toilet installed, it is the turn of the toilet paper holder. In these circumstances, it is difficult to find a good place for toilet paper that is close at hand and does not take up space.
One way to place, it would be above the toilet, without further complication, but it may be uncomfortable for users of the same. so here are some ideas.
Mounted toilet paper holders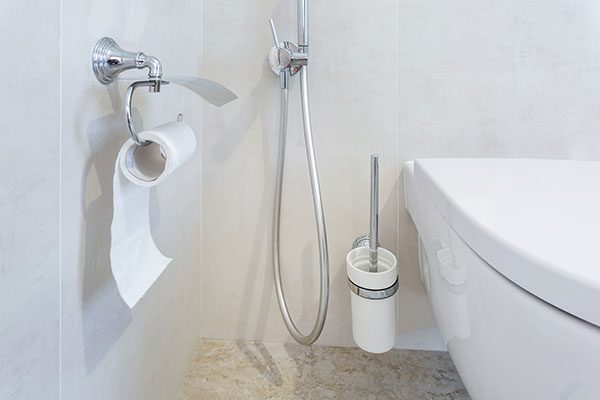 Normally toilet roll holders go in front of or next to the toilet. But it all depends on the configuration of the bathroom. They are not the only two places. The reason they are most often used this way is that they are easily accessible and do not generate any extraneous movement from the person.
Free-standing toilet paper holder
You can use them to place toilet paper rolls in one place and also use it as a dispenser, but with mobility, that is, it can transport, which means less use of space.
Baskets
If there is no space of any kind, a basket can place over the toilet. It does not take up space in the bathroom and is close to hand. It can also include towels, wipes, sanitary napkins, and other items.
Toilet storage racks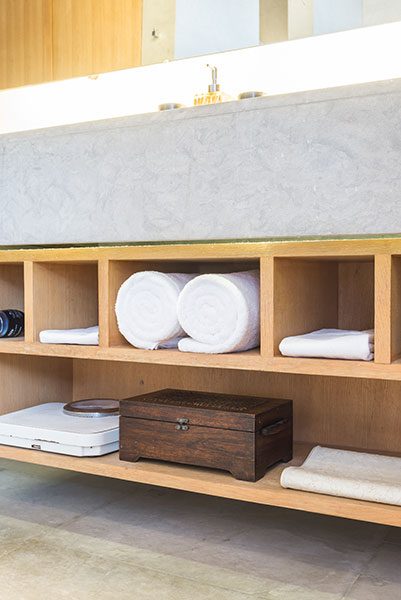 These are amazing options for toilets for small bathrooms. Not only does it allow you to store towels and items that are necessary to have on hand but you can put toilet paper rolls. 
These storage racks go on top of the toilet tank and the height is variable according to the height you prefer or the space available.
Over-the-tank toilet paper organizer
It is ideal if you have zero space on walls, furniture, or floor. It is a small plastic or steel structure that fits inside the tank and allows you to place the toilet paper within easy reach.
Toilet paper hanging storage box
This is the lifesaver of toilet paper holders. It can hold up to 10 rolls of toilet paper.
Arranging and organizing a small bathroom can be a tough task, struggling with space and finding the necessary furniture with the required measurements can be a challenge
What you didn't know about choosing a toilet for a small bathroom
was last modified:
November 26th, 2022
by
Recommended