Want to brighten up your interiors and give your decor a fresh breath of air? Accent walls will never let you down on this. The right accent wall colors complemented with contrasting furniture and some nice wall art will leave a lasting impression on all your guests. Here's our list of top accent wall colors to choose from:
1. Ripe Olive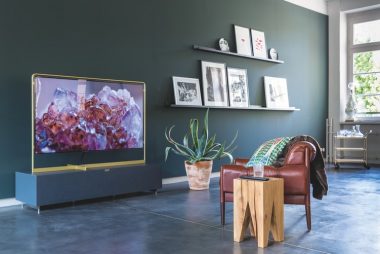 Photo by Loewe Technologies on Unsplash CC0
This deep-green color gives a warm feeling and is perfect to brighten up the feature wall of your drawing room. Pair it up with a big-screen television set and enjoy the exquisite view of your drawing area. You can also choose to use this color in your bathroom. This accent color will go well lighter shades of green and off-white. 
2. Off Black
This is a unique shade of black with blue undercurrents and pairs brilliantly with white, blue and purple. This is a great color to have in the focal point of your study. Have a comfortable couch placed in front of this wall and you will not want to leave your study. You can also use this color in your bedroom. 
3. Light Peach
If your dining area gets abundant sunlight, Peach can be the perfect choice of color for an accent wall in your living room. This color will make the area look bright and beautiful. Peach goes well with white and other lighter shades. A wooden dining table and chairs placed in front of this wall will speak volumes about your taste. 
4. Chocolate Brown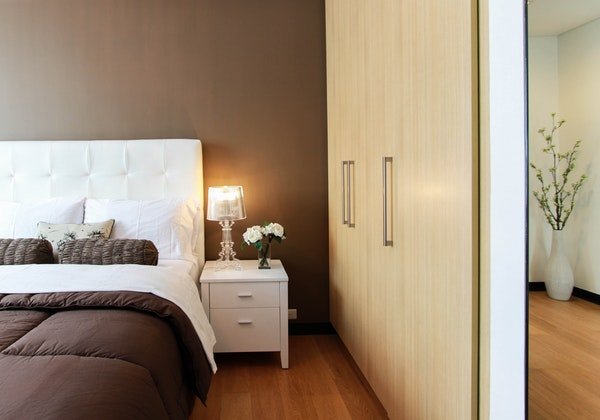 Photo by Mary Whitney from Pexels CC0
Have you ever painted an accent wall? Imagine a brown accent wall right behind your white bed and a white bed-side table. Now, add a brown bed cover and some white and brown pillows. Fascinating, right? Give your bedroom an exquisite warm feel by adding an accent wall today!
5. Navy Blue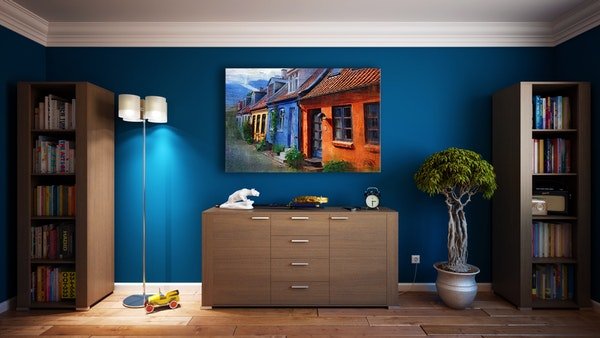 Photo by Pexels CC0
Another bright color that will do wonders to your study. Blue accent walls paired with wooden furniture gives a rare antique feel that you will surely warm your heart. You can also use this color to brighten the look of your kitchen. 
6. Bright yellow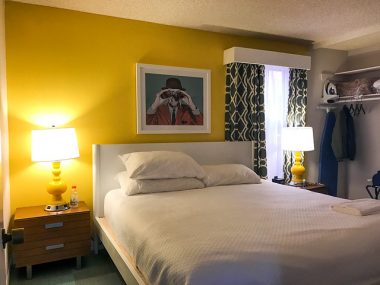 Bedroom 2 at La Jolla Cove Suites, by Lou Stejskal on flickr [CC BY 2.0]
Bright yellow accent walls can give your rooms an energetic feel. You can use this color in your bedroom and drawing-room. Every time you are in a bad mood, this color is sure to lift your spirits. Bright yellow goes well with neutral colors, lighter shades of yellow and white. 
7. Chalky blue
Chalky blue is known to add depth to a space and is a great choice for bedrooms. It also has a very soothing feel, making it a popular choice among Americans. This color goes well lighter shades of blue and off-white. 
8. Bright Orange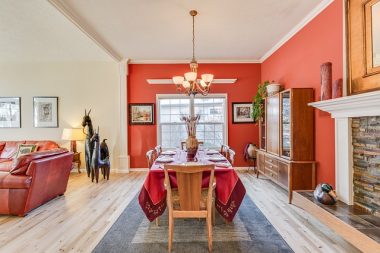 Image by Jesse Bridgewater from Pixabay CC0
Have kids at home and need some accent wall color ideas? If yes, then go for Orange accent wall to give your dining room some breath of fashion. This color has a very warm feel and goes well with white, off-white and wooden colors. Add some modern furniture in front of your Orange accent wall and you are all set to invite your guests. 
9. Light Pink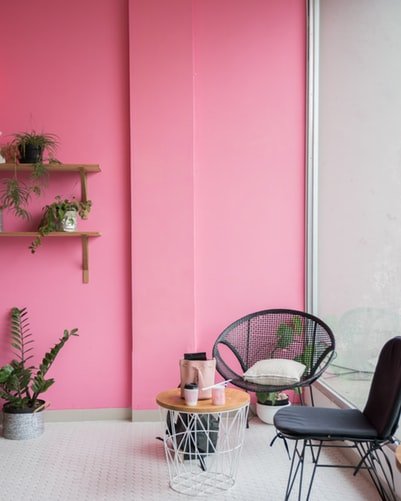 Photo by Stefen Tan on Unsplash CC0
What comes to your mind first when you see the color Pink? Healthy, love and compassion, right? This is a great choice of color for the porch, the kid's room and other areas that get a lot of natural light. Pink goes well with black and white furniture. 
10. Dark gray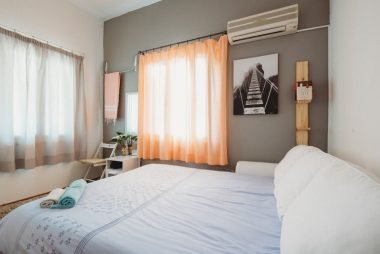 Photo by Filios Sazeides on Unsplash CC0
Gray accent walls can look really smart if paired with the right colors. Grey is one of the stronger paint colors goes best with white walls. You can have a soft, white bed in front of the Grey accent wall in your bedroom for a confident, modern look. Want to remodel your bedroom completely? Check this link out. 
11. Light Mint
Bluestone Studio, by Bluestone Resorts Limited from wikimedia commons [CC BY-SA 4.0]
Want to give your bedroom a calm feeling? Go for a Mint accent wall and some vintage decor. This is also a great choice of color for your drawing room. 
12. Evening dove
This unique grayish-blue color is perfect for rooms that get the light of the setting sun. Get this special accent wall to make your evenings even more stunning. This color goes well with lighter shades of gray, white and off-white. 
13. Bright Red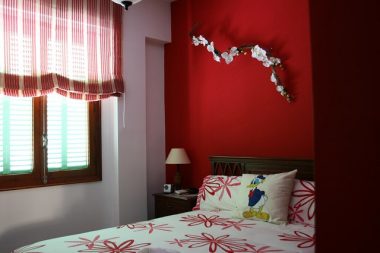 Red bedroom, by Hywell Martinez on flickr [CC BY 2.0]
Red accent walls add a very lively feel to rooms and is perfect for people who enjoy a loud lifestyle. This classic color goes best with peach, white and lighter shades of red. Perfect for the drawing-room, Red can also be used in your bedroom. 
14. Dark Chard
Chard comes with a very natural look and feel and is perfect for your drawing room. Have some exotic cacti in front of your Chard accent wall to add to the effect. 
15. Natural Grape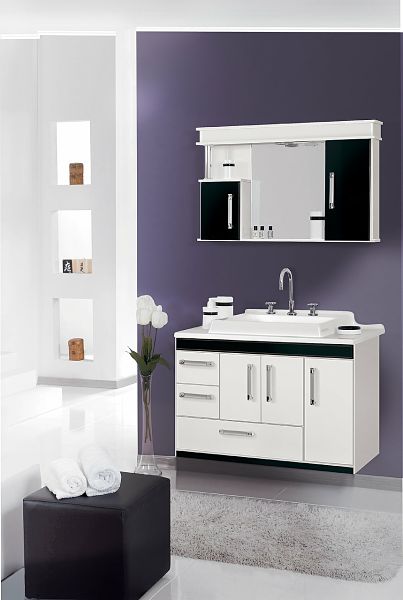 Image by roniarte from Pixabay CC0
Grape has a very whimsy and fun feel, which can improve the look of your bathroom. It is a dark color and goes well with lighter shades of pink, off-white, blue and white. All you need to do is to add some nice bathroom wall decor. 
16. Zed Black
Popular among individuals with high aesthetic sense, Black accent walls can add a completely new dimension to your rooms. Pick some antique showpieces for this wall and you are good to go. 
Picking the right color for an accent wall can always be difficult. We are hoping that our list will help you get a better understanding of the more popular varieties. At the end of the day, the color you pick needs to complement your personality and taste. So, what are you waiting for? Choose your favorite accent wall colors today and enter the realm of luxury living!
Top Accent Wall Colors to Make You Go Wow
was last modified:
November 8th, 2019
by