Consumers are increasingly thinking not only about the aesthetics inside their homes but also their health and overall well-being. These homeowners are looking at their residences as a place of refuge from hectic daily lives and are drawn to spaces that bring a sense of comfort, peacefulness, and security.
One way to bring balance and beauty to a home is through flooring that is not only aesthetically pleasing but also durable. The following are several notable flooring trends to keep top of mind for 2020.
Solid Wood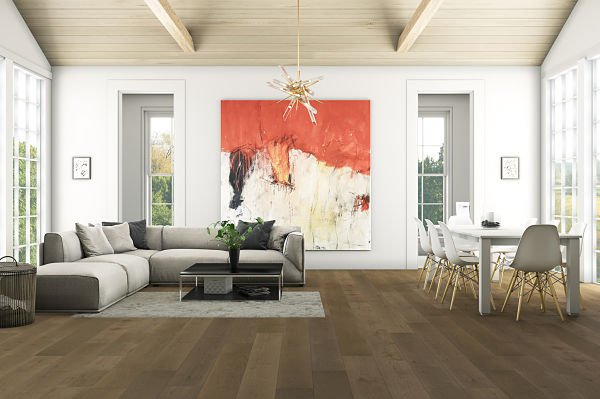 Wide plank solid hardwood floor – image courtesy of Carlisle Wide Plank Floors
In the search for authenticity and a connection to nature, many homeowners are turning to natural materials such as wood for their interior surfaces and flooring.
Solid hardwood flooring, in which each flooring board is made from one solid piece of wood, is available in a variety of colors, finishes and textures. The highest quality wood floors are made from old-growth heartwood, resulting in a tight, dense grain pattern that offers both strength and visual appeal.
When looking for a hardwood floor, it's important to determine the quality of wood, as many wood floors are made from significantly lower quality portions of the timber. Only select handcrafted companies procure the highest quality cut from the timber.
Artisan-crafted wide plank wood floors, in particular, are becoming more prevalent. In addition to offering a timeless aesthetic and long-term durability, wide plank wood floors tend to make spaces appear and feel larger.
They have fewer seams, which helps to open up the space while highlighting the intrinsic beauty of the wood grain. The authentic wood details and variations among the boards create a streamlined, organic look that invites a sense of calm.
Although wide plank flooring is often viewed as historic in style – it was first used in colonial homes in the 1700s and 1800s – expanded manufacturing capabilities and unique finishing methods have created great flexibility in wide plank flooring applications.
As a result, it can be used in a variety of design themes – from modern to rustic to contemporary to transitional.
While gray and "greige" wood flooring remains popular, the trend is moving toward warmer, layered finishes that impart a cozy, welcoming feel. The classic neutral color palette has expanded to include rich tans, camels and browns.
Subtle matte finishes are also on the rise and create the feeling of a naturally "aged" material for a timeless quality.
Further info on wood floors? Take a look at these 7 Best Wood Flooring Options for Your Home
Engineered Wood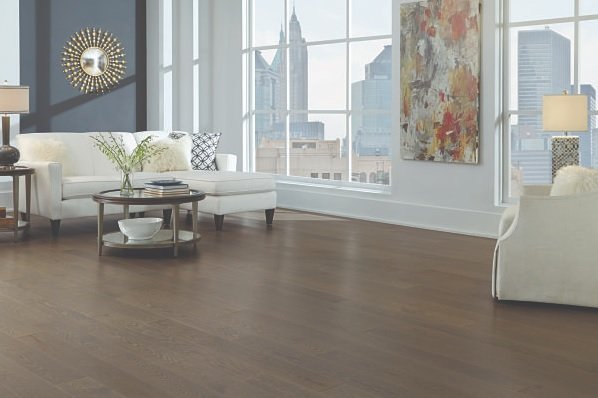 Engineered hardwood floor – image courtesy of Carlisle Wide Plank Floors
Engineered wood flooring offers the beauty of solid wood at a more affordable price point. In contrast to solid hardwood floors, engineered wood flooring is made of multiple layers, including a thinner layer of hardwood on top of the backing. The backing is comprised of multiple thin layers of wood, which can include quality plywood, OSB (oriented strand board) or other hardwood or softwood configurations.
To help ensure the most stable and durable engineered floor, the backing should be thicker than the wear layer – the part of the floor that is walked on. In addition, a thicker wear layer (ideally at least 4mm) will increase the life of the floor and allow it to be refinished, if necessary.
Most of the engineered floors on the market today are only available in sizes up to 6 feet long, with an average board length of about 2 feet. Similarly, each board tends to be no wider than 4 to 5 inches.
The result is numerous seams and joints, which can make a space look very busy. Some manufacturers offer engineered wood flooring in the same widths and lengths as solid wood flooring options, which avoids this issue.
Flooring Materials: How To Pick The Best For Your New Home?
Patterned Wood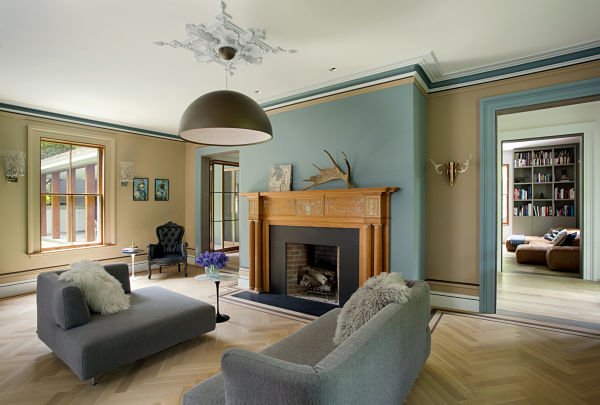 Herringbone pattern hardwood floor – image courtesy of Carlisle Wide Plank Floors
In addition to more traditional wood flooring looks, patterned flooring, such as herringbone and chevron, is gaining traction. Chevron planks meet in perfect points like a long string of arrows, whereas herringbone planks appear slightly staggered.
The use of geometric patterns creates visual interest while not overpowering a space. Often seen in formal living rooms, dining rooms and entryways, both designs elevate rooms and create a unique focal point, imparting a sense of elegance and classic appeal.
Luxury Vinyl Tile
Luxury vinyl tile (LVT) is an option growing in popularity thanks to its versatility. LVT is designed to mimic the look of materials such as ceramic, wood or stone and consists of four layers. The top (wear) layer is a heavy film such as aluminum oxide, which helps to prevent scratching and UV damage.
Below that is a clear protective film, and then a third (printed) layer that sits on top of the bottom layer (backing), which consists of vinyl or a vinyl/limestone mixture. The printed layer creates a realistic effect of the desired material.
Known for its durability, LVT is well-suited for areas with a lot of foot traffic and spaces prone to moisture such as basements. While aesthetically pleasing, it's important to keep in mind that LVT has a synthetic texture as opposed to the feel of natural wood flooring. In addition, it can't be sanded or refinished, which may be a consideration for some homeowners, for that reason, regular vinyl plank flooring can be a good choice.
Read more: LVT flooring cost, pros and cons
Tile
When it comes to tile flooring, more homeowners are opting for larger format ceramic or porcelain tiles, which are particularly well-suited for larger spaces and open floorplans.
Large format tiles visually expand spaces while focusing attention on other design details within a space. In addition, when compared to smaller tiles, they provide better coverage, have fewer grout lines and create a streamlined look that makes rooms appear more spacious and inviting.
Tile in bold, graphic patterns such as mosaic and Moroccan looks remain popular, especially for bathrooms and entryways. And, distressed patterns that mimic the look of aged wood or brick are being seen in more spaces.
Similar to their real counterparts, these tiles come in planks, but are also available in unique shapes more commonly seen in tiles – providing design versatility.
Porcelain vs Ceramic Tile: Choose the Best Option
Eco-Friendly Flooring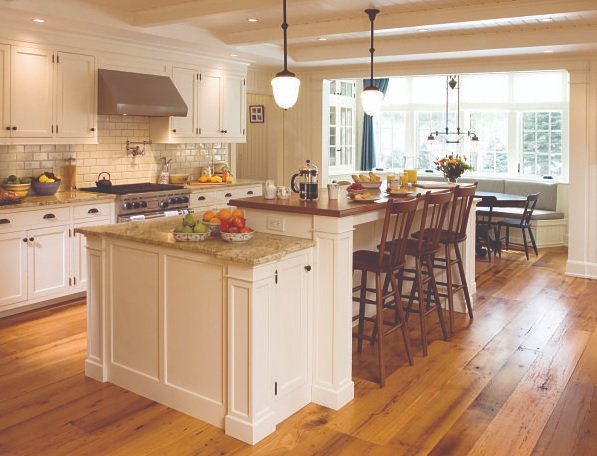 Reclaimed oak floor – image courtesy of Carlisle Wide Plank Floors
For those homeowners interested in more sustainable flooring options that minimize the impact on the environment, there are a number of stylish options.
When looking for sustainable hardwood flooring, it is important to work directly with a manufacturer who has control over the source of all raw materials and insight into how exactly that material is harvested to ensure confidence in the "greenness" of the product purchased.
The wood should be responsibly sourced from old growth trees at the end of their natural lives from foresters who don't practice clear cutting and replenish the forest. Reclaimed wood is also growing in appeal. The wood's distressed, "imperfect" look complements a variety of decor styles and delivers a classic, time-honored look with a touch of history.
Cork flooring is also a popular choice. Cork floors are made from the thin bark of cork trees, which aren't damaged during the harvesting process. The bark is used to make wine corks, and the leftover scraps are then ground and pressed into flooring, which is available in a range of finishes. Bamboo flooring is another eco-friendly option. Bamboo grows quickly, making it a highly renewable resource.
Recycled ceramic and porcelain tile reduces waste shipped to landfills and requires less energy than fabricating new tile from raw materials. Recycled tiles are available in a range of styles, colors and sizes.
How Much Does Bamboo Flooring Cost? Let's check the facts!
A Myriad of Choices
When it comes to flooring, homeowners truly have a wealth of materials from which to choose. No matter the decor style, it's easier than ever before to find an option for every taste and budget.
Read more: 9 Best and Worst Bathroom Flooring Options
Top Flooring Trends for 2020
was last modified:
May 30th, 2022
by
Recommended