When it comes to decorating a house, most homeowners often overlook one of the most important surfaces — the ceiling. But, why live with boring, plain ceilings? Life is all about being different, right? Try a tray ceiling and you'll know how an artistically created ceiling can become the focal point of the entire room.
A tray ceiling — be it a living room, dining room, or bedroom ceiling — adds depth and interest to any space. This type of ceiling can be ornate yet simple — all at the same time.
So, if you're lucky enough to have large rooms with high ceilings, but don't want the room to appear cavernous, a tray ceiling can help create a lovely visual depth.
With such a feature in the house, you won't be needing much home décor. Just hang a beautiful chandelier, pendant light, ceiling lights, a ceiling fan, or even a ceiling mural — and your room will look luxurious.
What is a tray ceiling?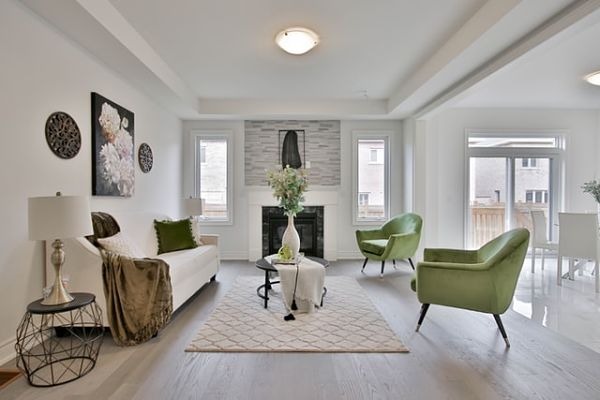 A tray ceiling, aka inverted or recessed ceiling, looks like an upside-down large tray. And hence the name! Basically, the center part of the ceiling is several inches or feet higher than the perimeter. As a result, the design creates a three-dimensional effect that draws the eye upward. Different from a coffered ceiling, which has multiple recessed sections in a grid pattern, a tray ceiling only has one recessed area — in the center.
Are tray ceilings outdated?
Certainly not. If executed correctly, tray ceilings, with their compact design, look really cool in contemporary homes. In fact, this kind of simple and versatile ceiling pattern can complement almost all styles of architecture and design ideas.
Moreover, you get a sense of spaciousness — unlike a boxed-in feel — even in small rooms. And, since tray ceilings are usually accompanied by ornate crown molding, contrasting ceiling paint colors, and special lighting effects — they lend a luxurious, elegant look to any room.
What is the point of a tray ceiling?
A tray ceiling is a good example of how a simple, well-planned, ceiling design can enhance the look of the whole room. The ceiling's distinctive features make it an interesting part of the room's décor — putting more emphasis on the ceiling itself. This will make any room, regardless of its ceiling height, feel bigger than it is. It's the perfect ceiling style for a master bedroom!
Read more: Beautiful master bedroom decorating ideas for a stylish haven
Coffered ceilings vs. Tray ceilings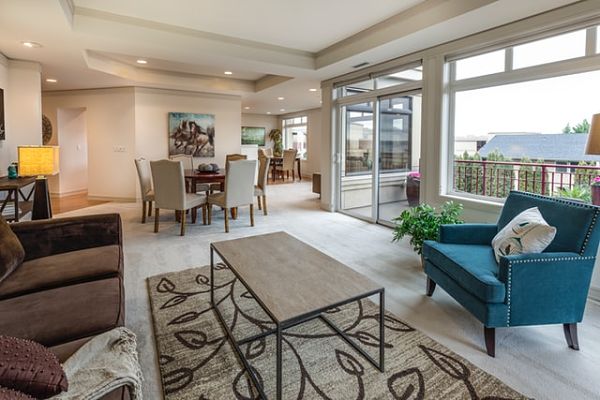 While a tray ceiling is similar to a coffered ceiling, the two ceiling styles have several core differences. A coffered ceiling has multiple recessed sections while a tray ceiling has a single, larger inverted area.
Even in terms of functionality, the two types of ceilings are different. Coffered ceilings are known to improve a room's acoustics while a recessed ceiling, more often than not, is a clever way to mask a vent system (in older homes) or hide superfluous electrical wires or plumbing pipes in modern homes.
Read more: Ceiling crack repair: Most common causes and their solutions
Do tray ceilings add value?
Yes. The intricate work that goes into a tray ceiling installation can ultimately add value to your home. The look of your living space is enhanced manifold with such a design. If you love those stunning, classical-looking vintage houses, then you'll love tray ceilings too. And, so will a potential home buyer.
The tray ceiling design pairs well with a range of architectural styles while creating the illusion of high ceilings and luxury in any living area.
Last thoughts
If you're the kind of person who loves to keep their home décor different from the rest, you should make your ceiling remodel a priority too — along with the beautiful rugs, the perfect wall paints, or the expensive light fixtures. Trust us, it pays to put thought into your ceiling design.
So, if you're considering changing your home's interior design, give tray ceilings a try. There are tons of tray ceiling ideas out there that would do a lot for your room's ambiance and overall feel. Go ahead and make tray ceilings a part of your home improvement project and beautify your home.
Is having a tray ceiling an outdated concept?
was last modified:
October 11th, 2022
by
Recommended