Those who like the real deal, prefer solid hardwood flooring. It's natural, stylish, comfortable, warm, timeless, and may last for over a century. And, it also enhances the value of their home. Thankfully, in 2019, this trend will continue to grow in popularity. Many products such as vinyl, bamboo, or laminate floors try to mimic the look of wood flooring, but hardwood is hardwood. So once you've zeroed in on your preferred flooring option, which hardwood floor colors will you go for?
We understand that it can be a daunting task to choose the perfect hardwood floor color for your home. The reason is that there are countless options available on the market.
However, we are there to help you. This article will show you how certain hardwood flooring colors complement and add immensely to specific design ideas. Here are some popular ones that are trending in 2019.
These color trends will help you in the selection. You can think of the overall look that you're trying to achieve and then pair the right wood color to that look. Since installing a floor is an expensive and time-consuming process, you must always hire a professional flooring contractor.
Brown Hardwood Floor
The trend towards dark wood has been growing since the past decade. It continues to appeal to homeowners this year too with its classy look.
The best thing about darker colors is that they provide a great contrast when you pair such flooring with light-colored shelving and cabinetry. It's perfect for a living room — making your interiors look and feel absolutely luxurious. For instance, an espresso-colored or gingerbread flooring acts as an instant upgrade to outdated areas — giving rooms a sleek, modern design.
Brown — with its shades such as dark walnut, antique brown, coffee brown or special walnut — is one the most popular hardwood floor colors this year too. It effortlessly lends itself to just about any look or style of a home. Did you know, within the brown wood tone, there are more than two hundred different shades? Phew.
The trick is to match the right shade of brown to the colors that make up the majority of your soft furnishings. For instance, an antique oak floor that is a medium warm toned brown will go well with creams, golds, and peachy tones. Similarly, a dark chocolatey brown stained floor will perfectly go with greens and olives.
Brown is versatile; it's especially great if you like to have one type of flooring throughout your house. Did we mention that it's a great option for high-traffic areas? Also, you will be able to easily change the look of a room by simply changing the soft furnishings.
If you're someone who gets bored easily or likes to regularly redecorate their home — a classic brown floor is a perfect solution to allow you to experiment. Interestingly, a brown hardwood floor is sure to appeal to most home-buyers if you ever decide to sell your home.
Read more: A Guide to Hardwood Floors For Your Home
Natural/ Beige Hardwood Floor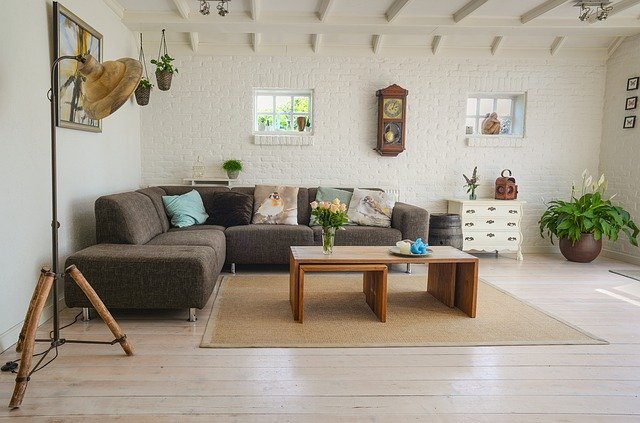 Natural hardwood flooring goes with just about any look. If you love the simple charm of minimalism and functionality — this light-colored natural wood flooring is the answer.
Within this tone too, there are several different shades – some much lighter than others. You can find ones with rosy pinkish hints to those with ochre notes. Remember that you need to ensure that the tones match what you have in mind. We suggest you take samples of your flooring to the furniture store to find the correct match.
This tone helps in creating a light and airy look. The best combination would be to keep all your wooden furnishings, fittings, and flooring the same shade of the wood. So pair natural maple floors to natural maple kitchen as well as dining chairs and tables. These neutral tone blends really well with other neutral colors — giving a harmonious and cozy home environment.
That said, the neutral look can get a bit boring. Break-up the monotony with quirky accessories and lovely textured textiles.
Yellow/ Tan Hardwood Floor
This classic trend is a sure-shot winner this year in terms of popularity. When we talk of wood that is yellow or tan in tone, we are not referring to the bright canary yellow. We are talking about delightful tones such as caramel, warm honey, and butterscotch.
An oak floor with its inherent yellow undertone is a good choice for your bedroom flooring. There is also maple with golden tones and walnuts having a tawny tint to them.
Tan hardwood floors lend real warmth to your decor. They go well with cozy and comfy furnishings. Have a big leather couch, throw in some rugs and homey quilts around — and your comfortable family room is ready.
If you love a rustic décor style and want your new house to have that "lived-in" feel, these warm woods can look a bit more aged than lighter ones. Warm wooden tones and rustic style also go well with natural colored slate tiling.
Read more: Laminate vs hardwood flooring better option
Orange/ Red Hardwood Floor
Looking for a flooring that's unusual and sporty? Opt for a coppery or russet toned hardwood floor. These orange and red-toned hardwood floors go brilliantly with contemporary or traditional interior design. If you want your vibrant floor to be the focal point of the room — this tone is for you.
However let us assure you, this gorgeous floor does not completely overwhelm the space if you pair it well with the rest of the house. For instance, paint your walls in a subtle eggshell blue shade or pale green or cool whites for the perfect contrast. Also, gold accents are the perfect accessory for such a color tone.
If you love a more contemporary look, opt for a bold amber-toned flooring. It works well with blue or gray walls and soft furnishing with yellowy-orange accents or modern minimalist white and gray furnishing.
Do know that it might not be an easy look to pull off, but once you do get it right — it can look super-sassy and make a bold design statement. We promise you, your room will look quite unique.
True Black Hardwood Floor
Another hardwood floor color that makes a bold statement is the stained true black. Black wooden flooring, or even naturally super-dark brown, is making waves in interior design circles everywhere this year.
It is literally the blackest stain you can use – giving a more modern feel to your space. And, it hides most of the grains that you might find in say an oak one.
That's why true black is a great problem-solver if you have a mixture of wood species in your home. The dark color easily camouflages the differences.
However, you need to be aware of certain disadvantages of this flooring. It shows every bit of dust and is a bit more challenging to clean and maintain.
Gray or Greige Hardwood Floor
We are so happy that the gray flooring trend is on the rise. If you have a hardwood floor that is boast-worthy, the gray tone is for you. It brings out the grain in the flooring in an interesting and textured way — making your floor do the talking in your home.
Greige (a shade between gray and beige) is another neutral tone that 2019 is ready for with open arms. More and more homeowners are shifting toward this warmer-toned flooring. Much like other neutrals, greige goes well with just about everything and brings more life to a room than simple grays — making it full of warmth.
If you are a person who likes a simple yet inviting home decor, you may opt for any of these natural and lighter tones. They are perfect for a contemporary look.
Stark White Hardwood Floor
Some classic things never go out of style. A white hardwood floor is all about letting your personality shine through in your home. It's an ideal base for making a design statement this year too. As with dark floors, here too you have a choice when it comes to the finish of your flooring. You can either go for a high-gloss one or a hand scraped matt finish. Either way, your floor will have the charm of exotic hardwoods.
Have minimalist interiors with white walls or add on statement pieces of furniture and colorful, stunning artwork. The best part about a white floor is that it creates visual interest, especially when paired with contrasting tones — be it with the furnishing or vibrant art pieces. It brightens the space and makes any confined area seem more open.
Whitewashed Floor
Whitewashed floors are back from the 80s, and we are glad. They've been reinvented, modernized and how! Today's whitewashed stain colors are more matte and subtle in character. For instance, white oak is perfect for a contemporary looking house. The mineral streaks present give the wood a more linear look. The idea is to make the floor look more natural than brown-hued floors and yet not be absolutely white. It's an extremely versatile choice when it comes to pairing it with any style, design, or decor of a house.
Variation Wood Floor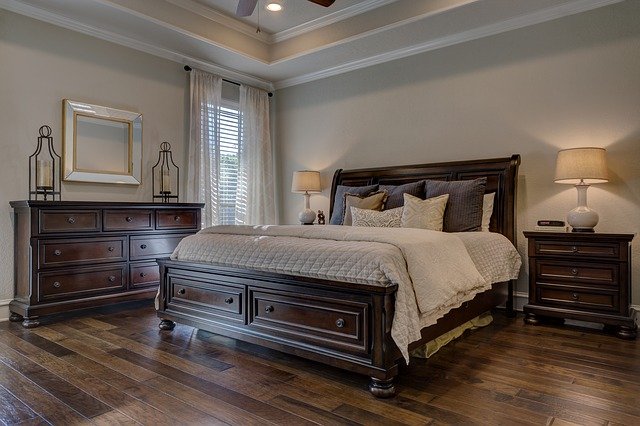 If you love the idea of having a home decor with a contrasting design but can't choose between light and dark, this year, you can go with both.
It's more than a welcome compromise between colors. With hues such as walnut, espresso, honey, and blonde — you can create visual interest within individual wood floorboards. So, there is an eye-catching contrast throughout the floor itself. Such flooring suits both contemporary and vintage style houses.
Last Thoughts
You must have realized that flooring trends rotate around different shades, patterns, textures, and colors. An ideal flooring can easily transform the entire ambiance of a room.
If floors form the foundation of your home, it's important that you set the perfect tone for your color palette and decor. We have listed the most popular hardwood floor colors that are huge in 2019. But having said that, different people have different tastes and it's important to choose something you love rather than something on trend. Of course, it's great if both conditions are met when it comes to your choice. So, which hardwood floor colors do you like the best? Let us know your suggestions in the comments section below.
Read more: 5 Tips For Choosing Your Wooden Floorboards Colors
Trending Hardwood Floor Colors For 2019
was last modified:
May 24th, 2022
by
Recommended