12 Top Trends in Exterior House Colors for 2021
Whether you want to give your abode a fresh new look or want to prepare your house for a resale, you can beautifully enhance your home outdoors with new exterior house colors.
The right colors will not just improve your house's curb appeal but also add significantly to its resale value. And, not to forget that the right combination of eye-catching house paint colors will render a warm and inviting appeal to your property.
Planning a renovation for your house? Try our free home remodel cost estimator; it's easy and convenient to use!
Keep in mind that exterior house paints also depend on the style of your home. For instance, a Craftsman-style home needs nature-inspired colors, while a Colonial-style house does well with neutrals and white exteriors. Farmhouse-style homes too look great in white. We believe, classic color palettes and patterns are classic for a reason — they never go out of style.
So, it's important that you choose exterior house colors that will make you fall in love with your house all over again! And, if you're planning to put your house on the market in the near future, you can consider which exterior paint colors will attract the broadest range of buyers.
Sometimes, choosing the right colors to paint a home can be the most difficult part of any paint project. To help you in the endeavor, we have a list of 12 inspiring exterior home color schemes that offer serious curb appeal.
1. White with a bold accent color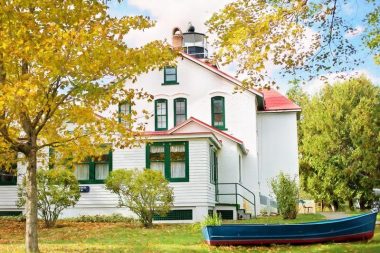 Photo by Pxhere CC0
White remains one of the most popular colors for a house exterior. It's especially great for a small house as this is one exterior color that effortlessly makes a house look bigger and stylish.
Moreover, white tends to complement most outdoor landscape ideas as well.
It's best to combine this evergreen color with any bold accent. We love deep green with white.
2. Brown on brown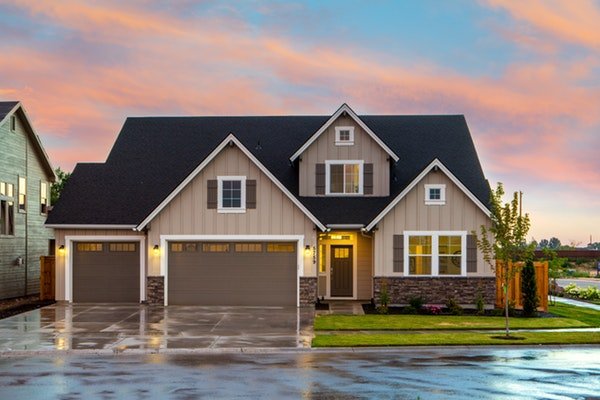 If you match your shades well, the resulting color scheme will be anything but boring. We love how darker and lighter shades of brown have been combined to give this house a striking, polished look.
Interestingly, the window frames and trim have been painted in crisp white to complement the browns. Sophisticated with a capital S!
3. Alluring lilac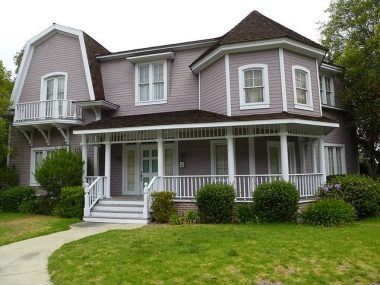 A color that will be huge this year will be lilac. The soft hue looks almost surreal. Look at the house here and you'll agree. The homeowner has beautifully complemented the unique color with white accents.
4. Enchanting blue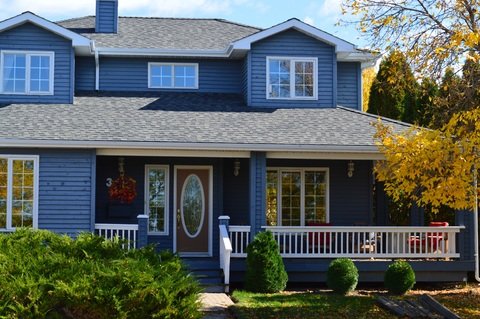 Photo by Pxhere CC0
One exterior color that will make your house seem straight out of a fairy tale is blue. It's different. And, if you combine it well with white trim and a brown front door, the look of your house is bound to be amazing.
5. Evergreen neutral
Going neutral for your exterior house colors is often a sure bet. Neutral shades sell the best too! They harmonize well with each other, lend exceptional curb appeal, and go with your home's surroundings.
Pair a nice neutral palette such as cream or off-white with French gray accents for a lovely look.
6. Ochre green with maroon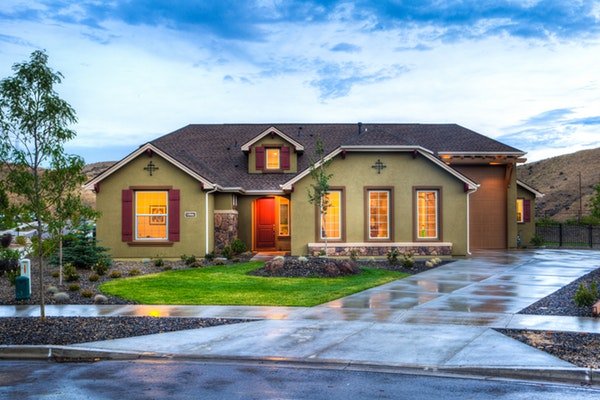 This beautiful ochre green house looks straight out of a home design magazine! The light color, contrasted with a lovely shade of maroon, is a sight for sore eyes. The color scheme accentuates the architecture of the French windows and solid wooden doors.
7. Sophisticated gray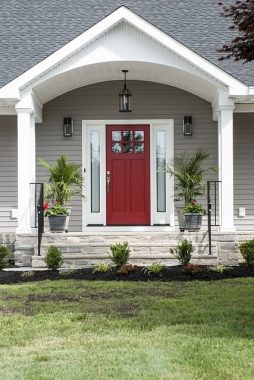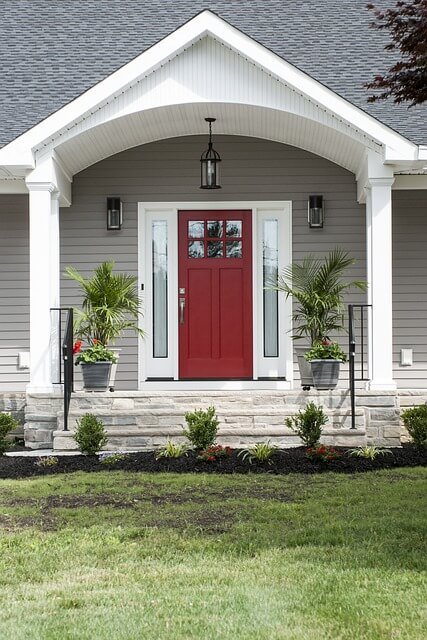 Gray color (both blue-gray and pewter gray) give a traditional yet homey look to your home (sounds on point, right?). There's something warm, comforting, and inviting about this color.
And, sometimes, a bold accent can make sections of your home pop in just the right way. For example, we like how a bright red front door provides a touch of sass to this simple yet sophisticated home.
For a traditional look, you can also put gray on gray. Using different shades of gray will add extra interest and dimension while keeping your home full of warmth. Think light gray exterior walls with dark gray roof shingles.
8. Sage green and brown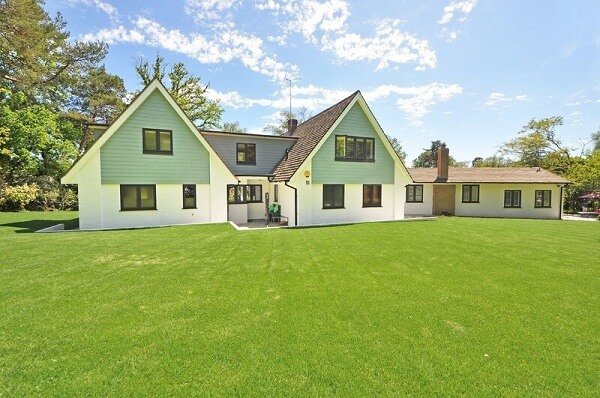 Photo by Pxhere CC0
Some outdoor colors look especially great when seen against a particular natural surrounding. One color scheme that looks good whether you're in a woodsy area, a coastal town, or a prairie land is a combination of sage greens, dark browns, and coppery tones. These hues allow your home to be one with nature and yet stand out beautifully.
9. Peach all the way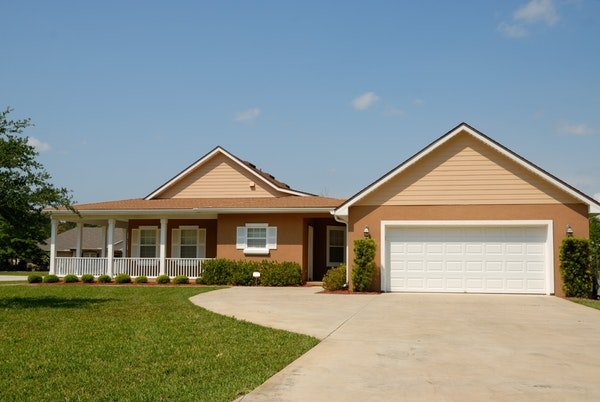 Peach paint color evokes a sense of formality, elegance, and heritage. The color palette looks especially beautiful if you combine different shades of peach for the upper and lower part of your house. The white accents add their bit to give the house a soft look.
10. Pleasing yellow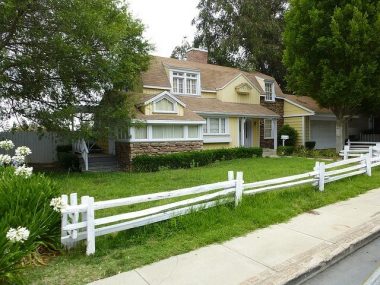 Yellow is whimsical. It gives a cottage-style charm to your property. The house seems to convey the message that its owner loves all things fun. The pastel color (don't go too dark or bright!) adds an interesting, happy vibe.
11. Black and white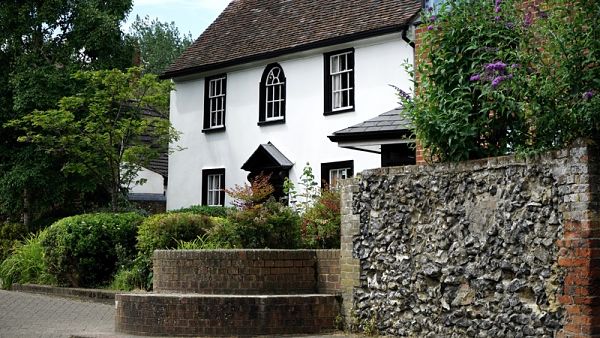 Photo by Pxhere CC0
Another color scheme that's timeless is the combination of white with black accents. We love how the black trim draws attention to the doors and windows. It adds an element of elegance without overdoing it. Looks stately, don't you think?
12. Statement-making red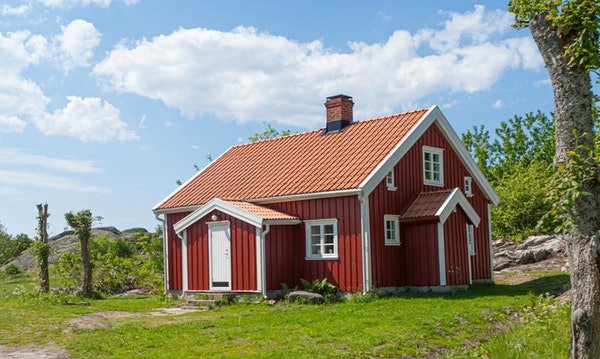 Now here's a color that will make your home stand out and how! Red makes a loud statement and is not for the faint-hearted. This year, all homeowners who love experimenting can rejoice as it's a hue that will be huge.
But, you should use a lighter color with it so as not to overdo the exterior color. An all-red house is a big no-no.
Last words
We hope these inspiring exterior house color trends bring out the Picasso in you and you decide to give your home a complete makeover. Wait, wait! It's better if you hire professional painters and let them paint your dream house. Fewer hassles and more piece of mind! Happy renovating.
12 Top Trends in Exterior House Colors for 2021
was last modified:
October 14th, 2022
by
Recommended