Whether you're freshening up your home outdoors with new exterior house paints for a resale or for your own enjoyment, it's worth it to take the time to get the color right. The wrong exterior house colors will make you cringe each time you come home and will also hurt your home's value. The right combination of eye-catching, house paint colors, on the other hand, will render a warm and inviting appeal to your property and shall also increase the resale value of your home.
What to consider
Before you start collecting paint swatches, do some preliminary thinking about your neighborhood and the style of your house. Moreover, some additional factors to consider are:
What parts of your house can NOT be painted?
You can't change your roof with paint and you won't be painting any brick or stone accent colors. These features are more permanent; so make sure you choose exterior paint colors that will blend with them.
Look around your neighborhood
Ask yourself these questions. What do you love? Are you in an HOA that determines what colors you can use for your exterior?
Think about the style of your home
Exterior house colors also depend on the home style. A Craftsman home needs nature-inspired colors, while a Colonial-style house does well with neutrals and white exteriors. Farmhouse-style homes almost always look great in white as well.
Use color schemes to play up the best features of your home
The standard for most homes is to use three colors: One each for the body, trim, and shutters. Get some inspiration from the color combinations put out by paint manufacturers.
Ideas for exterior house colors
The below-mentioned trends in exterior house colors are a sure win:
The classics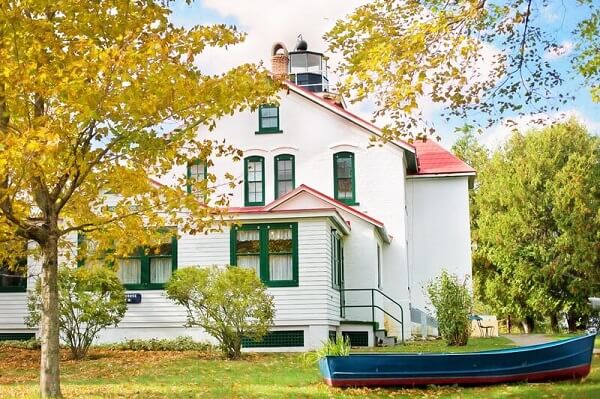 Pixabay CC0
Classic color palettes and patterns are classic for a reason — they always work. When you paint the exterior in crisp white, in particular, it tends to work well with a variety of home styles. It complements many
landscapes
as well.
Going neutral in your exterior colors is often a sure bet too. Neutral shades will harmonize well with each other, lend exceptional curb appeal, and go with your home's surroundings.
Planning a home renovation? How much does it cost to remodel a house? We can help you, try our free home remodel estimator tool to figure it out!
Look to nature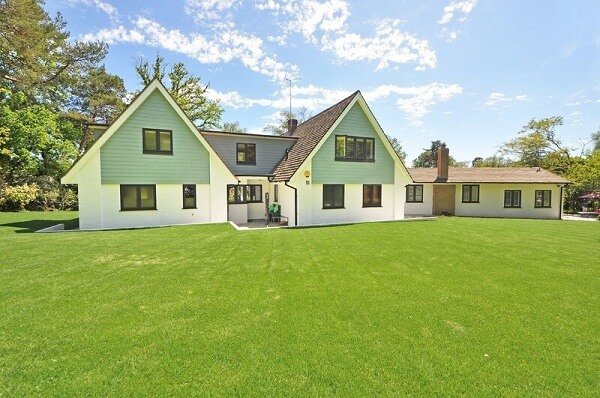 Pexels CC0
Take a look around your home. Are you in a woodsy area, a coastal town, prairie land, or smack dab in the middle of the suburbs? Get inspiration from the surrounding colors of nature. For example, sage greens, dark browns, and coppery tones always work well together in nature — and they work perfectly for a home's exterior.
Consider the natural elements of your home as well, like wood finishes in your deck or porch. Think about how they contrast and complement the rest of the home.
The hues you choose can make your home recede into the background nature, which can be lovely. You can also choose colors that contrast with nature to allow your home to stand out.
Go easy on the bold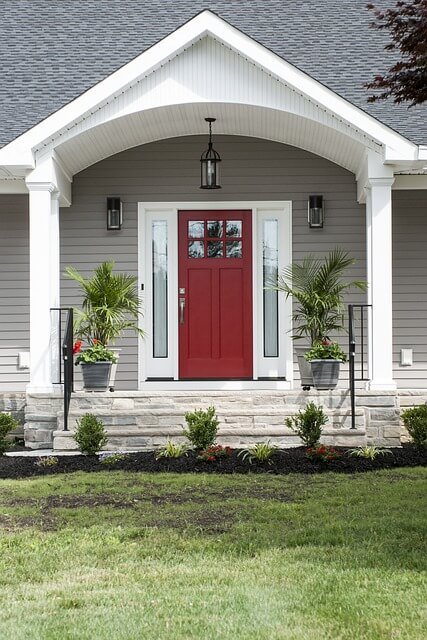 Image by Kim Evans from Pixabay [CCO]
Bold accents in exterior house colors can make sections of your home pop in just the right way. A red front door or trim might be the right place for experimenting with bold colors. But be careful to not use too much of it. Limit your bold accents for a sharp, restrained look that won't overpower.
One color, multiple shades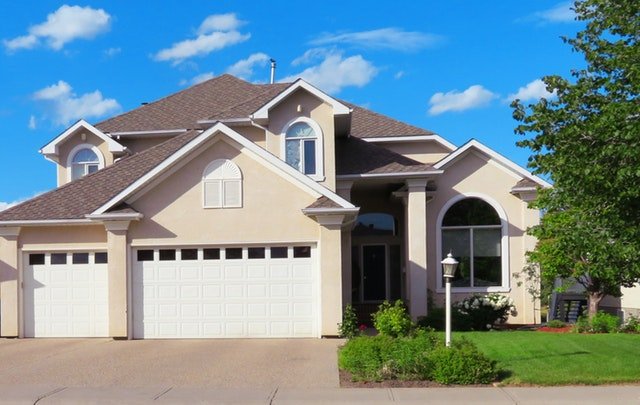 Pixabay CC0
Keep boring out of your neighborhood by painting your home in more than one hue on your exterior. Where are the accent pieces on your home — the window frames, the trim, or the shutters? Paint these elements a darker or lighter shade than the main color of your home for striking, polished interest.
Then, to take it up a notch, add one complementary color (perhaps on the door) for an unexpected — but sophisticated — look.
How about some whimsy?
Yellow Cottage, Bethany Beach, DE, by Lee Cannon on Flickr [CC BY SA 2.0]
Not all homes can pull off the whimsy and charm, but cottage-style properties tend to play well with whimsical approaches in exterior house colors. Why? Because these homes tend to not be bound by formal rules.
Add some candy box, soft pastel colors for an interesting and fun look. Not sure you want to commit to so much color? Another great choice is to use the candy box color on the front door instead.
Gray and dark gray
Pxhere CC0
For a traditional look, put gray on gray. Using different shades of gray will add extra interest and dimension while keeping your home traditional looking.
Cream and French gray
Pixabay CC0
A nice neutral palette for your home color, cream exteriors with French gray accents are always lovely.
Black trim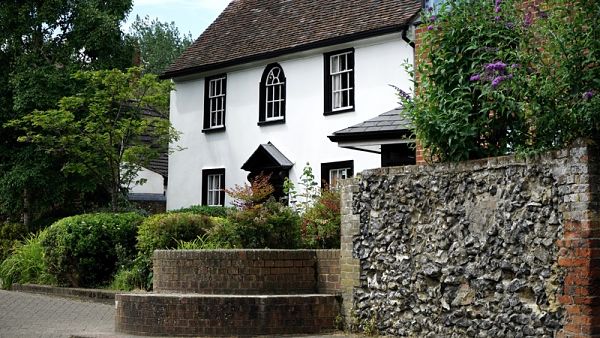 Pexels CC0
Draw attention to your windows with black trim. This adds an element of elegance without overdoing it.
Dark colors and natural woods
Pixabay CC0
Does your home have brick, stone, or wood accents? Contrasting these accents with a dark exterior is a sophisticated choice. Look to the underlying tones of your home's brick or stone to choose a dark color that will complement your home's natural features.
If you aim for a broader project, use our home improvement guide to start planning every part of it!
Additional tips
Keep these tips in mind, no matter the colors you choose for your exterior:
Mix flat and shiny surfaces
Paint flat paint on the body of your house, and keep shiny paint for highlighting millwork.
Repeat colors in the right way
Paint the same colors on your window sashes as you do on your door.
You don't have to blend all the colors together
Your front door can contrast with your home's siding and look stunning (but it should still coordinate with some element on your exterior).
If you want to go dark, paint 2/3 in a dark hue, and 1/3 in a light tone.
Live what you love
Always choose exterior house colors you love. Following architectural designs and rules won't matter if you hate the look of your house. Follow the above tips for direction, but ultimately, go with what makes you happy.
READ MORE: KITCHEN COLORS: 5 IMPORTANT THINGS TO CONSIDER
Trends in Exterior House Colors to Look Out For In 2019
was last modified:
October 16th, 2019
by