If you find your clothes, shoes, and other fashion accessories overtaking the space of the closet in your bedroom, maybe it's time for a home remodel. Instead of investing in another wardrobe, and perhaps making your room cramped, consider turning a bedroom into a closet.
Converting a small bedroom adjacent to your master bedroom is a good idea if you're not thinking of adding a home office or a dressing room to your house or apartment. This is especially advantageous if your children have left the nest. You may find yourself with a surplus of spare bedrooms but a dearth of functional closet space.
If your bedroom is already being used for storage, why not go one step further and design your dream closet?
The average cost of a reach-in closet runs from $1,000 to $2,500, depending on the closet materials, design, and labor cost. The investment for a bedroom to closet conversion can really give you good returns by adding to your home's value.
However, make sure that the home improvement project is completed in an organized, planned manner. Otherwise, you will be simply going from a three-bedroom to a two-bedroom in the real estate listing — something that might not appeal to potential home buyers.
If you want to get a few useful tips on how to turn a bedroom into a closet, we've listed them for you, along with the pros and cons of turning a bedroom into a closet.
1. Think smart closet storage solutions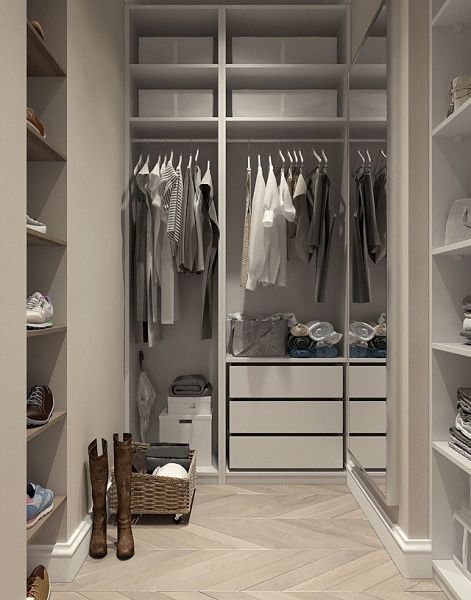 Envisage creative storage, especially to keep your scarves, jewelry, and other accessories. If you're looking at stylish ways to display the items, try some wall-mounted hooks, trays, dishes, baskets, shoe racks, or a bar cart.
Look for open shelving or wardrobes to hold your garments, drawer units for your innerwear and knitwear, and racks (free-standing units or attached to the wall) to hold your hanging garments. This will help in good closet organization.
If you have small closet space, you could bring in a dresser or a modular bookshelf to stack your items.
2. Work with the bedroom windows
Try to incorporate the room windows into your closet design instead of removing them. Be sure to dress them with beautiful window treatment.
Adding a bench seat under the window can provide your walk-in closet with the perfect spot to sit and put on your shoes. Or, you could utilize the natural light provided by the window to brighten up space. Placing a closet desk or vanity mirror would add a luxury feature to your closet area.
3. Get good lighting
If you do not have ample natural light in your dressing room, you can make use of beautiful table lamps, a floor lamp, a pendant light, or a chandelier. You can also consider under cabinet lighting for your cabinets or shelves. Good closet lighting will do your wardrobe justice.
4. Place closet mirrors
A chic, leaning floor mirror is a wonderful idea for your walk-in closet. Large mirrors make the dressing area look beautiful and make space appear even larger. Your dressing room will end up looking like an opulent, upscale boutique.
5. Get the required tables and seating options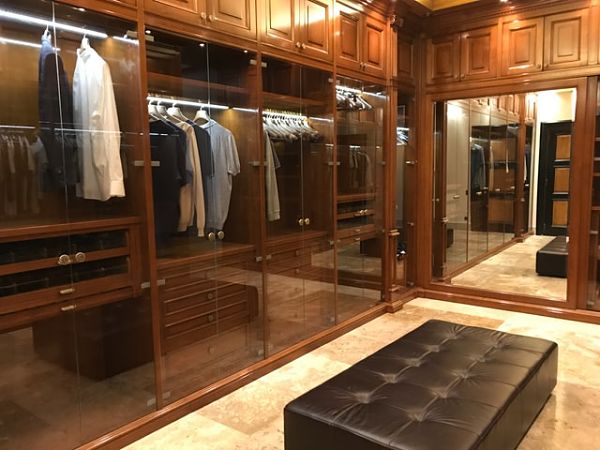 Having a few side tables around the room will come in handy in providing extra storage. You can place a comfortable bench, chaise lounge chair, or an accent chair in the middle of the room to maybe put on your shoes or just relax after a long day.
Always remember that good furniture will potentially transform a simple walk-in closet into a private getaway.
6. Install cabinet doors
If your dressing room is also a place where you'd want to momentarily slip away or meditate, you may want to install cabinet doors for some privacy. Additionally, you can have functional sleeping space for the occasional guest. And, behind the cabinet doors, whether solid or glass, you can have your hanging and storage spaces.
7. Invest in bright rugs and decor
Let your walk-in closet reflect your personality while appearing trendy and homey. Invest in good home decor, including a space-framing area rug. Think ottomans, wall art, indoor plants, and decorative pieces.
Make sure your closet is as versatile as possible. For instance, opt for sliding furniture that can be moved out of the way if you need to use the space for something else.
8. Choose the right closet colors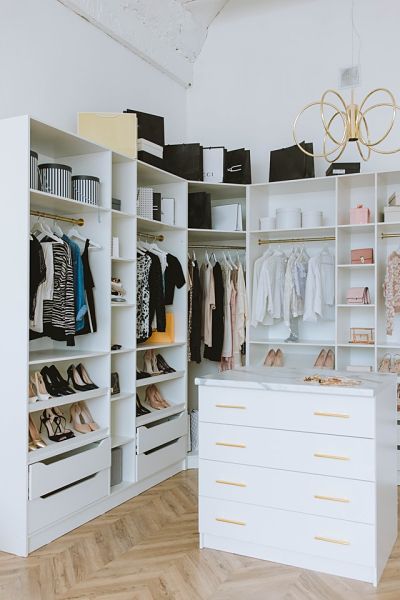 Before you start adding shelves and clothing racks, choose the paint color you'd want for your new dressing room. The best walk-in closet designs use white or beige. Such colors open up the room and reflect light better. But if you're thinking of a cheery bubblegum pink or a bright yellow, who are we to stop you!
Turning a bedroom into a closet: pros and cons
There are many benefits of turning a bedroom into a closet, especially a good-sized walk-in closet. A spacious room closet is a good selling point. If you still have a three or four-bedroom home apart from the walk-in closet, it's ideal for resale.
Another advantage is that you can keep all your seasonal clothes in one area. That way, you won't be making trips up to the attic to procure your winter wardrobe or summer wardrobe.
You can turn a spare room into a wonderfully usable space for your shirts, coats, dresses, shoes, sweaters, or accessories.
The only risk of turning a bedroom into a closet, according to real estate agents, is that such a home remodeling project reduces the number of bedrooms. Opt for it only if you have at least three bedrooms besides the closet. A two-bedroom home will significantly narrow the pool of potential buyers.
Read more: Guest bedroom design by architect
Last thoughts
If you're looking for a glamorous custom closet, in lieu of a small bedroom, you can transform the extra bedroom or den into the dressing room you've been dreaming of! And, maximize your home's value and increase its storage potential.
We hope these tips and tricks will help you turn your bedroom into a beautiful closet. Trust us, you'll love seeing those shoes and clothes neatly hung up or folded. No more closets that are cramped, unpleasant windowless spaces.
Read more: Master bedroom floor plans by expert architect
The Best Tips on Turning a Bedroom Into a Closet
was last modified:
October 11th, 2022
by
Recommended