Residential fences aren't just functional – they are a major part of your home's overall curb appeal. Whether you're installing a new residential fence system or repairing an existing one, there are important considerations for achieving the functionality and style you want while staying within your budget. And if you're installing a fence in a deed-restricted community, a historic neighborhood, or if you're matching the fencing to a residential driveway gate, there are additional types of fences to take into account.
We've included some common uses and price ranges for each type of fence. Consult with a professional fence and gate contractor in your area for an accurate quote.
Types of Residential Fencing
1. Chain-link and welded-wire fences
Constructed with a solid steel core and vinyl coated in a variety of colors (typically black), this type of fence is perfect for the long runs of your fence, especially if it is obstructed by woods or plantings. Welded wire is less intrusive and thus preferred over chain link, although chain link is stronger for high-security applications. This is generally the cheapest style of fencing available.
Approximate cost: $14 to $25 per linear foot
2. Post-and-rail fencing
Post-and-rail fences come in several different styles: split rail (rustic look); full-round cedar (a more finished look); and estate rail (a square rail, usually turned to a diamond shape). Paddock-style fencing also fits into this category and is frequently seen at horse farms. The number of rails is based on the height of the fence. Chain link or welded-wire mesh can be added to the fence to provide protection from animals, or to meet local and state pool code.
Approximate cost: $18 to $45 per linear foot
3. Pre-fabricated wood fencing (stockade, board-on-board, picket, tongue-and-groove)
Pre-fabricated fencing comes in a variety of materials, but cedar is the best option available. Stockade fencing has a rounded picket and is generally the least expensive. Board-on-board and picket fencing feature vertical wooden pickets or boards attached to two or three back rails. Often, the finished side of the fence (the side without the back rail) must face your neighbor. Tongue-and-groove construction has interlocking boards that shouldn't gap with age or changes in the weather. This style is called a 'good neighbor' fence, as both sides of the fence are finished (so there is no 'bad' side).
Approximate cost: $45 to $85 per linear foot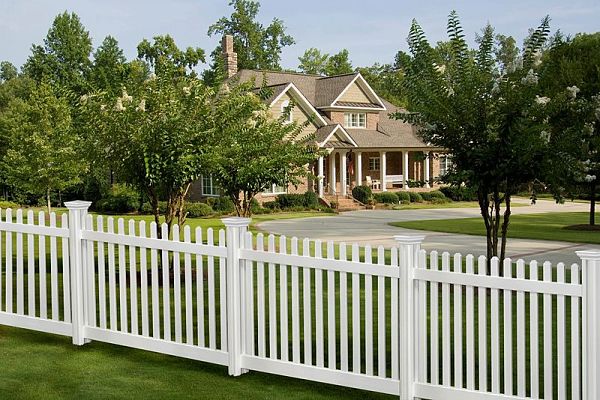 Photo by Deniseesser from wikimedia commons [CC BY-SA 3.0]
4. Pre-fabricated PVC fencing
This type of fence has the appearance of pre-fabricated wood. The benefits of PVC is that it comes in a variety of colors, it will never rot, and will not need replacing unless it is damaged by a fallen tree limb (which is quite common!). Many clients express concern over the 'plastic' look of this type of fence and it may not be allowed by some HOAs.
Approximate cost: $45 to $75 per linear foot
5. Pre-fabricated aluminum fencing
This is a great fence for anywhere on your property. Aluminum fencing allows a clear view through the fence to what lies beyond. We recommend pre-fabricated aluminum fences for pool enclosures or in front of planting beds. It's also a nice option for matching to an aluminum driveway gate. Style options include decorative finials and the addition of a horizontal bar with or without circles at the top of the fence.
Approximate cost: $45 to $75 per linear foot
6. Custom-fabricated fencing
A custom fence takes the styles of pre-fabricated wood and aluminum to the next level. Materials are all improved upon, using a much higher grade cedar (select grade clear western red), solid composite (to resist rot), or solid wrought iron, stainless steel, or bronze materials in lieu of aluminum. Each design is customized for the specific customer and application. This is why we strongly recommend it for our clients who are investing in a custom automated driveway gate to create a seamless, high-end look.
Approximate cost: $135 to well over $1,000 per linear foot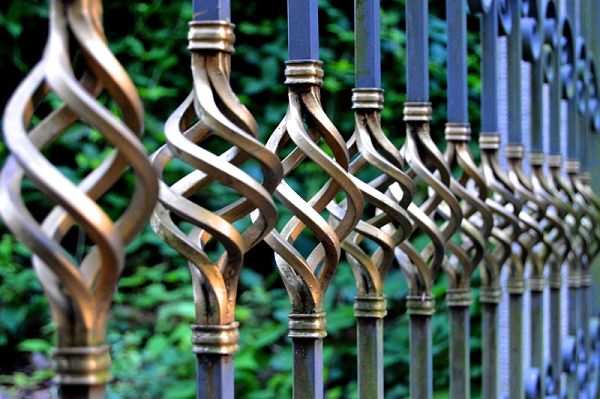 Located in Bedford Hills, New York and serving the northeast, Tri State Gate specializes in all types of custom fences, railings, and automated driveway gates. During our 25 years in the industry, we have designed, fabricated, installed, and maintained all of the fence and gate systems described above.
Types of Fences and Costs of Residential Properties
was last modified:
March 18th, 2019
by