Residential fences aren't just functional – they are a major part of your home's overall curb appeal. Whether you're installing a new residential fence system or repairing an existing one, there are important considerations for achieving the functionality and style you want while staying within your budget. And if you're installing a fence in a deed-restricted community, a historic neighborhood, or if you're matching the fencing to a residential driveway gate, there are additional types of fences to take into account.
We've included some common uses and price ranges for each type of fence. Consult with a professional fence and gate contractor in your area for an accurate quote.
Types of fences for residences
1. Chain-link and welded-wire fences
Constructed with a solid steel core and vinyl coated in a variety of colors (typically black), this type of fence is perfect for the long runs of your fence, especially if it is obstructed by woods or plantings.
Welded wire is less intrusive and thus preferred over chain link fence, although a chain link is stronger for high-security applications. This is generally the cheapest style of fencing available.
Approximate cost: $14 to $25 per linear foot
2. Post-and-rail fencing
Post-and-rail fences come in several different styles: split rail (rustic look); full-round cedar (a more finished look); and estate rail (a square rail, usually turned to a diamond shape). Paddock-style fencing also fits into this category and you can frequently see them at horse farms.
The height of the fence determines the number of rails. Chain link or welded-wire mesh can be added to the fence to provide protection from animals, or to meet local and state pool code.
Take a look at these 13 Backyard Fence Ideas to Protect Your Garden in Style
Approximate cost: $18 to $45 per linear foot
3. Pre-fabricated wood fencing (stockade, board-on-board, picket, tongue-and-groove)
Pre-fabricated fencing comes in a variety of materials, but cedar is the best option available. Stockade fencing has a rounded picket and is generally the least expensive. Board-on-board and picket fencing feature vertical wooden pickets or boards attached to two or three back rails.
Often, the finished side of the fence (the side without the back rail) must face your neighbor. Tongue-and-groove construction has interlocking boards that shouldn't gap with age or changes in the weather. This style is called a 'good neighbor' fence, as both sides of the fence are finished (so there is no 'bad' side).
Approximate cost: $45 to $85 per linear foot
Read more: What does a purple fence mean
4. Pre-fabricated PVC fencing
These types of fences have the appearance of pre-fabricated wood. The benefits of PVC is that it comes in a variety of colors, it will never rot, and will not need replacing unless it is damaged by a fallen tree limb (which is quite common!).
Many clients express concern over the 'plastic' look of this type of fence and it may not be allowed by some HOAs.
Approximate cost: $45 to $75 per linear foot
Read more: Fence financing for good & bad credit
5. Pre-fabricated aluminum fencing
This is a great fence for anywhere on your property. Aluminum fencing allows a clear view through the fence to what lies beyond. We recommend pre-fabricated aluminum fences for pool enclosures or in front of planting beds.
It's also a nice option for matching to an aluminum driveway gate. Style options include decorative finials and the addition of a horizontal bar with or without circles at the top of the fence.
Buying the Right Gate? Take a look at these few important considerations
Approximate cost: $45 to $75 per linear foot
6. Custom-fabricated fencing
A custom fence takes the styles of pre-fabricated wood and aluminum to the next level. Materials are all improved upon, using a much higher grade cedar (select grade clear western red), solid composite (to resist rot), or solid wrought iron, stainless steel, or bronze materials in lieu of aluminum.
Each design is customized for the specific customer and application. This is why we strongly recommend it for our clients who are investing in a custom automated driveway gate to create a seamless, high-end look.
Read more: 6 Porch Railing Materials That Lend Style To Your House
Approximate cost: $135 to well over $1,000 per linear foot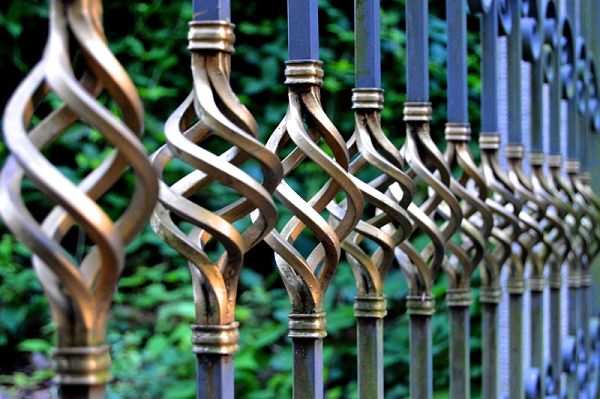 Now that you know about the different types of fences and their individual costs, let's guide you through some important factors that you must consider while getting a set for your home.
How to choose the right fence?
As already mentioned, there is a wide variety of fencing options to choose from and your ideal choie should fulfill the following requirements:
Define the purpose: What do you need the fence for? Do you want to install it primarily for privacy? Go for a fence with a minimum spacing between the boards. Combine it with thick foliage and climbing plants.
Do you want to ensure security? Get a tall fence. Make sure that it comes with fewer places with a good grip and has a strong, lockable gate. When safety is the primary ambition, the height should be at least 8 feet high. If you have a 6-foot fence, install additional feet of trellis toward.
There are other purposes as well — blocking a street view, protecting your pets and kids, or enclosing a swimming pool. The best choices for fences must contain the end function you plan to use the fence for.
Read more: How to Keep Your Kids and Pet Safe with Beautiful Fences
What type of fence is most durable?
In terms of fencing materials, the most durable types are vinyl and PVC. This is because they are highly resistant to weather-related elements. For example, fences made from vinyl or PVC do not undergo damages such as rotting, rusting, cracking, or splintering when exposed to extreme weather conditions such as hot temperatures, cold winds, or heavy rainfall. Hence, if durability is your primary concern, then you can choose the above two types of fences.
Again, if strength is what you require, then you can go for cast iron or wrought iron fencing. Not only are they strong, but these types of fences lend a classic appeal to your property.
Conclusion
Whenever you install fencing around your perimeter, always remember to check the local building codes and apply for a permit, if required. Hire a professional and locate your property line, so that you do not encroach the boundary of your neighbors. Also, while constructing the fence, be sure that there are no underground utility lines in the way. If you follow the above guidelines, understand the basic types of fences, and know about their costs, you can easily choose the best fit for your property.
Read more: 7 Eco-Friendly Fencing Options for Your Home
Popular Types of Fences for Residences and Their Costs
was last modified:
October 14th, 2022
by
Recommended