The weather might be cooling down right now, but this time of year is an excellent period to consider installing a swimming pool at your property.
There's no point waiting until the middle of summer when you and your family are dreaming of days spent splashing around and cooling off in the water; instead, plan ahead and get organized.
However, the problem is often trying to decide what type of pool to install. There are numerous options on the market, and different styles appeal to different people. Here are some factors to consider as you weigh up the choices.
Consider these types of pools for your home
Above-ground pools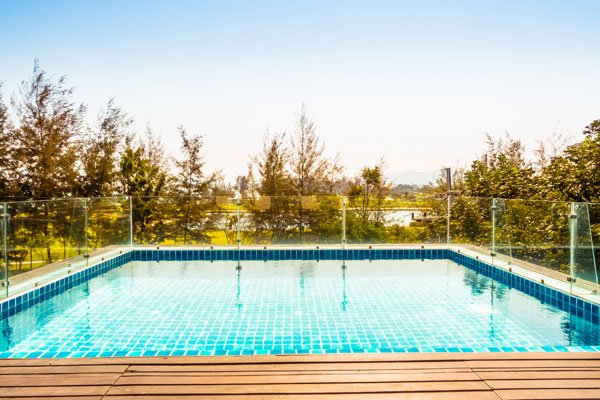 If you have a limited budget, it's worth considering an above-ground pool. These are the most economical options as they're easier to set up and don't require digging out a big hole. Most of these pools are made from aluminum, resin, or steel sidings, and they generally have vinyl liners. They come in all sorts of shapes and sizes, so you can find a product to suit a small yard, too.
A benefit of an above-ground pool to some people is that they're not permanent structures. They can be assembled and dismantled reasonably easily, so you can take the pool with you to another property if you move. These products arrive in pieces, which makes it possible to DIY the assembly process.
There are two main drawbacks to consider with above-ground pools. Firstly, since they sit on top of the ground, they visually take up more room in a yard and aren't easily disguised. Secondly, they don't last as long as in-ground pools. The liners inside them need replacing every five years or so.
Read more: Complete rundown on pool removal: Cost, permits and more
In-ground pools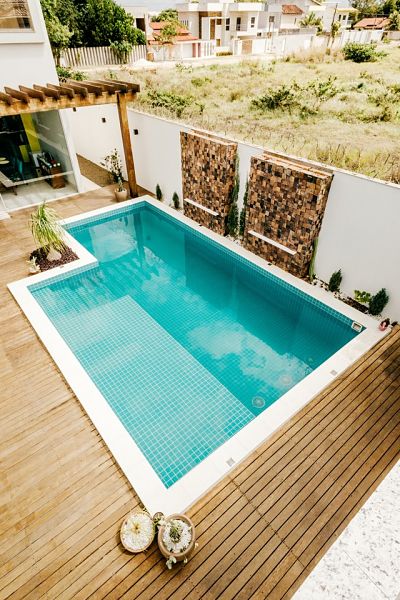 In-ground pools are popular because they can be designed and integrated into the landscape beautifully. Plus, they're easy to get into, too, rather than trying to climb into an above-ground pool. In-ground pools have greater design flexibility than their raised counterparts since they can fit any shaped or sized yard. Choose from kidney, round, square, rectangle, heart, or other shaped pools.
Another plus of the in-ground pool is the features and accessories you can put together with it. For example, you can add underwater and another specialty lighting for beautiful effects and night swimming, as well as waterfalls and fountains, slides, ramps, and diving boards.
As for downsides, the main issue with an in-ground solution is that it's significantly more expensive than an above-ground one because the process is more involved and takes longer. These products are more costly to construct, plus there are generally more expenses involved with things such as filters and cleaners.
Read more: Best robotic pool cleaners
However, keep in mind that you can purchase home warranty cover for components such as electrical motors. Do some research into home warranty vs. home insurance to discover more about this kind of protection.
Most in-ground pools are made from strong and flexible materials, such as concrete, fiberglass, or vinyl-liner products. Concrete pools are poured on-site and can have finishes such as paint, plaster, and coatings in various colors and designs. Fiberglass in-ground pools are manufactured off-site and delivered as one piece or available as panels to construct on-site.
Vinyl-liner pools come together in a couple of stages. First, you have a concrete foundation, and then panel walls are fastened together and placed on top. Lastly, a custom-made vinyl liner gets put in to cover the whole pool surface.
Read more: Pool inside house
More specialized designs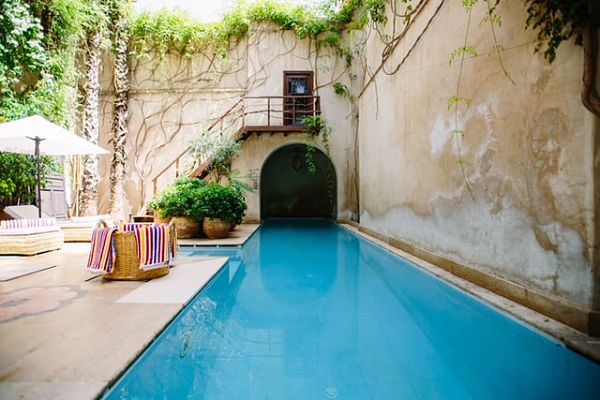 There are some other more specialized pool types to consider, too. For example, if you have a beautiful view in your yard that you want to highlight rather than just the pool itself, opt for an infinity swimming pool. This is a minimalist, sleek, in-ground design that gives the visual illusion of an edge that never ends.
You may also want to have the option to swim indoors or outdoors, depending on the season, weather, and mood. If so, an indoor/outdoor pool should suit. You can have a swimming pool installed that starts inside, within an enclosed, protected area, and then finishes outside as part of an outdoor extension.
If swimming for fitness and improved technique is essential to you, put in a lap pool. This is a long, narrow option that's good for thin yards that don't have much width to work with. Another choice that's popular in properties with room limitations is the swim spa, a pool/spa hybrid. It's like a spa but has water jets allowing the user to swim against a constant flow of water.
Putting a pool can add value, a focal point for the yard, a space for exercise, and work as a great entertaining hotspot. Think about the options listed above to determine which swimming pool will be the best for your budget, lifestyle, and long-term needs.
Read more: Luxury home upgrades: Pool enclosure financing
Types of Swimming Pools to Consider for Your Home
was last modified:
October 10th, 2022
by
Recommended