5 Ways to Ensure Better Front Door Security
Even with advancements in home security, residences are still prone to suspicious activity. What's more, 34% of burglars still enter through the front door. While you may think the visibility of your front door makes it an unlikely target, you'll be surprised. That's why the best thing you can do is upgrade your front door security. You can create a more secure front door by investing in door security hardware and other add-ons that will be sure to turn the burglars away – at least for a while.
Opt for a wrought iron door
Start by assessing the actual material that your front door is made of. Wood and fiberglass front doors are common, but are not exactly known for their amazing durability and security. For a truly burglar-proof front door, you'll want to go wrought iron.
Wrought iron front doors are heavy-duty, and their intimidating appearance is often enough to turn suspicious characters away. They're also not susceptible to turbulent climate, and will maintain their heavyweight build throughout any and all weathering.
As such, the hardware (handles and hinges) that come with these doors is also impenetrable.
It helps too that wrought iron doors have versatile design abilities that fluctuate between modern and ornate, allowing their aesthetic to blend well with most home types.
Install a heav-duty deadbolt
A single bottom lock simply doesn't cut it anymore. You'll want to invest in a heavyweight deadbolt that connects solidly to your doorframe. Make sure to reinforce it with a metal strike plate for maximum front door security.
Although more pricey, we recommend a double-cylinder deadbolt that is keyed on both sides. This way, even if an intruder breaks an adjacent window to unlock the deadbolt from the inside, they won't be able to.
A deadbolt is perhaps the most affordable way to solidify your front door security.
Get a wide-angle peephole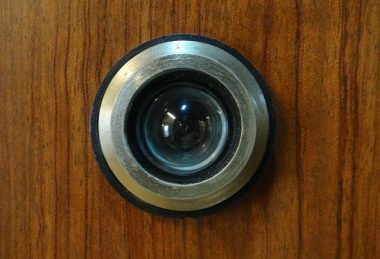 A wide-angle peephole is a fairly easy and unobtrusive add-on. If your door is up to two inches thick, you can install this accessory. Wide-angle peepholes allow you to get a broader view of your doorstep. Sometimes, burglars will ring the doorbell and move out of sight, in hopes that you'll open the door out of confusion.
With a wide-angle peephole, you avoid this possibility. To install one, simply drill a hole at a 90-degree angle in the location you want the peephole, ensuring it's not too low or too high. First, install the lens from the exterior side of the door. Then, insert the barrel from the interior side of the door and thread it into the lens.
This is a beginner-level DIY upgrade that can make a big difference.
Read more: Understanding Home Security Systems
Consider the color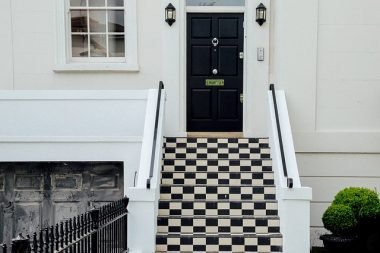 You might be wondering how the color of your front door could possibly have any impact on the level of security it provides. A recent survey by Zillow found that black or charcoal front doors tend to boost home value by approximately $6000.
Furthermore, real estate experts are seeing a growing preference for darker front doors. It turns out, black front doors seem to suggest increased security. Darker-hued doors act as a deterrent for burglars, while glass or transparent doors behave as an attractor.
So, whether you're planning to invest in a wrought iron door or you plan to paint your existing one black, you're making the right decision.
Read more: What Does Your Front Door Color Say About You?
Buy a smart doorbell
Smart doorbells have risen to popularity over the last few years. These electronic doorbells contain a built-in camera that monitors any activity at your front door. While smart doorbells have faced some criticism, with many claiming they can capture front-porch package stealers but can't identify them, there's no doubt they're still a theft deterrent.
Police have confirmed that crime has dropped with video doorbells. With most thieves now able to recognize them upon sight, it often turns them away.
Video doorbells are battery-operated, and can be installed anywhere near your front door. Just connect it to your WiFi network, and you can remotely monitor your front doorstep. What's more, they usually only cost a couple hundred dollars, and can store recordings on a cloud for just a few bucks a month.
Take a look at our guide on choosing the right home CCTV
Additional reinforcements
There are tons of gadgets you can use to improve front door security, but the most straightforward way is to upgrade your front door to a sturdier one, such as a composite door. Beyond this, and the other upgrades mentioned above, you might want to consider the following solutions as well:
1. Security screen doors
These are the additional screen doors you place on the exterior of your front door. Preferably opt for a locking one, especially if your front door is wood or fiberglass. This will ensure burglars have two sets of locks to get through before they can enter your home, which will likely discourage them.
Read more: Screen door installation
2. Longer set screws
The set screws for your strike plate are usually only about a three-quarter inch long. This means the strike plate will give in more easily if burglars kick open the door or use blunt force to bust the lock. Swap them out for three-inch screws, which will secure the strike plate into the door jamb, and not just the door trim.
3. Interior guards
Chain locks and adjustable door security bars are excellent tools for securing your front door from the inside, which is equally important but often overlooked. Make sure to use these, especially if your house will be vacant for a while.
Some of these fixes may seem costly, but they absolutely pay off. Each burglary slowly decreases your home's value, primarily because it increases your neighborhood's crime rate. So, in order to maintain home value, the best thing you can do is take preventative measures. With these front door security tricks, you'll be sure to keep the burglars away for a long while.
Read more: Five Front Door Tips to Boost Your Home's Curb Appeal
5 Ways to Ensure Better Front Door Security
was last modified:
October 5th, 2022
by
Recommended