Once the worst part is over, it's time to reverse the damage caused by a fire in your home. There's no need to say that your home won't be the same place it was before the fire, and it takes some money and effort to clean and repair your roof. This is essential for getting your life back on track. The only problem is, many people don't know how to mitigate roof damage after a fire. That being the case, we came up with six ways you should definitely check out.
Place a temporary tarp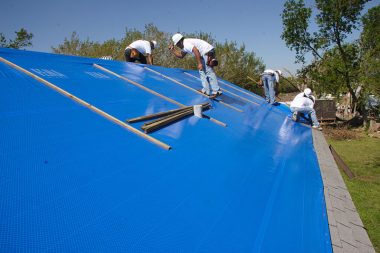 Photo by Ed Edahl [Public domain]
Fires often result in multiple holes in the roof. If this is the case with your home, you should think about placing a temporary tarp on it. This will help you keep rain, animals and other things out of your home until you patch the holes. Placing a temporary tarp is a good idea, especially because fixing roof damage requires some planning which often takes time. There are Melbourne-based experts who offer emergency tarp services and they should be able to help you out.
Clean up your attic
If you have an attic, chances are the fire has left a real mess in it. Most often, it's recommended that you leave fire cleanup to professionals. However, there are some things you can do before the experts arrive. For example, you can remove damaged items, scrub the walls and sweep the floor. Still, it's very important that you use safety gear while cleaning up. This includes everything from a long-sleeved shirt to a face mask. Cleaning up your attic is essential to repairing the roof as both you and the experts will be able to access it from different angles.
Plan your roof replacement right. Try our estimator tool today.
Replace damaged shingles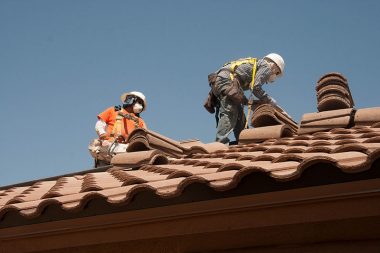 Photo by National Institute for Occupational Safety and Health [Public domain]
Another important part of mitigating roof damage after a fire is replacing shingles. Some of your shingles have probably been completely destroyed while others may have missing parts. In both cases, replacing the entire shingle is a must. In an ideal scenario, the builder who installed your roof has left some behind. If not, you need to buy shingles that match the ones you already have. In Melbourne, you should be able to find these at a local home center or lumberyard. Replacing roof shingles requires some basic tools such as a hammer, a utility knife, a flat pry bar and roofing nails.
Read more: Top Tips For Emergency Roof Repair
Install steel roofing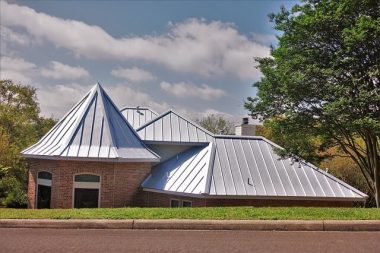 Pixabay
More and more Australian homeowners are starting to consider steel roofing as an alternative to shingle roofs. If you decide to do the same, you can just remove the shingles that didn't get caught fire and install steel roofing. The benefits steel roofing comes with include superior energy efficiency, low life-cycle costs and aesthetic appeal. If you decide to go for this option, you also need to hire a crane you'll use to do all the heavy lifting. Luckily, finding professional crane hire in Melbourne shouldn't be a problem.
Plan your roof installation properly with our estimator tool.
Replace your skylights
Many homes in Australia have skylights. In case of a fire, these things often end up breaking and replacing them after a fire is a must. If this has happened to you, you need to get new skylights and install them. While there are professionals who can get the job done for you, you can also tackle the project yourself. Most skylights come with step-by-step instructions which has been previously tested to make sure you're safe while performing the installing. Tools required to get the job done include a hammer, a tape measure, a panel saw, a screwdriver and safety goggles.
Get a roof sprinkler
When repairing your roof after a fire, it's the perfect time to think about installing a roof sprinkler. While this won't help you fix the damage right now, it's a great way to ensure the fire doesn't happen again. This is especially the case if you're based in a wildland area. In case of a fire, the sprinkler will wet down the ground around your home, making it less likely to ignite. Roof sprinklers won't only protect your roof but they'll also ensure you and your family are safe. According to some reports, roof sprinklers increase survival probability by 90%.
Mitigating roof damage isn't easy. Having a plan in place is half the work so make sure you start by coming up with one and stick to it as much as possible.
Ways to Mitigate Roof Damage after a Fire
was last modified:
August 25th, 2022
by
Recommended