When World War II ended, a lot of publications started filling up the market with DIY landscaping projects and home improvements to support the sudden real estate boom. This movement brought to the forefront structures like pergolas and arbors, which until then were simply called patio roofs.
But are the two structures the same? Both arbors and pergolas are outdoor structures built using posts to support an open roof made out of lattice or beams. Another similarity is that both these structures support vines and ornamental creepers. But there are definite differences between these two.
In this short read, let's define what an arbor is, and how it differs from a pergola.
What is an arbor?
An arbor is a vertical outdoor structure often used in residential gardening. Arbors can provide shelter, offer privacy and shade, as well as serve as a visual accent. In some cases, arbors are used to separate one area of a garden from another, while in other cases, they are used simply as a visual landscaping effect. Some arbors are used to indicate the beginning or end of a garden path, while others feature a cozy seating area underneath to relax and take in the views.
While arbors are mostly freestanding, they can also be attached to a wall or a fence. All designs include either two or four posts. Almost all of them feature an open-roof framework, both for shade and to provide support for the fragrant vines and flowering creepers most often grown on them. While the roofs may be arched in some designs, it is not a defining feature. The side walls are also often covered with lattice or trellis work to offer support for plants to grow.
Popular construction materials for arbors include metals like wrought iron, wood, and vinyl. Homeowners can build an arbor themselves using one of the many DIY kits available, buy a ready-to-install one from a gardening store or hire a carpenter to custom-build unique designs.
Designing an arbor
Here are some key tips to keep in mind while custom designing your arbor.
It is always great when the arbor reflects the architectural theme of the main house.
The ideal height for the structure should be between eight and ten feet. This allows more than enough space to sit and walk under the structure while giving sufficient space for plants to grow overhead.
Whether it is freestanding or attached to a wall, fence, or any other structure, the sides of an arbor always feature posts or columns, which in turn offer structural support to rafters, horizontal beams, or arches.
Rafter designs can vary from plain to intricate carvings with notches and scrollwork.
While vines and creepers are popular features on the roofs, other designs include cloth shades, laths, and lattices.
If standard lumber is the construction material of choice while building a garden arbor, the stronger the wood, the better. This is because the vining plants and climbing plants on it are bound to get woody and heavier with time, so the structure has to be strong enough to support the extra weight.
How does an arbor differ from a pergola?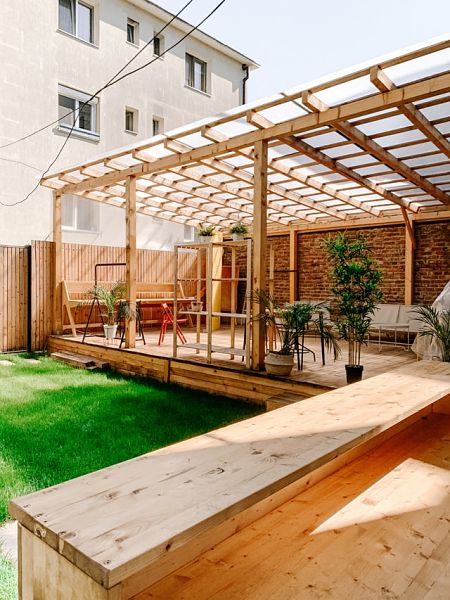 Pergolas are also structures that may be freestanding or connected to another structure, like a house, on one side, They are often built on the patio or deck of the house as a shade structure, and feature a post and beam construction method similar to the arbor.
In designs that feature the pergola being attached to the home, the structure often begins as an extension of the roof, connecting the indoors to the garden area, almost like an outdoor room.
Freestanding pergolas are identifiable by their flat roofs and for featuring four or more beams, depending on the size of the structure. Another feature of the roofs is that the beams are often topped by slats or cross beams on one side.
How are gazebos different from arbors?
Gazebos and arbors are similar in that they are both garden structures that offer shade and link the house with the outdoor spaces. One major difference that sets the two apart is that while arbors feature an open roof design, gazebos offer the additional protection of a proper wooden roof fully covering the structure.
Gazebos are also known to feature outdoor curtains or drapes to add more privacy.
Read more: How much does it cost to cover a patio
Know your landscaping: What is an arbor?
was last modified:
October 11th, 2022
by
Recommended