If you're planning to install new flooring in your house, there are tons of choices available. In fact, the flooring options can be exhausting when you consider the different styles, textures, and materials. One of the most popular flooring materials in recent times is luxury vinyl tile or LVT. But, what is LVT flooring?
What is LVT flooring?
Well, luxury vinyl tile or LVT is a unique type of vinyl flooring that has the ability to mimic the look of different flooring materials such as ceramic tile floor, natural stone, bamboo, or wood. And, it has the added benefit of durability, easy maintenance, and damage resistance.
The best part is LVT is available in a variety of shapes, sizes, and designs. Simply put, LVT allows you to create an authentic-looking floor without the drawbacks of natural products.
Instead, LVT is elegant, affordable, highly durable, and easy to maintain. Moreover, such a type of flooring is comfortable to walk on and easy to clean. Thanks to the realistic patterns, textures, and finishes available on the market, LVT gives the look and feel of luxurious and expensive flooring.
How is it made?
LVT comprises a series of layers of PVC vinyl and various compounds. The multiple sheets are then carefully compressed by a rolling process and suspended in a liquid. Heat and air are then used to dry and produce tough sheets of vinyl.
After the actual manufacturing process, the LVT floors are coated with a clear vinyl and urethane layer to add more protection and comfort to the finished vinyl product.
Today, thanks to developments in green technology, there are newer, improved LVT flooring that uses recycled plastics, wood, or cork in the core materials.
LVT flooring cost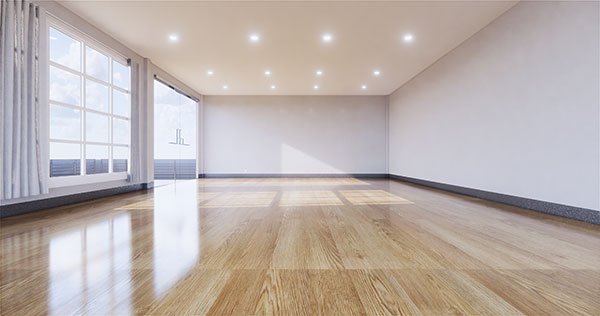 The average LVT cost ranges between $2 to $5 per square foot, depending on the type of LVT flooring, the style, and the finish desired. It's typically twice as cheap as a tile floor. Moreover, LVT installation costs are also more affordable. The average installation cost runs from about $1.50 to $2.75 per square foot.
Pros and cons of LVT flooring
Every construction material worth its salt comes with both advantages as well as a few flaws. It's best to weigh the pros and cons before making a final decision regarding your home improvement project.
Pros
LVT is more durable than real wood flooring, natural stone flooring, bamboo flooring, or ceramic tile flooring.
It has a low cost of maintenance over its lifetime and is easy to clean.
The flooring is warmer underfoot than real wood or stone and is also compatible with underfloor heating systems.
There are endless colors, shades, designs, and textures available on the market.
Due to the layers of plastic, most LVT flooring is waterproof, making it an ideal flooring choice for kitchens, bathrooms, and basements.
LVT (and LVP floors) can withstand moisture, heavy foot traffic, and scratches as well as spills to a large extent.
It's a budget-friendly flooring solution, making it a great return on investment.
It's typically easy to install, saving time and money. Sometimes, it doesn't even require tearing out the existing floor.
An LVT floor is known to have better sound dampening properties as compared to wood, laminate, stone, or ceramic tile flooring.
Cons
LVT flooring may dent, scratch, or scuff, especially because of heavy appliances and furniture.
It may fade in direct sunlight over time.
LVT flooring, especially one that's glued-down, is a little difficult to remove. The adhesive may harden on the subfloor. In extreme cases, you will need to cut the vinyl down into 12-inch strips, pull it up, scrape off the glue, and clear out the debris.
Is LVT flooring better than laminate flooring?
Since LVT is made from PVC wear layers, it's tougher than laminate flooring, and can be more comfortable underfoot. Moreover, LVT is waterproof. It also offers improved acoustical performance as compared to laminate flooring.
Regarding floor design and texture, both materials are versatile — easily replicating natural materials. Both luxury vinyl flooring and laminate flooring are durable, stain-resistant, and affordable than traditional hardwood flooring. Plus, both require less maintenance.
Is LVT cheaper than laminate?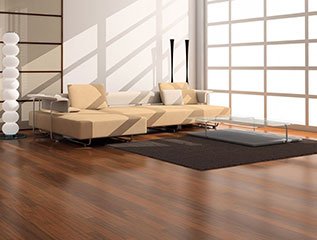 Vinyl flooring is generally cheaper in cost than laminate flooring, more so when considering sheet vinyl. However, when it comes to luxury vinyl tile flooring, the cost can be significantly higher due to the higher level of quality and convincing wood finishes.
Read more: Laminate flooring installation cost per square foot
What is the difference between LVP and LVT?
Luxury vinyl tiles and luxury vinyl planks are types of luxury vinyl flooring. Just as the name suggests, LVT is designed as tile squares whereas LVP is designed as planks, and resembles traditional hardwood floor planks — complete with realistic scraping or embossing.
LVT is ideal for a stone or concrete look, and can even be installed with grout.
Both are sturdy, long-lasting materials — requiring very little maintenance over the years.
Last thoughts
Now that you know exactly what is LVT flooring, its features, and its benefits, you can make an informed choice. There's a reason why most homeowners are installing LVT flooring these days. The popular flooring is durable, beautiful, and easy to install.
Most importantly, LVT easily gives you the design, look, and texture you're looking for. Your home flooring can mimic a hardwood floor with as much ease as a concrete one. No wonder the flooring type is found everywhere — right from airports to hospitals, hotel lobbies, and schools.
Know what is LVT flooring, its cost, pros and cons
was last modified:
September 15th, 2021
by
Recommended