Storm Door Pros & Cons: A Complete Guide
Hurricanes, tornadoes, summer squalls, or storms can be really difficult and dangerous — to your life and to your house. Dealing with the after-effects of wind, storm, or water damage to your home can leave your life suddenly upended, and you overwhelmed. So, what to do after storm damage?
This article lists some really useful tips on how to keep your family and home safe after a storm hits. You can take the right steps to mitigate some of the damage — restoring things to normalcy at the earliest.
What to do after storm damage: Steps to take
The fact is, careful planning helps you deal better with the disaster, and get your life back together as quickly as possible. Knowing what to do after storm damage can help you save your family, your belongings, and your money. Here's what you should do to bring things back on track.
Want to save money by getting the best rates on home insurance? You can use our new tool to compare rates from different companies and choose the best suited for you!
1. Check your house for damage and its extent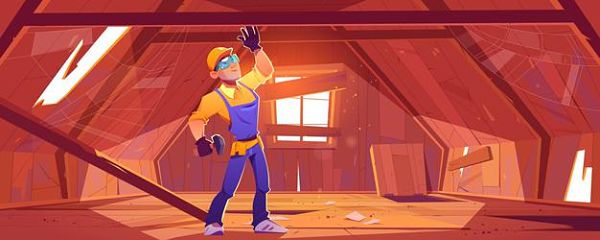 Right after the hurricane or storm has passed, the first thing you should do is check your home for the amount of damage. These could include broken electrical panels, loose floorboards, damaged ceiling tiles, etc.
However, before you do a thorough check, make sure you follow some safety tips:
Keep an eye out for weather forecasts, make sure your area is safe before you conduct a walk-through.
Watch out for any broken glass, downed power lines, wires, damaged gas lines, or exposed nails. Do not go anywhere near standing water without first making sure the main power supply is turned off to avoid the risk of electrocution.
Alert the police and utility company if you sense danger.
Shut off the main gas line if you smell gas such as carbon monoxide. Open the windows and immediately leave the premises. Notify your gas company immediately.
Avoid going out in the dark to check. If you have to, carry a flashlight but never a candle or an open flame. The last thing you'd want is a fire or gas explosion.
Look out for collapsed roofing materials or walls, window damage, or standing water, especially in the basement or home interior.
Check your outdoor appliances such as air conditioning units, solar panels, etc.
Read more: 7 Tips to fireproof home and be safe
2. Assess the storm damage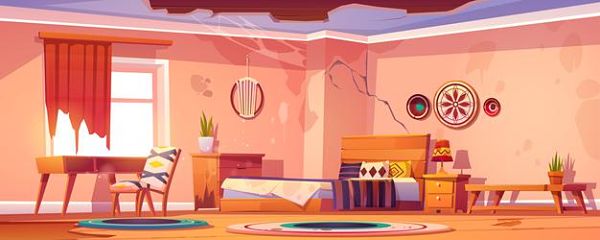 Severe storms can wreak havoc on your exterior home surfaces, especially your roof. Not to forget, impacting everything from your furniture to your floors, furniture, vehicles, and your insurance claim.
Before you get in touch with your insurance company for filing a claim, you need to assess the damage by taking pictures and keeping a record of them. That too, before moving or removing anything. This will help you document the loss you've suffered.
Look out for areas that are most vulnerable to storm or flood damage. These include:
Roof damage, probably caused by a fallen tree limb or heavy debris.
Apparent structural damage.
Leaking roof or split seams.
Missing or broken roof shingles.
Blocked or dented rain gutters or downspouts.
Damaged vents or flashing.
Cracked doors and windows.
Damaged siding, paint, bricks, or any other exterior surface.
Broken sump pumps
Considering a home renovation? Try our free home remodel cost estimator for quick results!
3. Call your homeowner's insurance provider
If you have good insurance coverage, you will get compensation if your home or business gets damaged by a storm. Contact your insurance company at the earliest. The photos you took of the damage will aid the insurance adjuster in accessing the exact situation caused by the natural calamity. Include the receipts for hotel costs or any other temporary living expenses in your insurance claim.
Your homeowner's insurance agent will provide you with an insurance claim number and a list of local emergency service providers to help you restore your home.
Read more: Everything you need to know about hazard insurance
4. Fix what you can without causing additional damage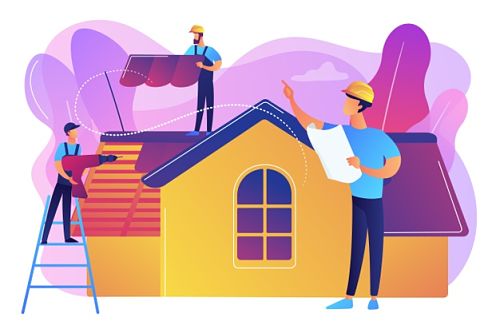 It's a good idea to start fixing some of the destruction. If the storm hasn't damaged your home completely, chances are, it can be restored with minor repairs. You may want to get to it immediately as it may help prevent more damage and potential health risks.
Some of the repairs you can do yourself include:
Removing debris from the roof and gutters.
Making sure that the downspouts divert water away from your property.
Boarding up any broken window to prevent water and wind from getting into your home.
Read more: DIY door jamb repair tips to tackle warping, nicks or dents
5. Choose the right contractor for your home
It's crucial that you hire reliable professionals to help restore your home and take care of any serious repair work after the water damage.
A good contractor will take the responsibility of a home restoration off of your shoulders. Plus, get you the required building materials and labor.
Looking for a licensed contractor to restore your home's condition? Use Kukun's Find a Pro tool for the most reliable professionals!
Last thoughts
A storm, heavy winds, and rain can damage your home in the blink of an eye. But, you can take comfort in the fact that many homeowners in your vicinity are probably going through a similar experience.
If you know exactly what to do after storm damage, you'll be more prepared to navigate through the challenging times. These steps will help you deal with the storm damage in a better way, and stay safe.
Read more: Important tips for water damage prevention
Storm Door Pros & Cons: A Complete Guide
was last modified:
May 10th, 2021
by
Recommended