If you're around a month away from the time of year that you normally renew your homeowners' insurance, chances are that your insurance company is going to reach out to you with a quote of how much your yearly insurance premium for 2022 is going to be.
It is also very likely that that quote is going to be higher than you expected, which should make you wonder why home insurance premiums have gone up. Well, there are a number of reasons why this could have happened, some of which are beyond your control, while others are within the scope of your control.
Let's take a look at why the insurance industry is seeing an increase in homeowners insurance premiums in 2022, and what you can do to control these rising costs.
Five reasons for the increase in home insurance rates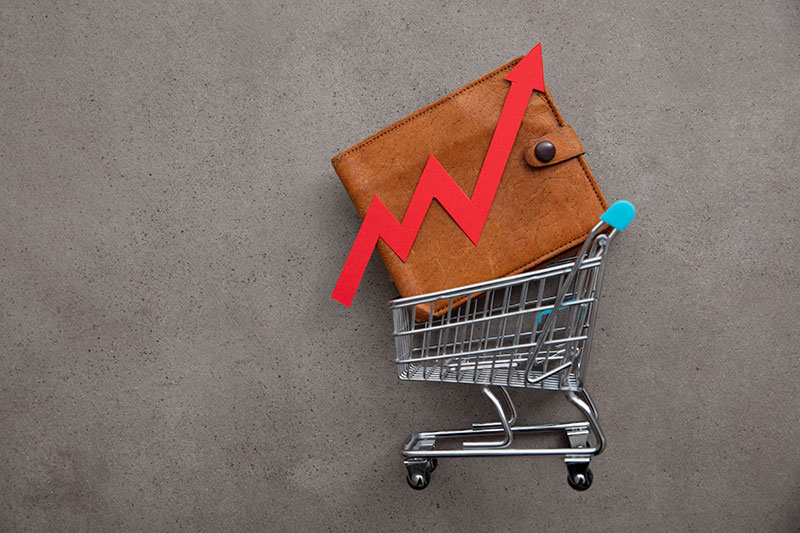 Here are the top five reasons why homeowners insurance rates have increased in 2022.
Inflation is at a record high
It is understandable if your insurance rates increased because you made a major home renovation, such as changing the roof or if you filed a claim over the last year. Those are expenses that are within your control.
However, these insurance premiums are on the rise all over the country, and the reason is everything from labor costs, material costs and even supply chain management has been hit because of the unprecedented inflation we've experienced in 2021 and 2022.
One of the factors that influence your premium is how much dwelling coverage, and endorsements like extended replacement costs, are a part of your policy. This is what will pay to rebuild your home in case it is destroyed or damaged.
Inflation has ensured that construction costs are constantly on the rise, which means the cost to rebuild your home will also cost more now than it would have two years ago. This means the dwelling coverage will also need to increase on your policy, and that added coverage will show up as an increase in your annual premium.
We're experiencing more natural disasters
From the unexpected cold snaps in Texas in September last year to sudden outbreaks of wildfires in California, we've been experiencing an upswing in natural disasters. As a result, the home insurance industry has been experiencing a record number of claim payouts, and as a result, financial losses. These increased risks, along with the rising prices of labor and materials, are why you're seeing a steep increase in insurance premiums, especially if you live in an area prone to these natural disasters.
Your home is getting older
While you may have upgraded your home with the latest in smart home gizmos, you cannot deny the fact that with every year, the physical structure of the house is getting older.
Water damage, new plumbing, and electrical work are among the most common claims insurance companies see year on year. Therefore, it isn't surprising that they may want to schedule a home inspection around renewal time. And if that inspection does find that you have a weak roof or a plumbing disaster in the making, expect an increase in your annual premium.
Your insurance score has decreased
Your insurance score is also a deciding factor in how much premium you will need to pay, and a number of factors are taken into consideration to arrive at this score, including the number of claims you've made as well as your credit score.
The rule of thumb followed is that a lower insurance score means a higher insurance premium. So if you've made a couple of claims over the last year, or if your credit history has recently taken a beating, expect your insurance premium to be higher.
You have "attractive nuisances"
No, an attractive nuisance is not a good thing. Insurance companies use the term to refer to anything that attracts children to your home and puts them at risk for injuries. These could be anything from pets to trampolines and swimming pools.
So if your home has one or multiple attractive nuisances, you should not be surprised if your premium increases.
How to save money while paying premiums
Here are three ways you could save some money on your annual home insurance premiums.
Ask about discounts
There are multiple discounts that you may be eligible for, which you may not find out about unless you ask your insurance agent. Here are some of these discounts.
If you have multiple policies with the same company, for example, your homeowners' insurance and your life insurance, then you ought to be able to save between 15% to 30% on annual premiums.
Some insurance carriers offer discounts if you've had the policy for a few years without making a claim.
If you have protective devices like fire alarms, smoke detectors, fire extinguishers, and deadbolts installed in your home, you may be eligible for a discount on your premium.
If you are a senior citizen, you may get as much as 10% off on the premium.
Some insurance carriers offer customers who have been with them for more than five years a discount on their annual premium.
Choose higher deductibles
If you've been with the same insurance company for a number of years without having filed any home insurance claims yet, it may be in your best interests to choose higher deductibles and lower your yearly premium.
Check out the competition
Home insurance is a highly competitive market, and you may be missing out on better coverage and lower premium rates from another insurance carrier. So always be sure to check out the competition and get multiple free quotes before deciding on a homeowners insurance coverage plan.
Get your insurance agent to talk to you
If you are not convinced as to why you need to pay more for your homeowners' insurance premium, the best person to explain this to you is probably your insurance agent. Get him to sit down with you and explain what parts of your policy now cost you more and why. This would also be a good time to discuss possible discounts with him as well.
Read more: Why insurance company want to inspect my house?
Why did my home insurance go up in 2022?
was last modified:
November 29th, 2022
by
Recommended