Spending time outside on your deck with family and friends is the best way to enjoy your new outdoor space. And while it is a significant project to undertake, it's essential to take the proper steps to make it last.
Without the proper protective measures, a deck's wooden substructure can begin to rot in less than ten years. To ensure you get the most use out of your deck as possible, check out these steps below on how to sustain your foundation.
Flashing tape
Of course, if you don't start with the protective measures during the construction phase, your deck will be at a disadvantage. The number one cause of foundation damage is wood rot. The best way to prevent this is by applying butyl tape during construction. Butyl tape is a rubber-based flashing tape that prevents water from getting into the tops of the joists and beams of your deck and is also commonly used for boat, RV, and minor home repairs.
Trex Protect's butyl tape is very easy to apply as a cap for vertical and horizontal surfaces, allowing the wood to breathe. It's also an excellent investment that will save you down the road and keep your deck sturdy for years to come.
Cleaning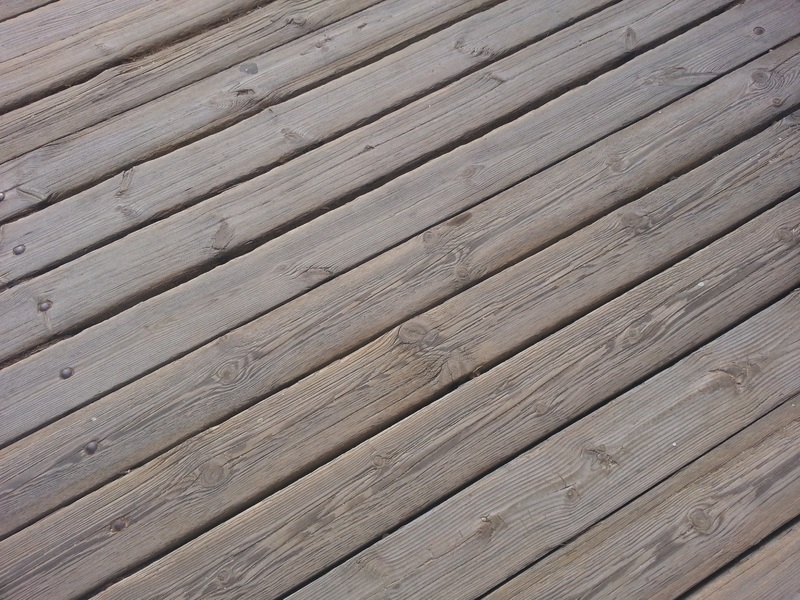 Moisture can also gather around your deck and find its way into the wood. Unswept piles of debris and overgrown or lingering vegetation can trap water and lead to serious rotting down the road. Cleaning the deck can be taken care of with a scrub brush, soap, and water. You may think that power washing is the most efficient way to clean a deck, but use caution because exceeding too much pressure can splinter the wood and lead to more damage. This is true for wooden decks, as it can exacerbate already deteriorating wood, as well as composite decking.
If you choose to power wash, keep the nozzle at least two feet from the surface of the deck, and be sure to thoroughly rinse after cleaning.
When cleaning with soap and water, use these tips to get the cleanest surface possible:
Sweep off any dirt or leaves from your deck.
Test your cleaner in a small, discreet area to ensure no staining.
Clean with water, soap, and a bristle brush.
Rinse off thoroughly with a hose to avoid leaving a film.
Let the deck completely dry before moving furniture back onto the deck.
Stain and/or seal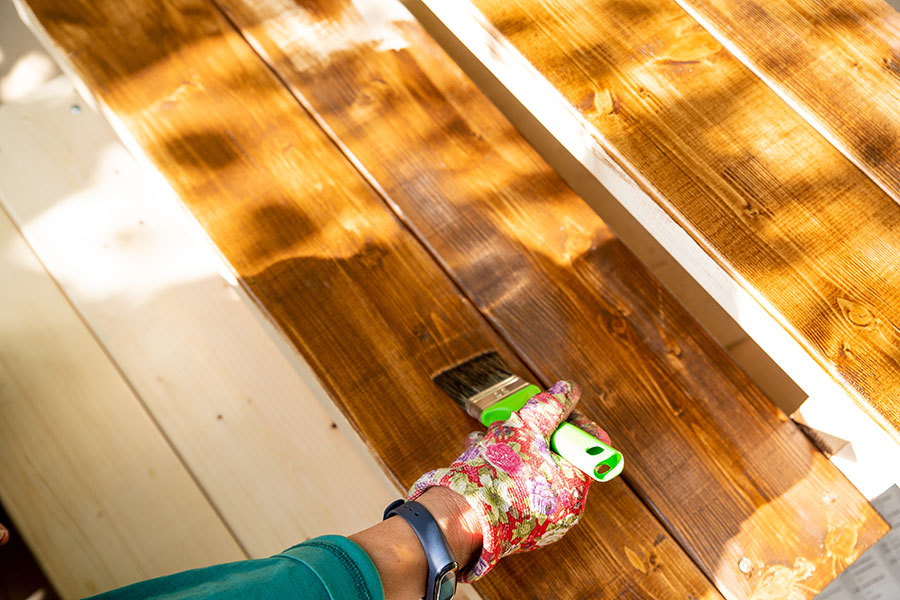 Once the deck is clean, now it's time to seal the wooden boards to help prevent water from soaking into the foundation. It's recommended that you apply a sealant annually, depending on how much use you can expect to get out of the deck. Sealing the deck will maintain the natural color of the wood and prevent mildew growth and rot.
You can also opt to stain the deck. Staining the deck can change its color and make the wood look richer, while sealants are typically clear. Most deck stains also contain a sealer. Remember that you do not need to seal composite decking.
Keep your house in shape with My Maintenance
Make homeownership easy with Kukun's customized home maintenance schedule and service provider notifications.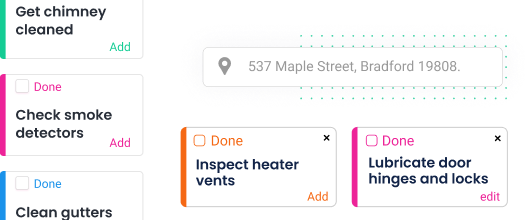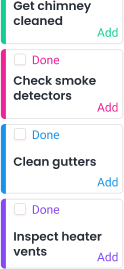 Keep these tips in mind to achieve the best result:
Choose a day when the temperature is between 50 and 90 °F.
You should clear everything off the deck, including furniture and any debris.
Smooth it out by sanding the deck first to eliminate any splinters and ensure the sealer adequately penetrates the wood. Be sure to clear off any sawdust before sealing, even between the cracks.
Stir well. Do not shake the sealer, as that may cause bubbles in the finish.
Apply the sealer. Apply a thin coat over a two-to-three-board section using a brush, paint roller, or sprayer. Start thin.
Allow the deck to dry completely before moving back any furniture.
Invest in safe railings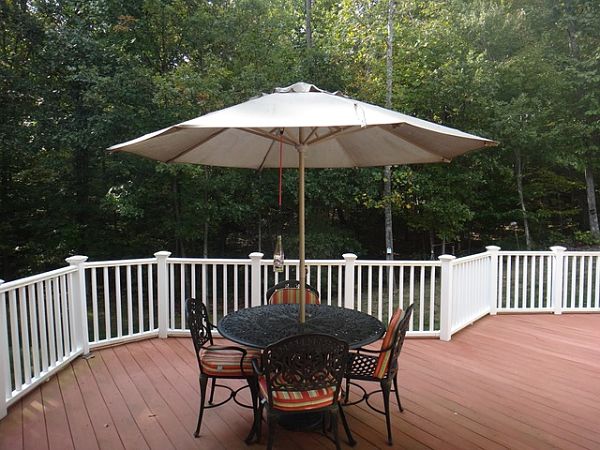 The deck railings are one of the most vital safety features that you should not overlook. The International Residential Code requires guardrails of at least 36 inches for all decks higher than 30 inches above the ground. The code also requires that the space between each baluster (the vertical posts) be no more than 4 inches to prevent infants and toddlers from falling through.
The IRC also states that the distance between a horizontal bottom rail and the top of the deck surface should also not span more than four inches. Finally, for user safety, the railing should be able to withstand 200 pounds of lateral pressure (force from either side) anywhere along the top rail.
Start with a firm footing
Of course, a deck is only as strong as its foundation. Therefore, construction often involves a pier system where holes are dug below the frost line and filled with concrete to support the posts. Unfortunately, one common mistake is digging too shallow and not reaching below the frost line, leading to pier movement due to frost heave. Frost heave occurs when the moisture in the ground expands when it freezes, causing the soil to swell and shift, causing damage to shallow deck posts.
You can also take steps to protect the posts themselves, which will help the overall long-term structure of the deck. For example, encasing the bottom of the post in a galvanized post base that is securely anchored to the pier will reduce the chances of it breaking down and rotting.
When making a significant investment in your home through an outdoor deck, taking the best precautions is absolutely necessary. Not only will it bring you peace of mind, but you'll save time and money, and you'll get much more use out of your new outdoor space!
Why protecting a deck foundation matters
was last modified:
May 6th, 2022
by
Recommended