Are your home windows energy-inefficient or dated? Try tinting the windows from the inside. A window film will not only boost the energy efficiency and privacy of your home, but will also enhance its safety and curb appeal. If you're wondering about the window tinting cost, and whether it's worth it, this guide is for you.
Ironically, many homeowners think that window tinting is a bit of a luxury, but it's not. In fact, this home improvement project has multiple benefits that can improve your quality of life and help you save money.
Typically, a window tint film is stuck to the interior side of your glass windows with an adhesive. A standard window film is only a few millimeters thick and is constructed from layers of polyester with a scratch-proof coating. The film is layered or treated with dye to achieve the effect of reducing sunlight heat, ultraviolet rays, and providing you with privacy.
There's another type of window tint that has metal elements embedded in the polyester — creating a mirror-like finish. Such a finish is often seen on commercial building windows. Some window tinting companies also produce ceramic window tints to build upon this reflective quality.
Window tinting costs can vary depending on the window tint technology you use. Today, the window tints available in the market are high quality, as opposed to those in the past when window tinting options were limited and not as aesthetically appealing.
Thanks to technology, homeowners can now choose from a range of films, including colored and shaded, that are nearly invisible. Plus, there are more options than ever before when it comes to adding to your privacy, security, UV ray protection, heat reduction, and glare protection.
How much does it cost to get windows tinted?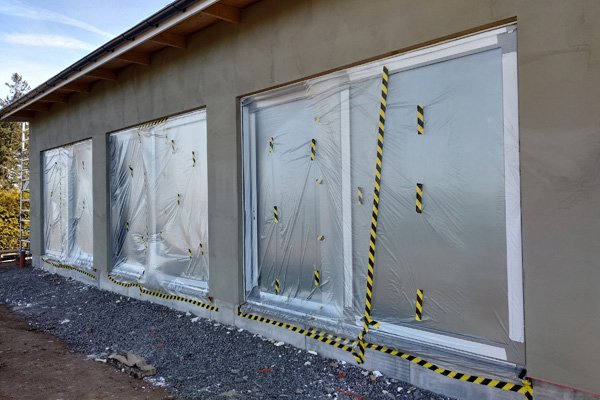 The average cost for home window tinting runs to about $5 to $8 per square foot. That is to say, homeowners can expect to pay between $311 and $712 for professional window tint installation on average.
Keep in mind that window tinting cost in residential projects varies depending on:
The type of tint you want for the windows
The size and number of the windows
The complexity of the window tint job
Access to the windows
Material cost and the technology used
Labor cost in your area
For example, most tinting companies charge more for second-floor windows or odd-shaped windows.
How dark are you allowed to tint your windows?
Before installing tinted home windows, you need to understand the concept of Visible Light Transmission (VLT) first. When you buy a film for tinted home windows, you can get different shades or percentages. However, the percentage, listed for a tinted window, doesn't refer to how dark the tint is. Instead, it shows how much light will be able to get through that film. That is to say, if you have a film with a high percentage, it means that more light will be allowed through it.
A lower VLT percentage, say 25%, means that only 25% of the visible light will be able to get through your home windows.
If it's privacy you're looking for, try to find window films that have a percentage of 20% or lower. These will be suitably darker, and won't let in as much light. Most importantly, such tints will keep people outside from seeing what you're doing inside your home.
Home Renovation Cost Estimator
Sorry, we currently don't have that project at our disposal.
---
You can take a look at our most popular ones:
Water Heater Installation
Exterior Door Replacement
Install Recessed Lighting
Exterior Door Installation
Interior Door Installation
Interior Door Replacement
Is tinting your windows worth it?
Yes. Apart from offering privacy, UV protection, and security, tinted house windows also help retain heat in colder climates and keep heat out during the warmer months. Some films help to harden the glass, making it more impact resistant. Others with sun control films can deliver as much as 99.9% UV blocking capabilities.
A professionally installed window treatment with the right window film is one of the easiest and most economical ways to boost the energy efficiency of your home. Window tinting is especially beneficial for older windows as they do not have a low-emissivity (Low-E) coating that's standard with newer windows. By tinting older windows, you will increase your home's energy efficiency by retaining more heat during colder months.
The pros and cons of tinting home windows
| Pros | Cons |
| --- | --- |
| Prevents fading of interior furnishing as well as upholstered furniture | Selecting the right window tint is critical or else you wouldn't get the desired benefits |
| Less UV exposure from the sun | Tinting may invalidate your window manufacturer's warranty if you're not careful |
| Blocks infrared solar energy that causes heat gain | Professional installation might cost you several thousands of dollars |
| Controls energy leaks and heat loss | Not all types of window tints are compatible with every window glass |
| Enhances outdoor viewing experience | |
| Improves safety and security quotient | |
| Gets you energy tax credits from the government | |
Interesting fact: The US Department of Energy gives homeowners window film tax credits for adopting energy-efficiency methods. You can claim up to 30% of the cost of a qualified window tint, including its installation fees.
Do window tints come with a warranty?
Usually, a well-installed window tint will last for a long time — sometimes over 20 years. Having said that, there are products with warranties for 5 to 15 years. If you see any "fogginess" in the film, it means that there's a little bit of moisture left behind from the installation process. However, it usually disappears within a couple of days.
When it comes to window tinting maintenance, there's no special requirement for the film to do its job. You can clean your windows as you normally would.
However, do not use abrasive paper towels or other rough materials to clean the window glass. These could damage the film on the windows.
Last words
With the right kind of window tints, your home can be as bright as it needs to be. Or, as dark as you want it to be. When you darken those windows of yours, not only do you make your home more energy-efficient but also add to its aesthetic value. So, go ahead and buy the best type of window tint available on the market today. And, yes, don't worry about the window tinting cost. It's going to be worth it!
Read more: What are the different types of glazing for windows and doors?
A complete guide on window tinting cost and benefits
was last modified:
September 21st, 2022
by
Recommended