The homeowner's guide to wood door maintenance
A solid wood front door is a worthy investment, considering that no other door looks or feels as luxurious. Add to that the fact that these doors could last you pretty much forever if maintained the right way, and you know why exterior wood doors are often priced at a premium.
That, however, is the key to extending the longevity of your front door. While some amount of wear and tear may be inevitable, properly maintaining your wood external door is essential to make sure it remains beautiful and functional for decades.
Here's the essential home owner's guide to wood door maintenance to give you an insight into how to do just that.
Wood door maintenance: Basic cleaning

Use a dry rag or a dust brush to dust off all the surfaces.
If your door is stained, polish it using a wood polish. Be careful not to polish the entry door using any acidic products such as lemon oil.
If the door has glass window attachments, you can use a glass cleaner or a mixture of white vinegar and water.
A mild solution of dish soap and warm water is best used for cleaning the door hardware. Dip a cloth in the solution and clean the hardware. Then, wipe it down with a dry rag.
Refinishing the door
If your front door is exposed to the South and does not have a storm door for extra protection, it is likely to face the brunt of UV rays and harsh weather. This and water damage cause the wood to split, swell and even crack.
In order to prevent this kind of damage from happening, experts advise that wood front doors ought to be refinished once every three to five years, depending on your discretion. As a rule of thumb, it is advisable to refinish your door at the first sign of discoloration in the finish.
Refinishing is, simply put, the process of reapplying the wood finish to the door in order to prevent damage and decay. Let's take a quick look at the refinishing process.
Plan your wood door refinishing properly with our estimator tool.
Begin with the hardware
The first thing you will need to do is remove all the hardware from the door. This includes hinges, doorknobs, mortise plate, latch, key lock, and throw bolt. Most of these can be removed using a screwdriver.
Don't forget to put all the pieces of hardware and screws carefully away in a large bag or plastic cover to avoid misplacing parts.
Keep your house in shape with My Maintenance
Make homeownership easy with Kukun's customized home maintenance schedule and service provider notifications.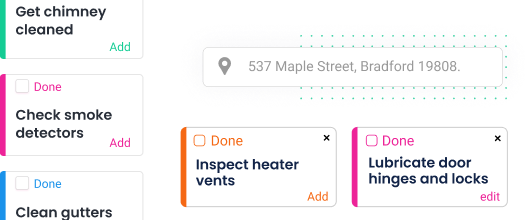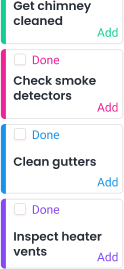 Read more: How to cut door hinges
Surface cleaning
Use natural dish soap and a soft scrub to thoroughly scrub the door clean. Then, dry it using a dry rag or paper towels.
Sand it down
The purpose of lightly sanding the door is to remove bumps, dirt, and grooves caused by exposure to the elements.
Use medium-grit sandpaper and lightly sand the door down. How much you need to sand will depend on the extent of the damage. Once you are done sanding the door down, wipe it clean with a microfiber cloth. Don't throw away the resultant sawdust because you will need it in the next step.
In some cases, you may need to strip off the existing finish completely. In this case, use a high-quality paint stripper to get the finish off and then sand it lightly.
Refinishing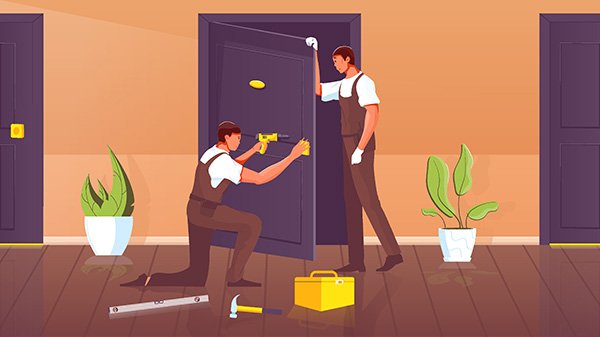 The final step is for you to apply the new finish to the door and then reinstall it. Keep in mind while buying the finish that it ought to be consistent with the previous finish used on the door.
If the door has any dents, cracks, or chips, mix the sawdust from the sanding process with epoxy or glue and use it to fill these imperfections out.
To make sure you get an even look, apply a layer of sanding finish before applying the top coat.
Once the finish has completely dried out, reinstall your front door with all the hardware.
Planning for door refinishing? Get the best estimate with our tool!
The homeowner's guide to wood door maintenance
was last modified:
September 5th, 2022
by
Recommended