'Wow' People with These Four Unique Home Designs
A home is for you to relax in; it is an extension of yourself and a haven for you to unwind in after a long day's work and to call your own. However, you also want your home to be the envy of all your friends and family, and in turn, your friends and family want to make you envious of their abode. Nowadays, people compete with their homes, and what they can do with them – they want to design, decorate and refurb not just for themselves, but for others, too. The way to really 'wow' people with your home, though, is to think outside of the box. Modernism and minimalism may be fashionable, but everyone is implementing it into their décor. You need to find a twist people won't see coming. Think outside of the box: here are four unique home designs you can try for your house.
Pond within your decking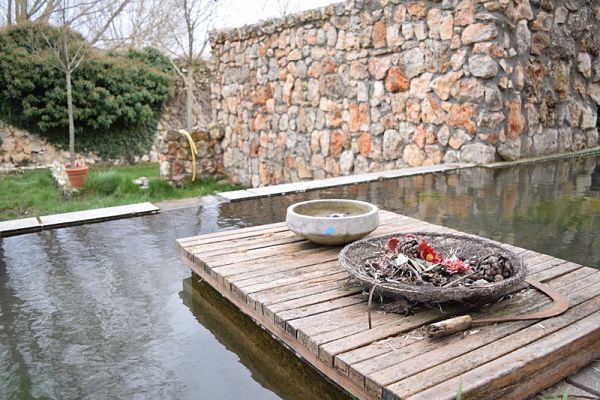 Instead of digging a pond in your garden, and leaving it surrounded by grass and plants, combine a pond within your decking plans. These can be as simple or elaborate as you please, however, they're so easy to install, the bigger the better. Trade in the usual straight lines and square or oblong shapes for circular corners; if you have an upper and lower deck, have your top pond flowing into the bottom layer with a small water feature. Surround the feature with potted plants and water lilies. Include fish if possible, and if your pond is large, have stepping stones or a wooden bridge.
Glass flooring
To most, flooring is a means of getting from A to B, and people very rarely bother dressing it up any further than a rug or a fresh carpet. Decorative glass flooring, however, can add a certain 'wow' factor to an otherwise sedate living, dining room or hallway. You can have water running under your house, such as a pond or river, and have a glass walkway for you to walk over, or you can have a glass bridge which adds excitement and flare to your home. In this unique house design, architectural glass, however, must be properly fitted into your house by specialists such as CBD Glass Studios due to the delicate nature of the material.
Read more: Laminate vs hardwood flooring better option
Large windows
Nowadays, houses are welcoming more windows in their design. Residents want as much natural light as possible, and clean-cut, large windows are impressive to each passer-by. This contemporary design is proving popular, however, especially in Sweden with their Huf Haus. Buildings with large window fronts are modern, stylish, and cheaper. Although all window houses may not be fit for cities or towns, for those who have a private residence, this unique home design with more window than walls may be refreshing.
Read more: 4 interior window trim styles elegant popular
Unique furniture
Changing your home's exterior can be pricey, and so, swapping out furniture for something much more stylish and unusual can be a happy alternative. Instead of having the usual couch or dining table, think outside the box. Swap a bookshelf for suspended shelves; replace a typical handrail with a polished piece of driftwood; use a vintage trunk instead of a generic bedside or coffee table. They say it's all in the details, so this can be a perfect and inexpensive way to refurbish your home.
Read more: How to choose the right furniture for your home
'Wow' People with These Four Unique Home Designs
was last modified:
May 17th, 2022
by
Recommended